'People refuse to rent me a room when I tell them my surname'
New study says despite laws in place, caste-based discrimination is rampant across the country.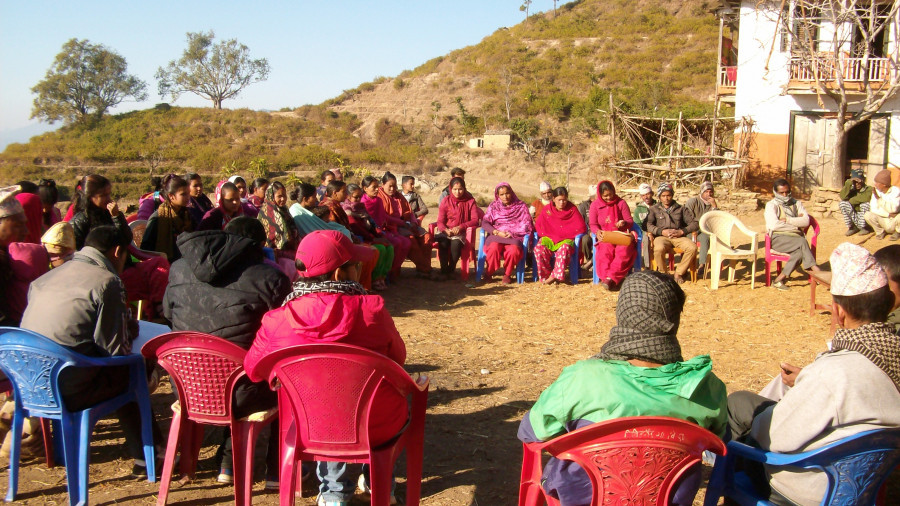 Discrimination runs deep in the country, particularly between Dalit and non-Dalit people. Post File Photo
bookmark
Published at : July 19, 2019
Updated at : July 19, 2019 18:18
Kathmandu
Srijana Nepali came to Butwal for high school after passing her Secondary Education Examination from Dhikura in Arghakhanchi. She enrolled at the Tilottama College in Yogikuti and has been looking for a place to stay for the last 10 days. But everywhere she goes, landlords turn her away.

"People refuse to rent me a room when I tell them my surname," Nepali told the Post. Her last name identifies Nepali as a Dalit, often referred to as 'untouchables' in Nepal's caste hierarchy.
Despite strong legislation that has long outlawed caste-based discrimination, members of the Dalit community continue to face prejudice and discrimination in all spheres of life.
The National Human Rights Commission, after a survey of caste-based discrimination and untouchability in 31 districts from the seven provinces, has concluded that a lack of awareness, both in Dalit and non-Dalit communities, poor implementation of existing laws and the police's refusal to register cases are reasons why this scourge continues.
Dalits say that experiences like Nepali's are common but Nepal Police records show that just 104 cases related to caste-based discrimination were filed in the last five years. National Human Rights Commission officials who conducted the survey say that many Dalits fault the police for refusing to register their cases, on the grounds of a "lack of evidence."
"As discrimination is often a behavioural act, there is hardly any concrete evidence to present before the police," Deepak Nepali, a human rights officer at the commission who was involved in the research, told the Post. "Even when there is evidence, police try to threaten them instead of accepting their complaints."
In one such case, a deputy superintendent of police at the Metropolitan Police Circle in Kathmandu refused to register a complaint from a Dalit who had been discriminated against by a non-Dalit in a public place.
"The victim had then filed a case with the commission, which had directed, in writing, the police official to immediately register the case and take action against the culprits," Deepak told the Post. The commission received 25 such cases of caste-based discrimination last fiscal year, most of them related to the police's refusal to register cases, he said.
Such caste-based discrimination is not just limited to the hinterlands but is as prevalent in the Capital, and it is not just the socio-economically disadvantaged who suffer, said Deepak.
A Dalit lawmaker's experience in Kathmandu exemplifies just how deep-rooted caste-based discrimination is.
Kalu Devi Bishwokarma, a Member of Parliament from the Samajbadi Party Nepal, had testified in the House of Representatives how she had been denied an apartment rental in Kathmandu because of her caste.
"Caste-based discrimination and untouchability remain deeply rooted in our society," she told Parliament. "If we are victimised in the Capital, just imagine what the situation is like in rural areas."
The survey has documented how even elected people's representatives, like Bishwokarma, face discrimination.
A Province 2 Assembly member told the team of researchers that whenever he attended programmes, he would be taken away from the table where the food was served so that he wouldn't touch anyone else's food.
"It looked like they were trying to show me respect, but the motive was to keep me away from the food," the unnamed lawmaker told researchers.
In Dhangadi, a landlord denied accommodation to a human rights commission officer, despite knowing that he worked for the government, said Deepak.
"The response from the landlord was that his house was closed to Dalits and Christians," he said.
Although the survey shows that the younger generation is moving away from discriminatory practices, transformation has not been as fast as expected.
"The transformation process is very slow," said Prakash Osti, a commission member, at the unveiling of the report on Thursday. "It will take decades for the practice to come to an end."
Effective implementation of existing constitutional and legal provisions against discrimination is a crucial step towards eliminating such practices, says the report.
The Caste-Based and Other Social Discrimination and Untouchability Offence and Punishment Act provisions a sentence of up to three years, a fine of up to Rs 200,000, or both, depending on the nature of the offence. The law also requires Rs 200,000 to be paid in compensation to the victims.
The commission has suggested that all three tiers of government allocate a budget and organise programmes and campaigns across the country to raise awareness against caste-based discrimination. It also asked respective governments to set up a mechanism to work towards ending caste-based discrimination and untouchability, and promote Dalit rights.
"It is sad that people continue to face discrimination in the name of caste even in this digital age," Giri Raj Gyawali, spokesperson for the National Dalit Commission which oversees Dalits' issues, told the Post. "The state machinery should work towards creating awareness against such malpractices that are deeply rooted in society."
Amrita Anmol contributed reporting from Butwal.
What do you think?

Dear reader, we'd like to hear from you. We regularly publish letters to the editor on contemporary issues or direct responses to something the Post has recently published. Please send your letters to tkpoped@kmg.com.np with "Letter to the Editor" in the subject line. Please include your name, location, and a contact address so one of our editors can reach out to you.
---
---