Water crisis worsens in Bara as more tube wells go dry
Each of over 150 families living in Jhawani has installed a hand pump, but almost all of them have gone dry.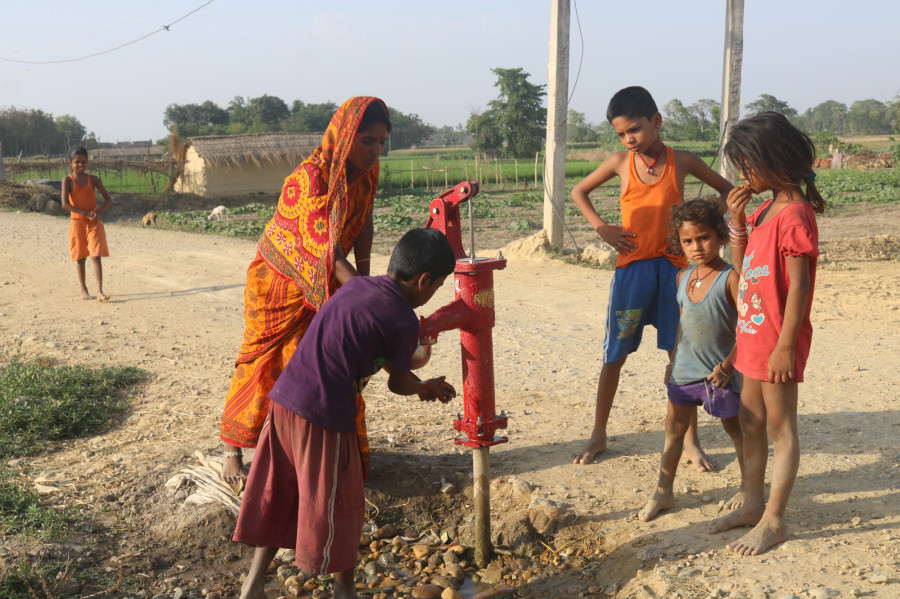 bookmark
Published at : May 22, 2019
Updated at : May 22, 2019 20:29
Simara
The residents of Simraungadh Municipality-7 in Bara are facing acute shortage of water after a majority of tube wells in the vicinity dried up.
The entire village now depends on three to four tube wells. Devpati Devi Ram, 60, a local woman of Jhawani in Simraungadh-7, said that the last time she took a bath was a week ago. "We are facing difficulties due to shortage of water. Our tube well which has been drilled 150 feet below the ground dried up from the start of April," she said.
There are more than 150 families living in Jhawani alone. Each household has installed a hand pump, but almost all of them have gone dry.
Koshila Devi Ram, 60, said that hand pumps had started to dry up during the dry season for the last three years. Koshila Devi said, "The tubewells were gradually drying up. However, this year there is not a single drop of water. Most of the villagers have been compelled to use water from bores drilled for irrigation purpose."
Villagers have demanded the stakeholders concerned to manage alternatives after the tubewells dried up.
Akalu Das Tatma, a local man of Teta in Simraungadh Municipality-10, said more than 60 hand pumps dried up in Teta in the past week.
Bijaya Shankar Yadav, mayor of Simraungadh Municipality, said that people living in Simraungadh Municipality-1, 7, 8, 9 and 10 are facing water shortage. "We have started laying drinking water pipelines in the villages to address the problem," he said.
The municipal office has planned to supply water from a water tank at Simraungadh bazaar.
Municipality officials said that more than 12,000 people are facing water shortage after more tube wells dried up.
---
---