Their Queen arrived as an exile. Today, hundreds of Sikhs call Kathmandu home.
The Kupondole Gurdwara offers the langar, a tradition that was started over 500 years ago by Guru Nanak, as a service to the larger community.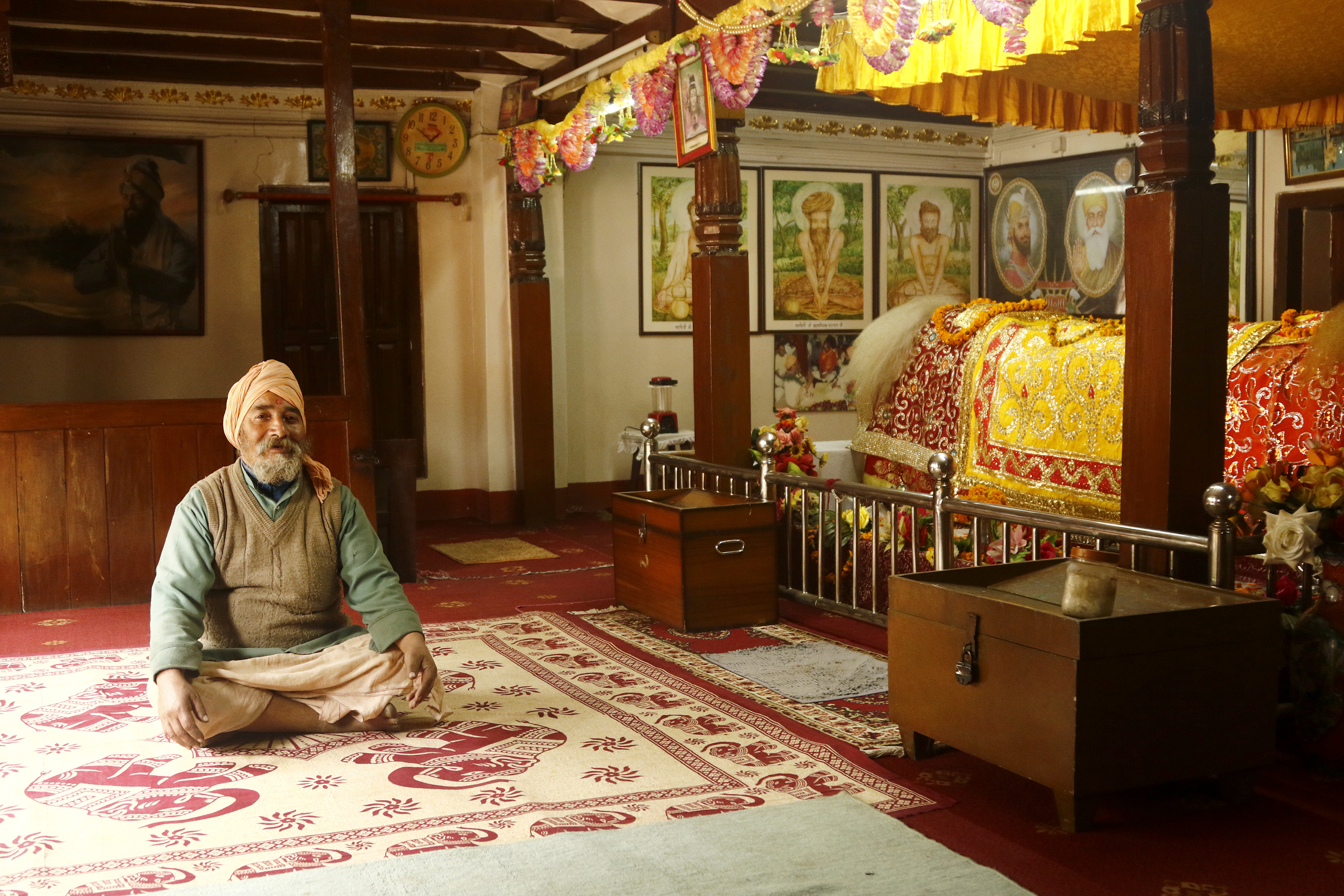 Published at : March 1, 2019
Updated at : July 21, 2019 10:44
Every Saturday morning, at 11, the doors of the Guru Nanak Satsang Gurdwara in Kupondole are flung open, ready to welcome all visitors. Head priest Daler Singh, whom visitors to the gurdwara call bhaiji, gathers musical instruments for the bhajan session while ten Sikh volunteers prepare the langar—the tradition of serving a vegetarian meal to all visitors, regardless of religion, caste, ethnicity or gender—in the kitchen. On most Saturdays, the langar, which begins at 1pm, serves more than 100 visitors, from community members and the homeless to curious onlookers who simply want a taste of Sikh cooking.
The Kupondole Gurdwara offers the langar, a tradition that was started over 500 years ago by Guru Nanak, as a service to the larger community. And that is just one of the ways in which the Sikhs have long been contributing to and enriching Nepali society. Ever since the 50s, Sikhs have laid Kathmandu's water canals, designed the city's roads and brought in some of Nepal's first transport trucks. Their tale of migration and entrepreneurship is rarely told, but it has a long and storied history.
Over half a century ago, there were between 4,000 to 5,000 Sikhs in Nepal, says Daler, but owing to political instability and citizenship issues, the numbers have now dwindled in recent decades.
"With our community shrinking, it is our responsibility to remain significant here," says Daler. "We've helped this country develop."
In 1849, a penniless queen-in-exile arrived in Kathmandu. Maharani Jind Kaur, famed regent of the Sikh Empire and the youngest wife of Maharaja Ranjit Singh, had escaped imprisonment by the British and crossed 800 kilometres of jungle to arrive at the doorstep of Jung Bahadur Rana, then prime minister of Nepal, who welcomed Kaur with all the dignity and respect befitting a queen. She was given asylum; a new palace, the Charburja, was built for her at Thapathali, where the Prasuti Griha maternity hospital currently stands, according to historian Purusottam Rana's book Shri Teen ka Durbar Haru.
Kaur lived in Kathmandu for 11 years and during her time here, established a number of small gurdwaras across the Valley, enshrined with the 1,430-page Guru Granth Sahib, a holy handwritten Sikh manuscript that is a collection of teachings and writings by Guru Nanak and his successors.
Although it was Jind Kaur who placed handwritten copies of the Guru Granth Sahib in a few Valley gurdwaras, the first Guru Granth Sahib was consecrated in Nepal by Sri Chand, Guru Nanak's son, to create a landmark that would recall the night his father spent in the jungles of Balaju while travelling to Tibet, according to hagiographic accounts of the founder of Sikhism. The jungle, which then spread across 1,200 ropanis of land, has now shrunk to just 32 ropanis and houses the Prachin Udasin Shri Guru Nanak Muth, near Balaju in Naya Bazaar. It was damaged in the 2015 earthquakes, and is currently led by Naiyam Muni Udasin, a follower of the Udasi sect of Sikhism founded by Sri Chand. The 65-year-old Naiyam Muni, originally from Gagalphedi above Sundarijal, is the 31st Udasi of the Muth and was appointed by the Nepal government's Guthi Sansthan.
The history of the Sikhs in Nepal thus dates back centuries, possibly to the late 15th-early 16th centuries, if the Sikh hagiographies are to be believed. More reliable historical reports, however, account for Jind Kaur as the first prominent Sikh in Nepal, who paved the way for the entry of others a hundred years later.
Daler Singh, priest of the Guru Nanak Satsang Gurdwara in Kupondole. [All Photos by
Keshav Thapa
]
***
The transport king arrives
Pritam Singh first set foot in Nepal as a teenager—in 1958, when attending a friend's sister's wedding in Nepal, just across the border from Uttar Pradesh. An aviation student from Jammu and Kashmir in India, Pritam came from a family of transport entrepreneurs. It was during this wedding that a friend came up with a business plan for Singh. Nepal had just overthrown the despotic Rana regime and was only beginning to open up. Roads were being built and private cars and taxis were only just starting to be seen on the city streets. For a transport family like Pritam's, this was a golden opportunity.
"After the partition of India, militancy was on the rise in Jammu and Kashmir and my family business, once flourishing, had begun to suffer. We started looking for new avenues to explore after I returned with a plan," says the now octogenarian Pritam. "With financial backing from my father, I packed my bags and within days, entered the Kathmandu Valley via Birgunj."
Initially, Pritam stayed at a hotel located where the iconic Photo Concern now stands in New Road. While traversing the city and struggling to find a foothold to launch his business, he spotted a lone turban in the distance. Recognising a fellow Sikh, Pritam pursued the man, who turned out to be a classmate from aviation school, Tralochan Daulat Singh.
Captain Daulat, one of two personal pilots to king Mahendra, introduced Pritam to the monarch. And it was this introduction that paved the way for Pritam's eventual success, he says.
"During those days, nothing happened without the consent of the king," says Pritam, now 84, and living in Thapathali. "Thankfully, King Mahendra and I had almost the same vision. He wanted to bring transport to Nepal and I wanted to expand my family business."
Pritam Singh, 84, came to Kathmandu in the late 50s and built a transport empire.

Building little Punjab
With Mahendra's consent, Pritam returned to Jammu and Kashmir and brought back three trucks to Kathmandu with six other Sikhs—three drivers and three conductors—in 1959.
Over the years, the government started providing them with consignments to import salt, sugar, rice and other goods. Pritam and his team of Sikhs drove in trucks to Nepal along narrow, dangerous roads that Pritam calls "life threatening." But business continued to grow and Pritam, in collaboration with Jamshedpur Tata, brought in eight more trucks, along with more men from Jammu and Kashmir and Punjab to work on maintenance, paint, tyre replacements and general workshops.
But Pritam said he and his growing team of Sikhs soon had a problem: they missed the food back home. Ever enterprising, Pritam called up friends who were interested in opening up a Punjabi dhaba in Kathmandu.
"Punjabis have a simple life," says Pritam. "Our engines only work when fed with rich food and rich alcohol."
The man who took up Pritam's call was Ajit Singh, who arrived in Kathmandu in 1964, and opened up the first Punjabi restaurant—Sher-e-Punjab in Kathmandu. The dhaba, located at Sundhara, not only offered the tandooris and naans that the Sikhs craved but also introduced Nepalis to authentic Punjabi food, kindling a love that would only grow. When Ajit died, his son, Harpal 'Paali' Singh, continued the restaurant.
At that time, many of the Sikhs in Nepal were ones that Pritam brought in for work or invited over for extended visits. The only other two Sikhs who weren't connected to him were Manohar Singh and his namesake, a second Pritam Singh, both engineers who built the water channels in Kathmandu and designed the first early roads.
Sikhs and other community members gather for a bhajan session on the occasion of Guru Nanak's birhtday on November 23, 2018.
A place of their own
When Sikhs came to Kathmandu, a majority of them first stayed with Pritam Singh, at his home in Thapathali. Later, they moved out to Kupondole—flats were available for cheap in the neighborhood—when their family expanded and they began to make some money, says Pritam.
As the community grew, it needed a place of worship. They weren't too well acquainted with the smaller gurdwaras around Kathmandu and Balaju was too far. So they placed a Guru Grant Sahib in a small rented apartment in New Road and turned it into a makeshift gurdwara, where they could gather and worship.
But with the number of Sikhs increasing, they needed a bigger place. Pritam Singh and a few friends collected money to establish a large gurdwara, big enough to house all of the Sikhs then working and living in Kathmandu. They had initially looked at land near Ranipokhari but eventually decided on Kupondole, as the land was on sale and the Sikh community was relatively larger in that area.
"It was the perfect location for us," says Daler Singh, the current head priest.
The Guru Nanak Satsang gurdwara was formally established in 1982, and has since been operated entirely by the Sikh community, unlike the other smaller gurdwaras that are run by Nepal government's Guthi Sansthan.
While the Kupondole gurdwara is the most well-known in Kathmandu, there are a number of other places of worship for Sikhs around the Valley. In addition to the Guru Nanak Muth in Naya Bazaar, there is the Sri Raj Rajeshwori Udasin Nirmal Akhada inside the Pashupati Conservation Area.
"Jind Kaur herself placed the Guru Granth Sahib in this location," says Swami Mahanta Gokulananda, who leads the Nirmal Akhada. Every morning, the Akhada offers to Pashupatinath a tray of flowers, consisting of ashrafi flowers grown on the Akhada premises and fresh rajnigandha flowers flown in everyday from Kolkata, says Gokulananda. This tradition has continued for centuries, he says.
"This exchange of respect and values shows the peaceful synchronicity that has existed for so long between the two religions," says Gokulananda.
There are also five other smaller gurdwaras in the Valley that hold historical significance but are lesser known. Shri Raj Rajeshwori Udasin Nirmal Akhada and Guru Nanak Muth Udasin Bhasmeshwor are both located on the premises of the Pashupati Conservation Area, along with the Thapathali Udasin Muth, Gyaneshwor Udasin Muth and Shobha Bhagwati Udasin Muth in Shobhabhagwati.
The next generation of Sikhs looks out of a window at the Guru Nanak Satsang Gurdwara.
Sikhs as citizens
Pritam has lived in Nepal for over 50 years, but he is not a Nepali citizen. Despite the nearly half-a-century that he has given to Nepal, complicated and ever-changing provisions for naturalised citizenship have meant that he, and thousands of other Sikhs, have never been able to acquire citizenship.
Pritam recalls an incident during the 60s, when western Nepal was severely affected by drought. On the request of King Mahendra, Pritam rented over 150 trucks to supply food to the west.
"I was granted Rs 5,000 as bakshis by the king for my support," says Pritam. "The then Kathmandu district head Kaley Bajey, Bishnumani Acharya, also asked if I needed anything else."
Pritam was hesitant at first, but mustered up the courage to ask for something—a Nepali citizenship for his son, Mahendra Pal Singh. The King agreed and Mahendra Pal was granted Nepali citizenship straight from the palace, "the first Sikh to acquire Nepali citizenship," claims Pritam.
Mahendra Pal is no more but other Sikhs, who have lived in Nepal for as long as they can remember, face difficulties living and working in the country. Many say they have tried to acquire citizenship numerous times, but the bureaucracy is frustrating, complex and the laws are archaic.
"Over the last three decades, I have lost more than two to three lakh rupees to con artists while trying to get citizenship," says Zorawar Singh, who came to Nepal from Punjab in 1970. "I have given up hope."
Zorawar, now 75, lives a quiet life in Sanepa and has reconciled himself to the fact that he will never become a Nepali citizen, even though he considers Kathmandu his 'karmabhoomi'—land for performing work.
Harjeet Singh, who runs a small watch workshop in Kupondole, has a similar story. He doesn't have Nepali citizenship and neither do his children. "We have lived our entire lives here. Our children were born and brought up here. They don't know any other home than Nepal. At least the government should take those born here into consideration," says Harjeet.
Although Indians are legally allowed to live and work in Nepal without permits, certain professions require citizenship. Daler's daughter was born in Nepal and went to school here. Because they had lived their entire lives in Nepal, Daler didn't register his daughter as an Indian citizen and Nepal never offered her a citizenship. So when she was offered her dream job after college, she had to give it up, because she didn't have either citizenship, says Daler.
Over the years, with no legal means to live on in Nepal as full citizens, many Sikhs have returned to India or have migrated elsewhere in search of a permanent home. Things were the worst during the Maoist insurgency, which brought turmoil to many residents in the Sikh community. Their transportation business was severely affected, as buses, trucks and tankers belonging to Sikhs were seized and burned. Many were extorted.
"It was during the insurgency that many Sikhs left Nepal," says Pritam Singh. "If the government had granted them citizenship, they would have bought land and settled here permanently but they thought it was better to leave rather than wait."
Despite this identity crisis, the Sikh community has continued living a quiet life in Kathmandu. Pritam still calls his community "working-class" and the Sikhs continue to work in the Valley in various capacities. The end of the civil conflict has brought some semblance of stability and prosperity back and they are keen to get back to doing what they're good at, as enterprising businesspeople.
Still, there just aren't as many Sikhs as there used to be. Sikhs running Punjabi restaurants along the Bagmati bridge have sold their restaurants and left.
"When I was here, Kupondole was packed with Sikhs. Every rented home had a Sikh family, but now there could just be 30 to 40 families in total here," says Zorawar.
After Harpal 'Paali' Singh's restaurant was destroyed in the 2015 earthquake, the only remaining Sikh running an authentic Punjabi restaurant is Pyara Singh, whose restaurant Punjabi Dhaba is located in Soaltee Mode.
For Pritam, life has slowed down. After bringing in a fleet of 600 vehicles in 1990, Pritam has let go of the transport business and finds himself more often in the gurdwara than inside a truck. The school he helped found, Modern Indian School in Chobhar, is flourishing. His sister-in-law Rupinder Singh operates another successful school, Rupy's International, in Baphal.
"We may not have been granted Nepali citizenship, but we live peacefully here," says Pritam. "And we will help the country prosper as long as we are here."
---