Parents fear for their children's safety
Some parents of students studying in Shree Madhyamik Vidyalaya in Letang fear for their children's safety after the incident of poisoned drinking water this Tuesday.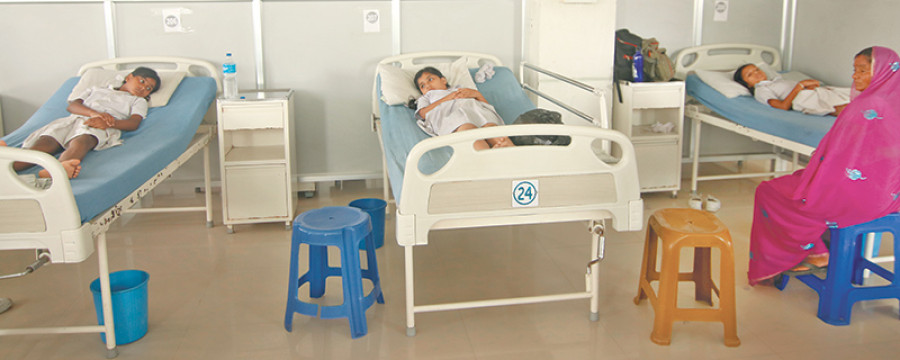 bookmark
Published at : August 18, 2018
Updated at : August 18, 2018 08:18
Jante (morang)
Some parents of students studying in Shree Madhyamik Vidyalaya in Letang fear for their children's safety after the incident of poisoned drinking water this Tuesday.
"I am frightened to send my son to school after this incident," said Krishnamaya, mother of Amrit Paudel, a 9th Grade student of the school at Letang Municipality-9 in Morang District.
Along with 28 other students, Amrit became ill after drinking the poisoned water from the school's water tank.
"The school water is unsafe for drinking. Someone deliberately poisoned the water tank with the intent of causing harm to the children and the school staff," said Krishnamaya.
Another ninth Grade victim of poisoned water, Ujwal Magranti, said, "I shall carry water bottle from my home."
A furious Letang resident, Kamaladevi Gautam slammed the dastardly act as a big crime. "There cannot be a more despicable act than poisoning young children.
The perpetrators should be identified and punished," she said.
On Tuesday, staff rushed 29 children from Shree Madhyamik Vidyalaya to a local health centre after they vomited and complained of headache and dizziness. Four victims were critical.
The remaining 25 students returned home after receiving treatment at Mangalbare Hospital in Urlabari the same day.
Manish Thapa (Grade 5), Shristi Niraula (Grade 7), and Kamala Limbu and Khusbu Mishra (both Grade 9), who were in critical state, returned to their homes on Thursday after receiving treatment at the Biratnagar-based Nobel Hospital.
Two other students, Srijana Niraula (Grade 5) and Pratima Limbu (Grade 7), who came home after the treatment on Tuesday, showed symptoms of poisoning again. They are receiving care at hospitals in Biratnagar, said police.
After preliminary investigation, police confirmed that the school's water system was poisoned. Police found the lid of the 500-litre water tank was pried open by force and an empty poison bottle floating in the water.
According to the police, a bottle of empty insecticide named "Cyperin Methine 10" was found inside the tank.
Nabin Dangal, phytopathologist of the Regional Agricultural Research Station, Tarahara, Sunsari, said the insecticide kills pests that feed on vegetables and field crops.
This insecticide is harmful to humans, he said. "Vegetables and crops can only be used after some weeks of spray," said Dangal.
Superintendent of Police Manoj KC said the District Police Office has formed a five-member committee led by DSP Nishan Thapa to investigate the incident. Police have not identified the perpetrators yet.
There are 491 students and 19 staff at the school. Principal Khemraj Dulal said they all drink water from the same tank. "We wonder who could have done this foul act," said Dulal. Students complained of a foul smell while drinking water that fateful day. Teachers examined the tank and concluded the water was poisoned.
"There's a chain gate in the tank and it was locked. The chain gate was opened at 9:30am that day. After 10 minutes, the students started drinking water from the tank," said Kashi Timsina, a teacher. Tenth grader Alika Timsina said students were frightened to drink the school water after the incident. "We fear school water could be poisoned again. They could put odourless poison in the tank next time, she said.
Teachers assured parents that the school has cleaned the water tank after the incident. Inspector Yograj Khatiwada at the Letang Area Police Office said further investigation is ongoing.
ALSO READ: 20 students taken ill after drinking 'toxic water'
---
---