'Ek Bhagavat Ra Ek Geeta' tries too hard
A gender-fluid boy, a kidnapping case, one-dimensional villains and Bipin Karki as a trans woman—this film chews more than it can swallow.

Karki as Kamala Maai. Some believe the role should've been played by a trans woman instead of Karki, a cis-gender man. Screengrab from YouTube
bookmark
Published at : September 19, 2023
Updated at : September 20, 2023 17:37
Kathmandu
'Ek Bhagavat Ra Ek Geeta' opens to the scenic scape of the Janaki Mandir in Janakpurdham. The elaborate palace made of stone and marble is truly a sight to behold—the shrine is jewelled with Mithila paintings and warmed by the footsteps of loyal devotees. It is here that we meet a Bhagavat and a Geeta, an unusual (and inseparable) duo made up of a little boy and an adult woman.

Bhagavat is the young son of a local politician. Geeta is the adopted daughter (reminder, she is an adult) of Kamala Maai, the leader of a group of trans women. And Kamala Maai is, you guessed it, Bipin Karki.
There are so many sub-plots in this film that it's frankly difficult and, at times, boring to keep track. But I will try nonetheless. Let's start with the most interesting one.
Bipin Karki's Kamala Maai is the leader of the local trans women's commune, inspired by the Hijra communities within South Asia. Hijras (or Kinnars as some like to call themselves) are intersex, transgender or queer folks who live in communities—often called gharanas—as a way of survival and protection. There is a distinction between trans and hijra identities, as a person must be ritually adopted into the Hijra community to identify as a Hijra.
The film shows that Kamala Maai and her subordinates have relative social and economic capital, as they are often invited to festivals, weddings, and rituals to sing, dance and give blessings.
Bhagavat, played by twins Jvin and Jvis Shrestha (who is so unchaperoned that his parents should be tried for negligence), somehow always makes it over to Geeta's and Kamala Maai's home, where he is fascinated by their way of life and likes to wear jewellery and traditionally feminine clothes.
This, of course, doesn't fare well with Bhagavat's family, especially his trans phobic, racist, sexist (and all the other -ists in the book) brother who chases Geeta and Bhagavat with a gun, after which they are forced to run away to Pokhara.
It is on-route that Dhiraj Magar's character kindly offers the duo a lift, which they subsequently pay back by stealing from him and throwing away all his groceries. Thus begins their adventure outside of Janakpurdham, where they tour the picturesque hills of Pokhara.
The film is a difficult watch for many reasons: the sound is particularly awkward, and much of the dialogue and foley are unsynchronised. The primary cast is mostly just pahadi Brahmins (in a setting like Janakpur), and almost all of them fail to emulate the local Maithili dialect, which at times feels caricaturish. Madheshi actors are pushed to the side, mostly just playing filler characters with no agency.
The film seems to confuse the transgender movement as simply 'cross-dressing'—Bhagavat's desire to wear jewellery and dress up in lehengas is juxtaposed with Bipin Karki's struggle for acceptance when he is publicly shamed by his own wife and village elders for embracing queerness.
Trans issues involve much more than just dressing up—the film fails to acknowledge the often violent and regressive battles trans women have to face daily. The issues often requiring structural and institutional change are simply brushed over in the film. Instead, the final catharsis is Kamala Maai adjusting her saree to beat up goons like that in a cringe action flick.
This use of physical violence to solve the issue at hand severely limits the film's reach—the only difference here is that the 'hero' is wearing a mean red lip, fake eyelashes and bangles. Its gaze is myopic because it assumes that the classic hero-villain shtick will translate well into a story about trans folks. (News flash: It has long stopped working for heteronormative stories.)
As the end nears and Kamala Maai delves into a dramatic monologue, she refers to how Hinduism has instances of embracing 'queerness' (and I put this in air quotes)—the 'Ardhanareshwar' or 'Brihannala'—and it feels half-baked. There's a sort of exotification with this narrative, as though trans individuals (and only those who adhere to a very rigid structure) have value only through religious association.
This places trans folks in antiquity—what about trans women who are atheists? Who aren't associated with any communes or houses? Who don't wish to be seen as just different but assimilate and live as normal human beings in society? Even as her monologue ends and the villagers' gazes stoop low, there's still this realisation that these trans women will never truly assimilate into society, but will be seen as mostly benevolent anomalies.
Ek Bhagavat Ra Ek Geeta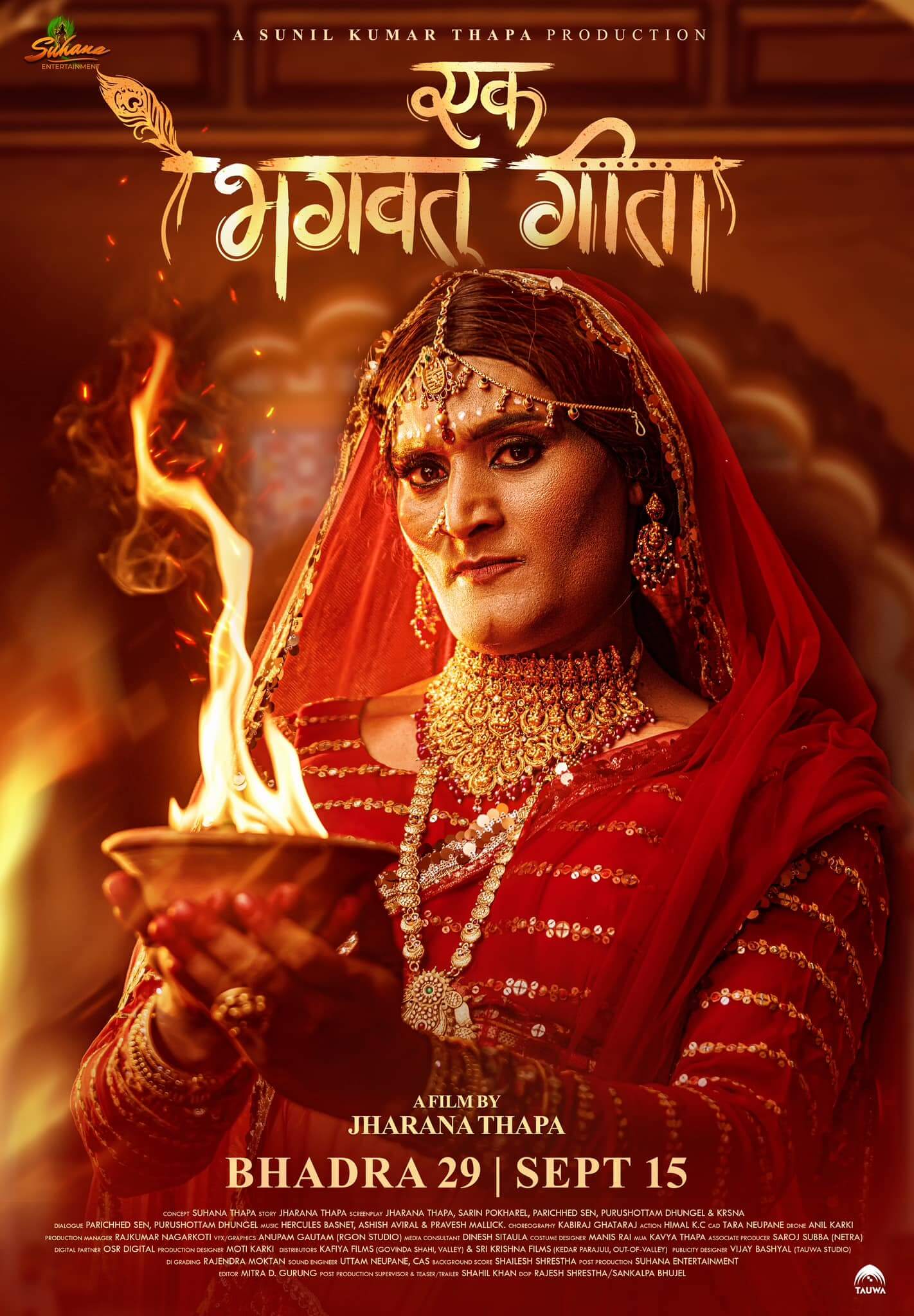 Language: Nepali
Director: Jharana Thapa
Cast: Bipin Karki, Suhana Thapa, Dhiraj Magar
Released on: September 15
Now showing: QFX, One Cinemas
---
---