A look back at 'Balidaan'
It is a coherent, well-meaning movie that doesn't let cliches and inherent preachiness take away from its stellar plot and performances.

Hari Bansha Acharya (left) and Madan Krishna Shrestha in a scene from the film. Screengrab from Youtube
bookmark
Published at : September 12, 2023
Updated at : September 13, 2023 07:43
Kathmandu
Films set during a particularly well-known historical period are ambitious projects. There are high emotional and historical stakes at play, and these films face massive public scrutiny as viewers have very high expectations of them. One such film, set against the backdrop of the Panchayat era, is the Hari Bansha and Madan Krishna starrer, 'Balidaan'.

When compiling a list of the best Nepali movies or seeking recommendations from avid film enthusiasts, titles like 'Kusume Rumal', 'Darpan Chhaya' (we don't talk about the sequel) and 'Chino' will undoubtedly make the list. Directed by Tulsi Ghimire, who has a track record of box office hits (like the ones mentioned above), 'Balidaan' may not be perfect by any stretch, but its coherent, albeit didactic plot, stellar performances, and entertainment value ensure it remains etched in our memory.
'Balidaan' unfolds a simple narrative. Acharya plays Arjun, a headstrong and patriotic leader of the underprivileged, challenging the oppressive Panchayat rulers—mainly the corrupt police force and a power-hungry politician. The movie also stars Anjali Lama as Sangeeta, one of the only female rebels amongst the revolutionaries, who later gets entwined in a budding romance with Arjun.
Arjun, despite being the protagonist, is somewhat one-dimensional. The film starts with a police intervention that scatters the rebel group. From there, the story shifts to Arjun and his determined rebels, who are later joined by the equally committed Sangeeta. We find out that Arjun is a legend of sorts—respected by the rebels and infamous among the police for his unwavering loyalty and readiness to sacrifice for his people. However, Arjun's characterisation falls short in that it confines him to being a mere vessel for revolutionary dialogues, neglecting his overall development.
As the movie proceeds, delving into darker themes, we witness a shift in Acharya's performance—most eminently when Arjun gets arrested and subjected to police torture. Here, Acharya brings out the emotional depth that was lacking in his acting during the first half of the film. His sunken eyes and hopeless expressions vividly convey the physical pain inflicted by the police and the emotional turmoil of being torn away from the newfound family he had formed with Sangeeta.
The movie's dialogue-heavy nature, at times excessive, leaves Arjun delivering numerous heavy-handed, didactic speeches that eventually blur together. Madan Krishna plays the role of a dispirited retired captain, making a grand, swinging entrance typical of dramatic scenes. He effortlessly defeats a group of rebels in a clichéd, unrealistic fight sequence, followed by a lengthy speech expressing his disdain for aligning with any side of the movement.
Although such theatrical fight scenes can be forgiven given the film's age, this should serve as a lesson for directors to avoid assuming that their audience lacks awareness of how brawls work. Just as the captain (we don't ever actually find out his name) makes his dramatic entrance, we can correctly assume that he will eventually join the movement. There's no room for subtlety or suspense here. Oh, and he inserts 'Koi shakh?'(Any doubts?) in every other sentence, and I'm a little bit embarrassed to admit that it made me laugh the first time.
The antagonists in 'Balidaan' all exhibit the typical traits of morally dubious, fully-evil characters—SP Karna Dhoj (Neer Shah) being the only exception—that prompt the audiences to root for the protagonists. In this context, it works well. The rebels and the victims of the Panchayat rule, downtrodden and brutalised by their violent rulers, represent the people who endured these hardships. It is a fictional story based on a very real and tragic era in Nepal, so desperately rooting for the villains' suffering and end becomes a part of the experience.
Regrettably, 'Balidaan' falls short in its portrayal of female characters—a common issue in most older Nepali movies. Sangeeta, initially a crucial part of the revolutionaries, is sidelined in the second half of the movie and relegated to the roles of love interest and wife. Halfway into the movie, we find out that she's pregnant with Arjun's child, and as a result, she is no longer able to join Arjun in his battle against the system. What really leaves a sour taste in my mouth is the end of the movie. Right as Arjun is having the momentous face-off against the goons and the police, Sangeeta shockingly (note my sarcasm) goes into labour and gives birth on the spot—another example of a female character reduced to the role of just a child-bearer.
Discussing 'Balidaan' without mentioning its addictive soundtrack would be remiss. The film masterfully incorporates music, with songs like 'Chameli', that has scenes of villagers farming and dancing about. This lends a lighthearted and uplifting tone to the movie. Another original track, 'Gau Gau Bata Utha', composed by Shyam Tanot and performed by Raamesh and Rayan, perfectly complements the movie's themes of poverty and the possibility of change.
The film's ending doesn't come as a surprise, given its title and the recurring themes of sacrifice and martyrdom discussed throughout its runtime. 'Balidaan' pays homage to the bravery of the freedom fighters, acknowledging the tragic reality of revolutionaries both in Nepal and beyond who have sacrificed their lives for their people. It may not be a flawless film, but 'Balidaan' offers all-round entertainment that elicits both joy and sadness simultaneously.
Balidaan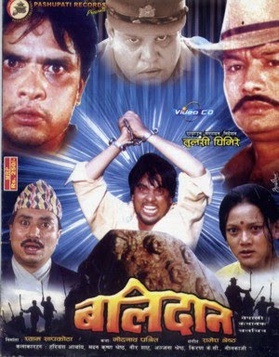 Language: Nepali
Duration: 2 hours 26 minutes
Director: Tulsi Manandhar
Cast: Hari Bansha Acharya, Anjali Lama, Neer Shah, Madan Krishna Shrestha
Year: 1997
Available on: YouTube
---
---