A woman, a man and a Kathmandu night
Mohan Rai's 'Mahanagar' gracefully pulls off the conversational, dialogue-driven style of filmmaking.

Menuka Pradhan in a scene from the film. Photo courtesy of Middleway Films
bookmark
Published at : August 29, 2023
Updated at : August 30, 2023 08:06
Kathmandu
Kathmandu, at night, is an entity of its own. Perhaps except for Thamel and a few other places, the rest of Kathmandu falls into a deep slumber—shops draw their shutters, and the roads turn into sullen, brooding lines of emptiness. Only the privileged are privy to this melancholic yet mystical facade of Kathmandu. To be able to step out into the chowks, while the rest of the city is asleep, you'd probably have to be a man and that too, one with some amount of courage or carelessness.

'Mahanagar: One Night in Kathmandu'—written and directed by Mohan Rai—will transport you to this version of the Capital. The contrast from day to night is profound—the busy, chaotic streets of the city give way to an uncomfortably silent atmosphere—as if a swift calamity has brought in some form of apocalypse. It is within this quietness that two of the film's characters—Ashish and Khushi—strike up a friendship, which, as the title suggests, lasts just one night.
The film opens with a minor accident of an unnamed pedestrian, who is taken to the hospital by two characters who coincidentally happen to be there at the time. This kindness displayed by Ashish and Khushi establishes them as newcomers to the city—yet to be tainted by the apathy that engulfs those who've lived here for a while.
As noon falls into night, neither is willing to leave the hospital-ridden pedestrian's side. Khushi (played by Menuka Pradhan) has a deep gloom inside and around her—her shrunken face, sunken under-eyes and timid clothes hint that she's fighting a quiet yet difficult battle inside. Ashish (played by Karma), on the other hand, has a very easy-going aura to him—he constantly tries to strike up a conversation with Khushi despite her quiet rebuffs.
As the film progresses, it feels as though there is much that the characters are hiding from the audience and themselves. Khushi—who came to Kathmandu to make it as a poet—is spending her last night in the city, planning to catch the morning bus back to her village. Ashish is a tour guide flying back to India the next day.
Nothing big happens in the film. But that is what makes it different. Nepali films are saturated with action—a fight scene or two, a dramatic dance atop a hill, and gaudy monologues (followed by excessive reverberations)—which quickly becomes too much. This, perhaps, is the filmmakers' (unsuccessful) attempt to shamelessly evoke emotions from what they consider an unaware audience.
But this hangover from 80s Bollywood doesn't work anymore. 'Mahanagar' doesn't try to trick the audience—it doesn't take on the role of a preacher, trying to constantly feed big bites of emotions to its viewers. Instead, the film gives viewers agency and an intellectual and rational playground to decipher and perceive what is being said (and seen) on screen.
At times, however, the film does go overboard with its dialogues. While trying to soothe Khushi, Karma's character takes up the role of a 'manic-pixie-dream-boy' who is a treasure trove of inspirational quotes that reminds one of 2014 Tumblr (ah, good times). Quotes like 'Today is a gift; that's why it's called a present' feel a little too simplistic in today's circumstances, especially for Khushi, who is battling deep-rooted and structural issues of class, elitism and mental health.
Similarly, though Pradhan has tried to portray Khushi as a woman who grew up outside of Kathmandu (in a financially burdened family), there are moments where Khushi transcends her circumstances rather too abruptly—especially when it comes to her accent, which feels too urban. This, at times, alienated her character from the story.
This could border on generalisation on my part, but when a character feels real, viewers rarely find time to deconstruct the actor's portrayal of the character, as they are so entranced by what's on screen.
Parallels can surely be drawn to Richard Linklater's 'Before Sunrise', a film about a man and a woman who tour the streets of Vienna, Austria, for a single night. In both films, the two characters bond over a shared love for creativity—poems and books—and the nature of existence.
But the similarities end there. 'Mahanagar', refreshingly, doesn't project a romantic gaze on the duo, and we see their relationship blossom—albeit for a single day—as strangers turned confidantes. Rai, as both writer and director, understands the cultural nuances of the Nepali way of life. Perhaps this is the reason why the characters never tread romantic boundaries. Both self-police themselves to what is deemed appropriate.
'Mahanagar' released on August 25, and it's already off theatres. This is an alarming precedent because independently made Nepali films—which are much more authentic and well-made—rarely get the time needed to garner audiences.
Perhaps its cinema halls casting them aside due to lack of profitability, or because the audience isn't ready to see cinema as more than mere entertainment, Nepali independent films are trapped under a vicious cycle. They are lauded in film festivals in the country and outside—as was 'Mahanagar'—but rarely make money or receive mainstream success.
Nepali audiences need to start recognising and supporting the fragile but capable momentum of independent and guerrilla filmmaking. Films like these are always more honest, realistic and perhaps even (rightfully) uncomfortable—things mainstream Nepali cinema desperately lacks.
Mahanagar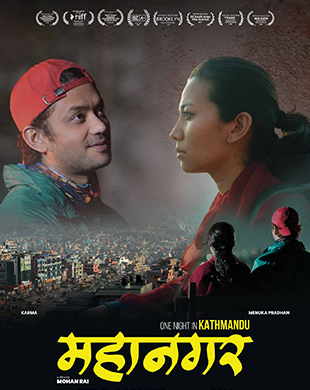 Language: Nepali
Director: Mohan Rai
Cast: Menuka Pradhan, Karma
Released on: August 25
---
---