'Pasang paved her own course of life'
Director Nancy Svendsen and Dawa Futi Sherpa, daughter of Nepal's first female climber Pasang Lhamu Sherpa, talk about 'Pasang'—the documentary that changed how people viewed alpinist's life.

Pasang Lhamu's daughter, Dawa Futi Sherpa (second from left), and director Nancy Svendsen (far right) at the film's Nepal premiere. PHOTOS: Courtesy of Pasang Lhamu Organisation
bookmark
Published at : June 13, 2023
Updated at : June 13, 2023 08:04
In most Nepali curriculum books, Pasang Lhamu Sherpa is always lauded as the first Nepali woman to climb Everest. However, despite such a big label, her life—from her childhood to the climb—is shrouded in mystery. The documentary 'Pasang: In the Shadow of Everest' has changed that.
'Pasang' gives an in-depth window into the life of Pasang Lhamu Sherpa, who reached the summit of Mount Everest in 1993. It also explores the challenges she faced from her own family, foreign climbers, the Nepal government, and, finally, the harshness of Everest itself. Set against the backdrop of a nation marred in political turmoil, the documentary—with the help of archival footage and anecdotes—paints an indigenous woman's quest to make history.
The Post sat down with director Nancy Svendsen and Pasang's daughter Dawa Futi Sherpa to talk about the legacy of a climber that fought not only against the elements in the mountainous region but also against societal norms that restricted her.
How was relieving her legacy and memories throughout the making of this film? (For Dawa Futi Sherpa)
When my mom passed away, it was very difficult. My siblings and I were sent to boarding school as life went on, and we never really talked about her. In Nepali culture, we are not taught how to handle grief, and we never receive counselling. When I gave interviews for the documentary, I was really emotional, probably because that was the first time I was asked, "Tell me about your mom." Throughout my life, I was told, "Oh, you are Pasang's daughter," and that was it; there was no follow-up question. While making this film, I got the chance to learn more about her. Not just about my mother but of all the people that worked with her.
The documentary has been screened worldwide and has finally come home. How was the premiere and the response? (For director Nancy Svendsen)
It was beautiful. It was really emotional to screen the film here where it all started. To be there in the cinema hall with family and people who knew Pasang, diplomats, and dignitaries from all over the country was a beautiful experience.
What did you think of the audience's reaction?
I think so many people see themselves up there on Everest and have a personal connection with Pasang. Also, lots of people asked me how the film depicted that time. That made me happy because we worked hard, researched, and talked to many people to make the historical depiction accurate. I am glad the audience learned that Pasang wasn't a one-dimensional character.
On a personal level, what inspired you to make this film?
Pasang inspired me. From the time my brother-in-law, Dorje, told me about her, I was so inspired by what she had done. She chose the direction of her life and did not let the people, the government, or the culture tell her what to do and what not to do, and that was something that touched me.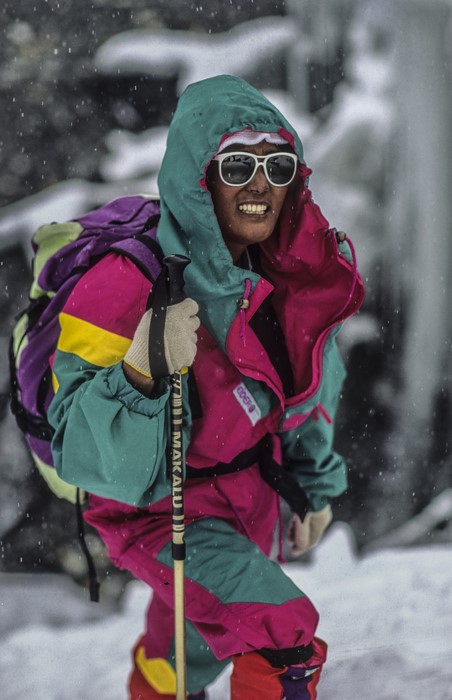 Photo Courtesy: Pasang Lhamu Organisation
What was the most difficult and the most memorable part about making this film?
Because the filming took so long, there were many ups and downs. There were times when I was really excited about the interview, but there were also times when it was really hard. One of the most difficult things about making this film was the last part—the last climb—because there was no footage. So it was really important that people who were present at the top tell me the story. It was hard to find them because it was such a traumatic experience. One of the Sherpa climbers quit climbing after the incident.
The documentary had a lot of footage and pictures. How did you begin collecting all the archives?
One of the main reasons it took a long time to make the film was collecting the archives. Dorje wanted to make a film and preserve his sister's legacy. So, a local filmmaker from California collaborated and filmed some of those old interviews in 1997. At that time, they also received footage from television which was brought back to the US. Later, we started contacting people who knew Pasang, asking them for any footage or photos they might have. Everybody wanted to help; it was just remarkable.
The footages are from the 1990s. How difficult was it to match the resolution that meets today's standard?
We have a team here and in the US. I also have a colourist who brought life into those images. We all sat together in the room with him and went through each and every frame of the film, looking carefully at the parts that needed refurbishing. The team worked very closely to make this happen.
During the research process, did you discover anything new about Pasang?
There were so many things that were different, but we couldn't put everything into the film. One that struck me the most was how emotionally intense she was. When her brother passed away in an accident, she was very quick to get a hold of herself in a very short period of time.
From the reception of the movie, it's clear Nepali audience loved the new insights into Pasang's life. Where are you planning to take the movie next?
People all over Nepal should get the opportunity to learn about this national hero. Not just the people living in cities but those living in rural areas should also get to know Pasang. To screen this film in every nook and corner of Nepal is a dream of mine. We planned a screening in Lukla, and even though the weather was not good, there was a huge turnout, and they loved it. I think the same will happen elsewhere.
---