Everything that is wrong with Akshay Kumar's Laxmii
Directed by Raghava Lawrence, Laxmii is not only boring and outdated it is also problematic, perpetuating stereotypes against the trans community despite its promises to break it.

Screengrab via YouTube
bookmark
Published at : November 21, 2020
Updated at : November 21, 2020 12:01
Kathmandu
What is common in every recent Akshay Kumar film? Besides catering to the populist social issues of Indian society, which are mostly driven by a Hindu hyper-nationalistic agenda of India's ruling party, every movie from his recent filmography employs the 'male saviour' character trope.
Not surprisingly, his latest film, Laxmii, directed by Raghava Lawrence, which was released on Disney+ Hotstar, follows the same trope: in this movie, Akshay plays a cisgender heterosexual man, who helps and becomes a saviour for a transgender character, Laxmi (played by Sharad Kelkar).
Unlike his other films, here, however, he is a Muslim man, but this detail feels like it was written with just the sole purpose of adding the message of secularism, for in the past he has been part of projects that have questionably represented Muslim people. Everything else is the same as he is still the saviour, who is a noble person, protecting the 'honour' of people who have been historically dominated by society.
The movie starts with Asif (played by Kumar) and Rashmi (played by Kiara Advani) living in a posh apartment with their nephew who has a habit of calling people by names, which honestly adds nothing to the plot. But this is just the beginning. You just have to wait for more dumb things to happen in the movie.
One day, Rashmi, who has been outcast by her family for marrying a Muslim man, gets invited by her estranged mother, Ratna (played by Ayesha Raza Mishra), to her house, as it's her 25th wedding anniversary with her husband, Sachin (played by Rajesh Sharma). While both are unsure whether they will be accepted by her family members, who have been out of contact with them for more than three years, they head to Rashmi's house.
However strange things start happening after their arrival. Ratna starts seeing images, whereas her daughter-in-law, Ashwini (played by Ashwini Kalesar), is also haunted by a spirit, making them seek help with a priest.
But things escalate when Asif starts behaving strangely too. After a long sequence of scenes involving spiritual gurus trying to find out what is happening to Asif, they find out that he has been possessed by the spirit of a transgender ghost, Laxmi, who is seeking vengeance for the injustice she had to face and is killing those people who killed her and other members of her family.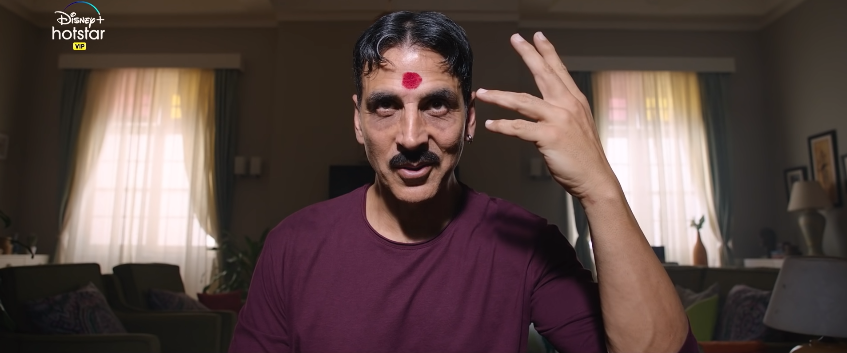 Screengrab via YouTube
Laxmii is a remake of 2011's Tamil film, Kanchana, which was directed by Lawrence as well, and had him as the lead. Just like the Hindi adaptation, it had almost the same plot; however, the central character was different. In the original movie, Lawrence played the character of a man who was so petrified with ghosts that he had to take someone at night when he had to use the toilet.
However, in Laxmi, Asif's character is the polar opposite. In fact, he is a ghostbuster, who works in an organisation that tries to wipe out superstitious beliefs, particularly the ones pertaining to the existence of ghosts. And that's one of the primary reasons why the screenplay and the story of the movie goes downhill even before the movie reaches its climax. The makers try too hard to fit Kumar's real-life persona and image to his character that you hardly can feel for his character.
But that's not the only thing that is problematic and makes the movie unbearable to watch. The cisgender heterosexual gaze of the makers is very visible. The director's choice to make a cisgender heterosexual character the hero and the messiah of trans people is a redundant and outdated trope that denies the capability of trans people to do things on their own.
While the makers may argue that featuring Kumar is more effective since he has a massive fan following, it would have made a great move if they could have used this opportunity and featured a trans actor who could have done justice to the role than a cishet actor for Laxmi's character.
And because of this, the film suffers from the cishet gaze, making the intentions of the makers seem dubious, as rather than doing any good, they perpetuate the regular stereotypes harming the trans community. For example, they use the number 6 to denote a house owned by a transgender, a cue that is problematic at its core and rely on degrading dialogues like, "I will wear bangles, if I see a ghost", implying bangles as a sign of weakness—all of which reflects the regressive mindset of the makers.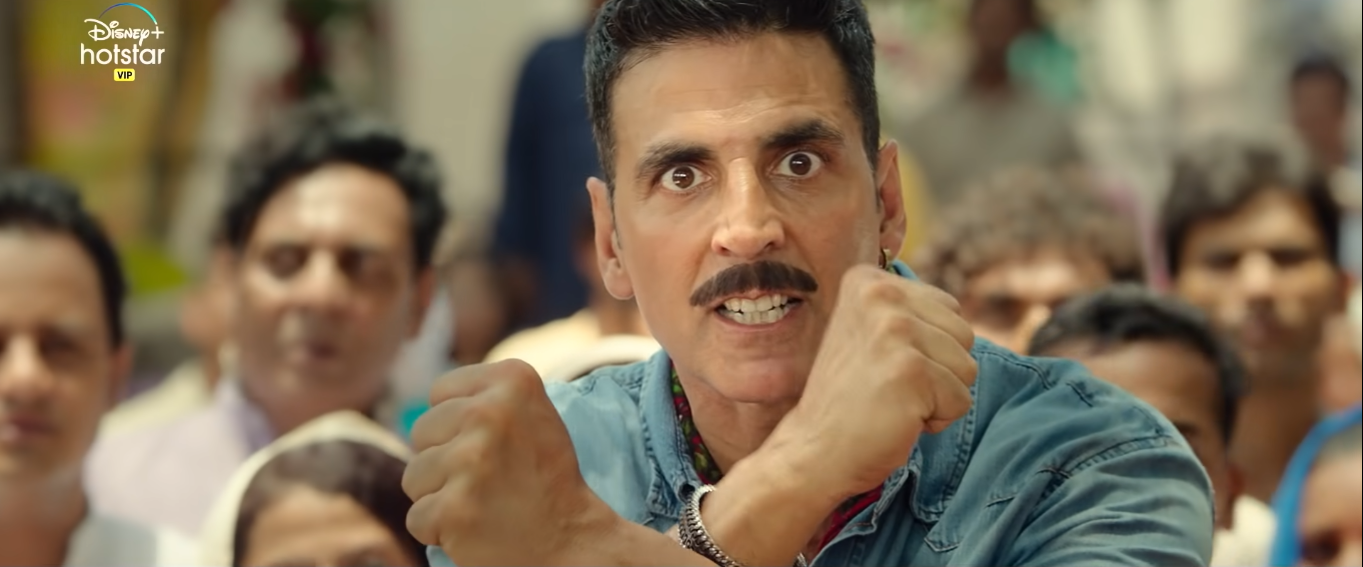 Screengrab via YouTube
Likewise, another area where the film fails miserably is that it mixes two concepts: gender identity and gender expression as if both mean the same thing. There's a difference between gender identity and gender expression, as gender identity is about how one identifies and perceives their gender internally, while the latter has to do with how one uses various forms of expressions like clothes, hairstyles and others to reflect their gender.
In the movie, before the big reveal, Asif's behaviour is considered 'abnormal' and is mocked to bring laughter among the audience, which is a direct result of the cishet lens of looking at the issues of gender.
A man can be fond of cross-dressing. A man can be fond of applying turmeric as a part of his skincare routine. This should have nothing to do with who they identify as, and using such instances to portray someone as transgender is disheartening to see.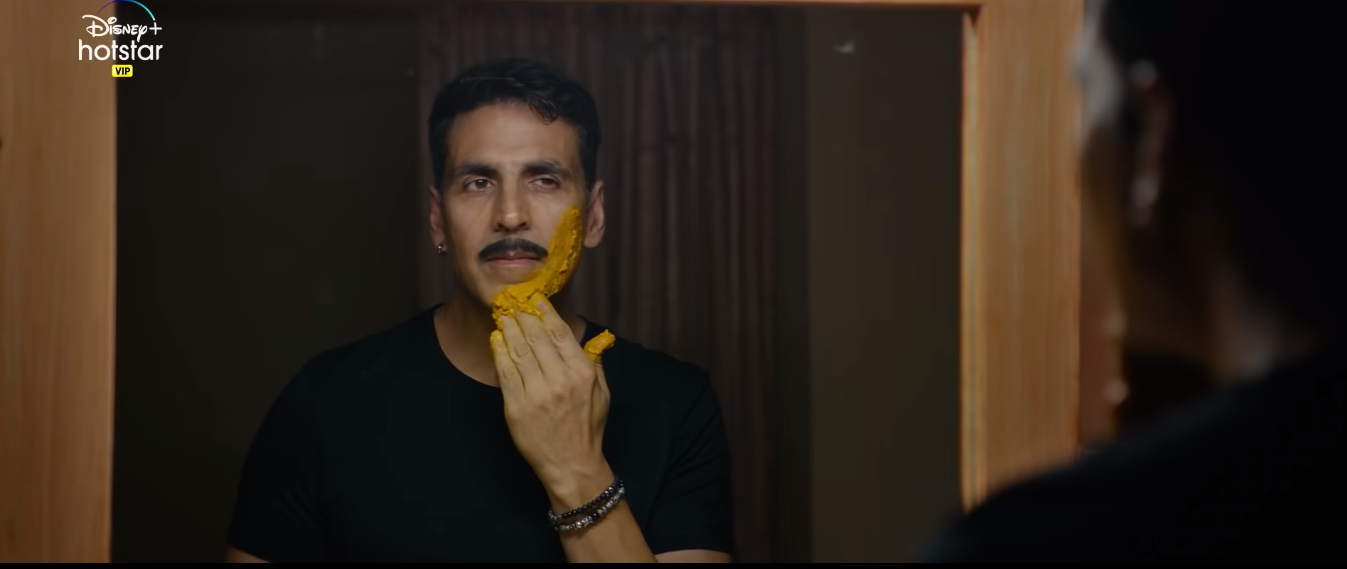 Screengrab via YouTube
Likewise, do we really need a movie where trans women are shown as people who love doing only 'feminine' things, speak in a particular stereotypical lingo and are violent?
The movie does try to redeem itself by showing trans people as capable individuals, unlike a majority of Hindi films that show trans people as sex workers. However, because there's so much stereotyping already present in the first place that these 'noble' intentions fly away.
But the movie is not tone-deaf in terms of representation only. It's outdated, outlandish and simply boring. Using corny dialogues, and depending on thinking that calling an elderly woman fatso is funny, just reflects how the filmmakers are still stuck years behind, in terms of progressiveness.
Then there are random songs that are played in between and the background score is so high pitched. The film honestly feels like a dummy course on 'How Not to Make a Movie' in this day and age.
At the end of the movie, one wonders why they wasted more than two hours of their life watching this movie. However, one thing that worried me most is the impact this movie will leave on the impressionable mindset of people, who hold problematic views against the trans community, due to lack of knowledge. Because it is undeniable that Kumar has a massive fan following. The film broke the record of biggest digital viewership opening of a movie, within hours of its release.
Another equally disturbing thought is the film's impact on Nepali filmmakers and audiences. Bollywood has an immense influence on the mindsets of Nepali cine-goers and filmmakers. And many will watch this film. But in a country where many recent incidents have reflected how queer, especially trans, people are stigmatised and bullied, this movie could contribute to misrepresentation and further stereotyping an already vulnerable community.
Movie: Laxmii
Starring: Akshay Kumar, Kiara Advani, Sharad Kelkar
Directed by: Raghava Lawrence
Star: 0.5 out of 5
---
---