In 'Panga', a mother dares to put herself, and her dreams first before her family's needs
While it's not without flaws, the commendable work from director Ashwiny Iyer Tiwari challenges a woman's prescribed place in society.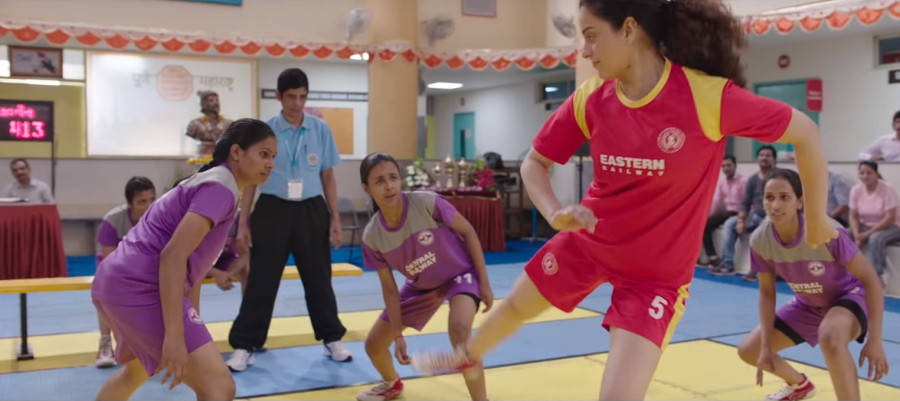 Screengrab via YouTube.
bookmark
Published at : February 1, 2020
Kathmandu
Once upon a time, there was a woman. She was just starting out in life, realising her dream, building her career. Then she got married. Suddenly, everything became about her husband and her family, and nothing remained of herself—neither her dreams, nor her body. All of us know at least one such woman, and yet somehow her stories were never important enough to be told—especially not in a film. And this is exactly where Panga scores to win.
Panga is about a mother who is waiting for a second chance in life. Director Ashwiny Iyer Tiwari, on Twitter, dedicated her film to "everyone waiting for their hidden hopes to shine again." Panga is the story of athlete Jaya Nigam, once the Indian women's kabbadi team captain, but her career was cut short by the arrival of her baby. The newborn, we are told, needs extra attention because its born with an immunodeficiency disorder. Played by the brilliant Kangana Ranauat the film follows the mother, Jaya, as she struggles mentally, emotionally, and physically to once again pursue her dream.
Panga begins with Jaya working a railway ticket counter, under an unnecessarily rude boss. She lives an average, routine life, where she is expected to cook, clean, put her son on the school bus stop, run to her job, come back home, and stay in the kitchen to cook and clean again. But we, the audiences are warned multiple times (rather forcefully) that nobody is to mess with three things- her husband, her son, and Kabaddi.
While her husband and son are gleefully present, kabbadi seems to have disappeared from Jaya's life. But it arrives after seven years when Meenu (Richa Chadhha), her ex-teammate and friend, comes to Jaya's hometown of Bhopal to coach the local kabbadi team. It's when Jaya watches kabaddi that we see how deep her love for the game is. Meenu eggs Jaya on, challenging her to a game of kabbadi, but she declines. So, what happened? Why doesn't she play?
Her husband Prashant (Jassi Gill) shares the story through a flashback. Jaya used to be a star player when she fell in love and got married. She had just been selected to play an important international tournament when she got pregnant and chose to have her second child. She had always planned to play after the arrival of her baby, but because the newborn needed extra attention because of his health, the mother sacrifices her own dreams for her child.
Her elder son, Adi (Yagya Bhasin), insists his mother rejoin the game, and he is adamant. After pestering his father nonstop for days, Adi manages to convince him. The parents then decide they are going to pretend to play, so the son can have his way, and the story moves ahead with Jaya being selected for the Railway team in a faraway city—Kolkata. But she realises that she couldn't actually play because that would mean she'd have to leave behind her husband and son. Mothers don't have dreams, Jaya argues, adding that pursuing her dreams would make her a selfish mother, a cruel one.
Kangana carries the film and she does so effortlessly. There is a scene in the film when Meenu tells her someone in her kabbadi team that they should learn sportsmanship from Jaya. This instance resonates for Kangana, the actor, too. Although the film is out and out based on Kangana's character, she never lets her celebrity overshadow. It never feels forced or big in the way Bollywood treats its leads. Her presence is subtle but impactful. In fact her best scenes are those which she performs without even saying a word. Multiple times throughout the film, it is Kangana's expressions, and the subtlety with which she performs, that will hit you hard.
The film's gems are its brilliant set of actors. However, the makers don't do justice to all of them. Neena Gupta is one of these actors. Gupta plays Jaya's mother, and she doesn't have much to do. She just hops in and out of the film at convenience, although there is one telephone scene that feels like a tribute to the bond all mothers and daughters share. Gupta's maternal character reminds Jaya of her contributions during Jaya's childhood, and Jaya acknowledges gives a tearful nod. And in this moment you might choke up—I did.

Jassi Gill does plays the role of an extremely supportive husband fairly well. But his constant smile can get a little redundant and unnerving at times. It's as if smiling is his default. Another actor, Richa Chadda, looks and performs her part with such ease, it's just brilliant. She brings the most joy in the film. Her character doesn't have an arc, but in the film she stands for all the women who, regardless of their personal and professional achievements, are reminded time and again that their worth is tied to their womb. It's quite refreshing to see female characters support and strengthen each other.

It's important to mention reiterate the fact Tiwari is the director of the film—she's a woman telling a woman's story. Tiwari manages to beautifully capture the guilt a wife and a mother inevitably feel if she dares to prioritise herself, and her dreams. And she does this ever so subtly.

She also manages to bring in small details of the middle-class life, through her characters and her set—right from the kitchen utensils to the netted doors, and the way the clothes are hung on the front porch. For this film, it feels as though Tiwari wants to be close to her characters, which she demonstrates through an overuse of close-ups. The cinematography is by Archit Patel and Jay I. Patel. While the former has worked on films like Dhaka Attack (2017), the latter has Raazi (2018) and Bang Bang (2014) in his repertoire. Even with different cinematographers, the visuals feel consistent and just clean, but nothing more.

However, the film isn't without its flaws. The screenplay, written by celebrated film maker of Dangal (2016) Nitesh Tiwari, struggles to restart following intermission. The writer, who is also the director's husband, seems to have only used montages throughout the second half's entirety. While Jaya is seen training, to perform for her game, her husband trains to perform basic house chores. We see the husband burn parathas, and the son wishing for mom. There's also the son missing his mother at a fancy-dress competition.

These are scenes we have all seen before, and because of how the film builds up our expectations in the first half you are left wishing the screenplay and direction would dig further into the emotional turmoil of both mother and son.

They have been brave enough to break the shackles of society, but will still have to unlearn years of patriarchal teachings. But credit where it's due; notice how Kangana dons baggy t-shirts during her early training montages, inferring she borrowed her husband's clothes because now all she owns are sarees and kurtas—she gets into sports gear only later in the film. Also, watching Kangana train, her flexibility, and her physique will make you regret the large popcorn and soda you ordered to gulp down during the film.

Stories like these are important to tell because, for far too long films have exclusively been about big, tall and strong male heroes. Women and average people have mostly been ignored or deemed unworthy of being central characters on screen but, now, it's time for a shift. The Indian film industry seems to be slowly coming to understand and accept this, and hopefully Nepal will follow suit. Hopefully we will soon begin sharing stories of little and big girls alike, so they are encouraged to have dreams and pursue them.

Film: Panga

Starring: Kangana Ranaut, Jassi Gill, Richa Chadda


Director: Ashwiny Iyer Tiwari

Stars: 3 out of 5
---
---