Copying a film is not a crime, but you need to build on the original's idea
With Hari Humagain's cinematography background, 'Sarauto' is a visually appealing film—but a director's job is a lot more than putting together pretty clips.

Screengrab via Youtube
bookmark
Published at : December 7, 2019
Kathmandu
It's almost 2020 and Nepali filmmakers thought it would be a good idea to rehash a 1970s Bollywood film. It wouldn't have been a problem—only they've done a terrible job.
In Zanjeer (1973), Amitabh Bachchan's character suffers a traumatic incident, where, as a child, he sees his parents being shot by an anonymous man. The only clue to the murderer's identity is the hand that wielded the gun wore a charm bracelet with a white horse. In the new Nepali film Saurato, the makers have very conveniently flipped the hero's gender, replaced the bracelet with a locket carrying the Om insignia, and switched the gun with a beetle-nutcracker.
The similarities don't end there. In Zanjeer, Bachchan's character, Vijay, suffers from post-traumatic stress disorder (PTSD). He has this recurring dream where a white stallion chases after him. In Sarauto, Vaani (Sumi Moktan) has similar issues. She gets recurring nightmares of the murder; black and white flashbacks of her parents being slashed with a beetle-nutcracker.
But while Vijay could express his anxieties to his peers, and family, Vaani cannot. The villain has cut off Vanni's tongue. She's mute throughout the film.
Now, there's nothing wrong with being inspired by another artist or movie. Even legendary filmmakers, like Tarantino, unapologetically borrow or pay homage to earlier films. However, when he does it, he puts his own creative spin and builds upon the source of inspiration to create something original. This process can go great and give us iconic films, like Inglorious Bastards (2009) and Kill Bill (2003), or it can go wrong and feel wannabe or even comical.
Sarauto isn't just comical; it's ludicrous. A fight scene introduces young Vaani in the film. She's beating up random goons in a park. However, we're never given clear reasoning as to why these goons are a part of this coordinated fight sequence. Based on Nepali film troupes, we can guess these men are eve teasers but we're never explained so maybe she just doesn't like bulkier men in general. We'll never know.
But what happens next is even more baffling. In the middle of the fight, she tends to a little boy sniffing glue. She looks at the boy, and motions, 'no'. The boy nods an 'ok', and I guess he quits drugs, and lives a better life. We'll never know. Vaani then resumes fighting those random goons. Next, we're informed that Vaani is a skilled fighter, through flashbacks. She, along with her adopted brother Jeet Jung (Leo Tank), have trained under her father Kusang (Vijay Lama).
Vaani lives with her Phupu (Aruna Karki), who had been her guardian ever since her parents were murdered, and works at a school for the hearing impaired (in the film: Nepal Deaf School).
There, she meets Bishesh (Sunny Singh), a photographer. Bishesh discovers that Vaani is a poet, and no points for guessing, the love track begins.
The film quickly changes gear and becomes a love story, and then into a tourism advert, maybe keeping in mind the Visit Nepal 2020, who knows! Anyways, we are served with a plethora of picturesque locations in Illam, Janakpur, Pokhara, Rara, Mustang, and other areas. And for entertainment purposes, the makers insert three songs within 20 minutes and it's not until after the interval that we're back into revenge thriller mode.
This is Hari Humagain's debut film as a director. He has been working as a cinematographer in the Nepali cinema industry. And you can tell that he, along with his cinematographer Uttam Humagain, have travelled extensively and put in real effort in finding locations for the film. What's also impressive is the way they use elements of nature in the said locations. There are traces of wind, water, and fire in many outdoor shots and that makes the film visually rich. Also noticeable is how the lead actor's hair is blowing when she's pictured as angry, or menacing. Technical details of cinematography deserve full marks in the film, but sadly a director's job is a lot more.
Moktan, the lead actor, is probably the only saving grace of this film and she does it through her physical presence alone. She maintains form and shape through all her kicks and punches. The only complaint is that she doesn't have enough fight scenes. And her final face-off with the major bad guy feels rather rushed and anti-climatic.
But the biggest flaw, like with every other Nepali film, is the writing. Raghav Krishna Gautam's writing is dull and too simplistic. There are no complexities or grey areas; quite frankly, it's unimaginative. What begins as a revenge thriller spends too much time with romance, completely losing track. And the film gets worse as it progresses. After the interval, the writing gets forced and random.
Zanjeer, written by the iconic duo Salim-Javed, is considered exemplary for its portrayal of communal friendship between a Hindu and a Muslim. In the film, Pran is a Muslim character who proudly proclaims 'Yaari hai Iman mera yaar meri jindgadi' (My friendship is my faith, and my friend is my life). However, in Gautam's attempt to contemporise the story, he has erased social themes; in fact this film does quite the opposite. All of Gautam's antagonists are Madhesis, and all of the protagonists are Pahadis.
Remember the anonymous beetle-nutcracker wielding bad guy? He's a Madhesi, and actor Amir Gautam does no justice to the already badly written character with a made-up accent. Also, remember Vaani's adopted brother, Jeet? He is also a major bad guy here, and has an accent. To top it off, he even says 'Jai Madhesh' in one of the scenes.
The anonymous bad guy's evilness is not explained, he is just evil; but the film offers some insight into Jeet's background. And, I warn you, this is pure bigotry. A young Jeet is an Indian who migrated to Nepal, and begs for a living. Kusang adopts him and names him Jeet. However, Jeet is not accepted by his peers and they bully him with racial slurs. When Jeet retaliates, Kusang punishes him. While doing so, he shouts about nationalism, and the value of Nepali soil. This makes Jeet hate his new family and turn towards a life of crime. He betrays his family, and plots the murder.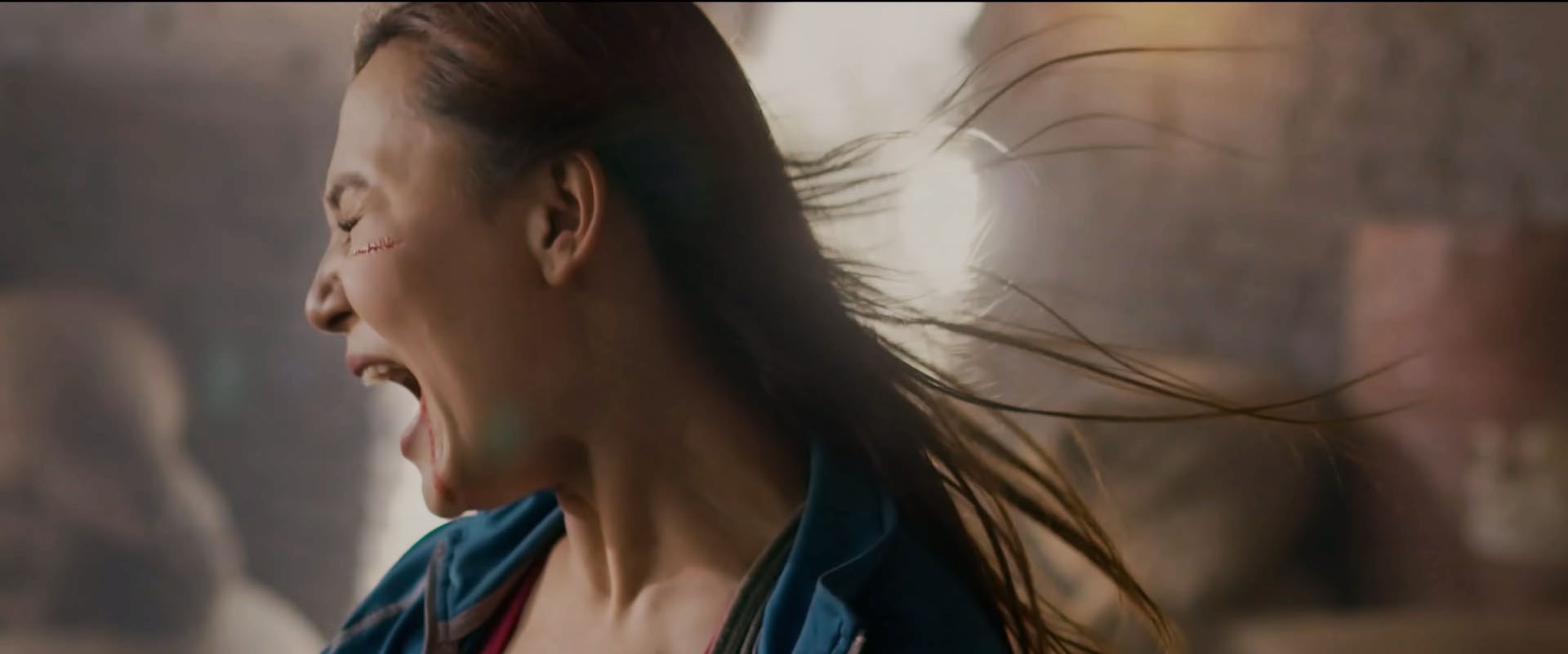 Screengrab via Youtube
Jeet's only identity in the film is that he is an Indian. And he's portrayed as an evil person who conspires with a fellow Madhesi to murder the Pahadi-Nepali family that adopts him. The problem here is that Jeet's identity didn't have to be mentioned in the film at all.
Like I said before, remaking a film or being inspired is not a crime. Artists all around do it, and that's probably how art progresses: you watch something, you connect with it and you build on the original idea, with all your knowledge. In films, the right way to do that is to take whatever is objectionable—like clichés, stereotypes, and regressive attitudes, and replace it with something that is more positive, an improved version, that is befitting for the current times. Yes, this film puts forth a female lead instead of a male and it never disrespects the character. Vaani is never sexualised or objectified. However, you can't ignore all the other characters in your film.
As a filmmaker and as an artist, it's your duty and responsibility to make sure the art you create does not disregard any socio-cultural and political sentiments. Sadly, the way this film represents certain characters is disappointing and wrong, and when a film makes such grave a mistake, it's one step forward and two (hundred) steps back.
Sarauto
Starring: Sumi Moktan, Sunny Singh
Writer: Raghav Krishna Gautam
Director: Hari Humagain
Stars: 1.5 out of 5
---
---