Emerging problem: How to handle hazardous e-waste
CRT monitors account for 40 percent, mobile phones 39 percent and refrigerators 16 percent of the total e-waste.

Nepal's per capita e-waste amounts to 0.9 kg of discarded phones, computers and TV sets. Post File Photo
bookmark
Published at : June 20, 2023
Updated at : June 21, 2023 07:14
Kathmandu
Nepalis tossed out 28,000 tonnes of electronic waste consisting of unusable phones, computers and TV sets in 2019, according to Global E-waste Monitor 2020.

This translates into 0.9 kg of e-waste for every man, woman and child in Nepal.
The United Nations defines e-waste as any discarded product with a battery or plug, and features toxic and hazardous substances such as mercury, that can pose severe risks to human and environmental health.
As Nepal does not have national e-waste laws, questions have been raised about the proper management of such discarded equipment, and experts see this turning into a full-blown crisis in the near future.
Nepal imported 5.75 million smartphones in the last fiscal year. The import of other electronic items has been growing steadily.
According to a study done by the Department of Environment, the average life of mobile phones is two years, laptops four years, televisions and computers eight years, and refrigerators and washing machines 10 years.
After they are no longer usable, most of them are sold to scrap dealers or dumped in landfill sites. Less than 20 percent of electronic items are refurbished or recycled for further use, says the department.
Experts say the amount of Nepal's e-waste could be five times larger than stated in the global report.
"The UN calculates only the waste that is collected and taken to the scrap market," said Jyoti Giri, researcher and assistant professor at Tri-Chandra Multiple Campus.
"The informal market in Nepal is huge. It's very difficult to trace the exact quantity of the e-waste," said Giri, who has a PhD in biodegradable polymer composites and degradation. "Besides, a large amount of e-waste is dumped in the houses of individuals."
Giri said demand for electronic goods jumped sharply during the Covid pandemic—mostly laptops, fridges and washing machines. "All that will become e-waste at the end of their lifecycle," said Giri. "But we don't have an effective plan to manage them."
According to the report, e-waste is generated due to the introduction of the latest technology in 45 percent of the cases. In 10 percent of the cases, it is due to damage to the product, followed by other reasons such as short product lifecycle and high maintenance costs.
According to the Department of Environment, there are more than 1,200 scrap dealers in Kathmandu, but only a few of them, mainly start-ups, recycle electronic waste properly.
A majority of scrap dealers operate informally and they have little technical knowledge about e-waste, say officials.
The International Telecommunication Union (ITU) has defined six products as electronic wastes: temperature exchange equipment such as refrigerators and air conditioners, screens and monitors, lamps such as LED and fluorescent, large equipment such as washing machines and printers, small equipment such as calculators and electric toys, and communication devices such as phones and routers.
CRT (cathode-ray tube) monitors account for 40 percent of the total e-waste, mobile phones 39 percent and refrigerators 16 percent, as per experts. Laptops, washing machines and CRT televisions, among other products, make up the rest.
Dhundi Raj Pathak, a solid waste management expert at the World Bank, says e-waste is different from other solid waste as these components are made up of several components in smaller quantities which complicates recycling.
"To recycle other solid waste materials such as plastic bottles, you can put them in a machine and shred them in one go," said Pathak. "But to recycle electronic equipment, you need to dismantle them and separate each component till the last piece, and only then can you put them in the machine to recycle."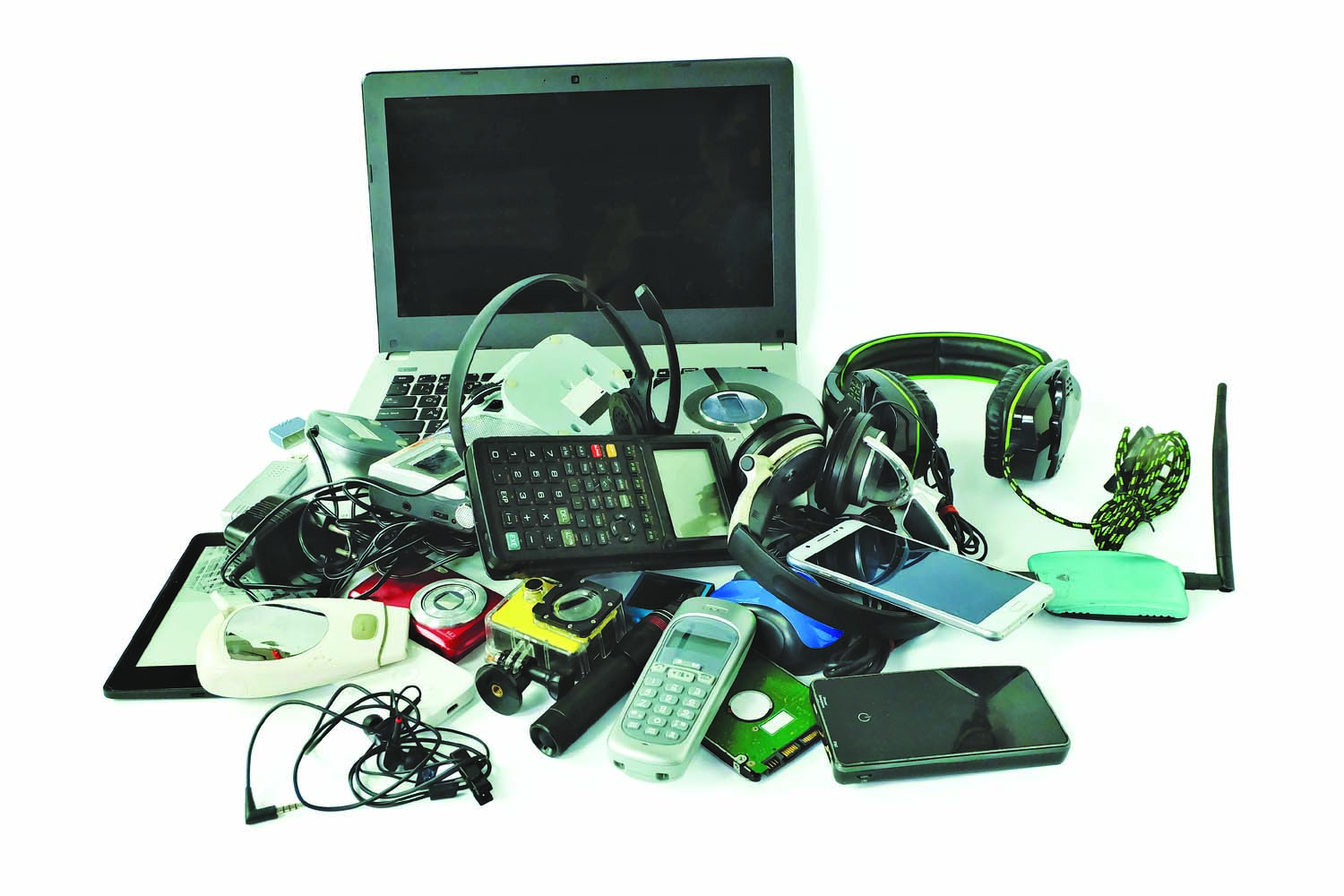 According to the Department of Environment, there are more than 1,200 scrap dealers in Kathmandu, but only a few of them, mainly start-ups, recycle electronic waste properly. Shutterstock
There are around 70 different types of materials in an electronic device in very small quantities. Some of them are high-priced metals such as gold, silver and copper while others are very harmful to human health such as mercury, arsenic and lithium cobalt oxide.
When disposed of carelessly, these components pollute water sources and cause serious harm to the environment, which may lead to life-threatening diseases like cancer, according to reports.
Scrap collectors usually burn electric wires to extract the copper or export them to India and Bangladesh via unofficial channels for recycling due to the open border.
The Basel Convention prohibits transboundary movement of hazardous waste such as e-waste. Nepal is a signatory to the convention.
Experts urge the government to form comprehensive regulations to deal with e-waste. The Solid Waste Management Act 2011 addresses industrial and hazardous waste. But there is no separate law governing e-waste.
The National Waste Management Policy 2022 contains a provision about managing e-waste. But the government is yet to implement standard operating procedures and action plans.
"A great deal of expertise and resources are required to deal with e-waste. It can't be left to scrap dealers," said Keshav Parajuly, an e-waste management expert currently based in Germany. "The government needs to implement the policy of extended producer's responsibility."
Extended producer's responsibility (EPR) is a growing practice all over the world where the manufacturing company is responsible to buy back the scrap and recycle or dispose of the waste materials safely.
The government of India introduced EPR in 2012 to handle e-waste, and in 2016 it was extended to plastic waste manufacturers. Experts and think tanks have been urging the government to make it mandatory in Nepal too.
"Electric appliance dealers in Nepal don't buy back e-waste except during festivals when they launch exchange offers to lure customers," he said.
"Manufacturing companies have enough supply chains and high-end technology to process them," said Parajuly. "It is cost-efficient and effective to ask the companies to buy back scrap."
Parajuly also suggests implementing the concept of a circular economy where the government can encourage the establishment of recycling factories which would extract the components of devices and supply them to other parties as raw materials.
"Besides establishing such factories, the government can incentivise the mobile repair shops at New Road in Kathmandu which extract useful components from dead phones and fit them in other devices," said Parajuly.
The Nepal Telecommunications Authority has conducted several studies on e-waste and submitted reports urging the government to implement the EPR policy.
"But the government is yet to pass it," said Min Prasad Aryal, director of the Nepal Telecommunications Authority.
Doko Recyclers, the first start-up to deal with e-waste, has processed around 259,319 kg of such waste since its founding in 2017.
"Every year the quantity of e-waste is increasing by leaps and bounds, but there are limits to how much we alone can do," said Santosh Kumar Mahato, operations head of Doko Recyclers.
"Only 2 percent of the devices we get can be refurbished, the rest are dismantled and sent to other recycling factories, and some are sent to India as well. If the government delays implementing EPR, the situation will be very scary after a couple of years," said Mahato.
Pathak agrees with Mahato's argument.
"Looking at the way the number of EVs has been increasing recently, their dead batteries will become a headache after a couple of decades," said Pathak. "The government should make EPR mandatory as soon as possible."
The current policy of the government has left the responsibility of handling all kinds of waste to the local government.
"It's beyond the capacity of local bodies and unorganised scrap collectors, therefore, the manufacturers must be made responsible for it," said Pathak. "Doing this will also pressurise manufacturers to use more eco-friendly and recyclable materials instead of the hazardous materials they are currently using."
Sanjay Agrawal, vice-president of the Nepal Mobile Phone Importer's Association, says that in other countries the companies buy back the phones, but there is no such practice in Nepal.
"The concept is new in the context of Nepal, and we need to see what rule the government will bring," said Agrawal.
---
---