Orange harvest slashed by half due to pest attack
Farmers faced a pest problem as the winter was slightly warmer this year, experts say.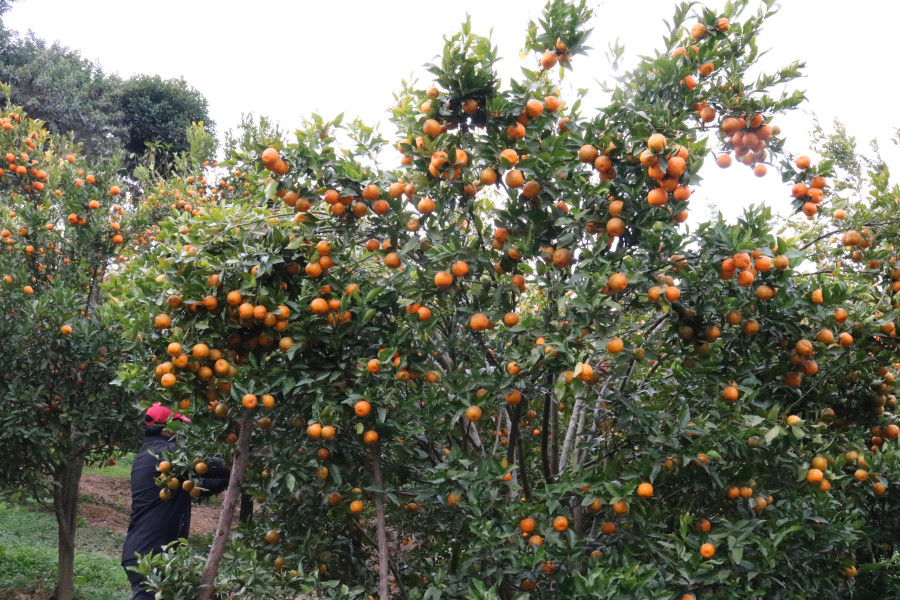 Oranges produced in a farmer's garden in Salyan. POST PHOTO: Biplav Maharjan
bookmark
Published at : February 21, 2021
Updated at : February 21, 2021 20:56
Salyan
Orange farmer Bharatnath Yogi of Kotmaula, Bagchaur Municipality, Karnali is deeply distressed because his harvest was slashed by half due to a pest attack during the flowering period.

Yogi practices commercial agriculture on his 47-ropani farm and owns 950 orange trees. Two years ago, his crop was worth Rs3.4 million. This year, his income is down by 50 percent.
Experts attributed the pest attack to an abrupt change in climatic behaviour. The winter was slightly warmer which attracted pests to the crops, they said
Yogi's neighbour Angeshwor Dangi fared no better. Only 100 of his 400 orange trees bore fruit this year. A majority of orange growers are in trouble as production has been dropping annually.
"Orange production is hit when the flowers start falling before they mature to bear fruit. And even if they bear fruit, they fall before ripping," said Yogi.
The bacterial scourge known as citrus greening has devastated orange orchards in Salyan.
According to the Agriculture Development Office, 700 orange farmers have been impacted by the pest problem in Bagchaur Municipality-9, including other rural municipalities which are considered as pocket areas for orange production.
The statistics of the office show that farmers cultivated the fruit on 1,520 hectares this year. According to Mahesh Acharya, chief of the office, 18,000 trees did not bear fruit. Output has been shrinking by 6 percent annually due to pest problems.
Dangi harvested 12 tonnes of oranges last year and earned Rs800,000. This year, he barely earned Rs400,000. "I tried many ways to control the pests, but they did not work," he said. "It has been many years since most families switched to growing oranges from food grain. But with the harvest becoming smaller every year, it is becoming difficult to make ends meet," he said.
Resham Dangi of Kotmaula, who has planted 500 orange trees on 35 ropanis of land, said that half of his trees did not bear fruit this year. "The trees that gave us abundant fruits last year did not bear a single fruit this year," he said. "The leaves and fruits turn yellow and start falling from the trees."
Dangi chopped down 50 trees to keep the infestation from spreading, but that did not help.
Acharya said that the citrus greening disease had spread to all municipalities in the district. He said that the disease and climate change led to a 40 percent drop in production this year.
"Regardless of the amount of fertiliser applied or the devoted care given to the plants, the trees look malnourished," he said. "The pesticides we distribute to the farmers did not work," he said.
According to the office, orange production is good in Khalanga, Sejwaltakura, Marke and Kajeri of Sharada Municipality; Damachaur of Chatreshwori Rural Municipality; and Pipalneta of Bagchaur Municipality.
Last year, farmers earned Rs100 million from the oranges produced on 1,520 hectares. The production data for this year has not arrived yet, Acharya said.
Agro experts said farmers encountered a pest problem as the winter was slightly warmer this year. Temperature plays a big role in multiplying pest attacks, with faster mutation and more damage to the crops, according to experts.
Nepal is the fourth most vulnerable country to climate change in the world, and its adverse effects are already becoming visible in various sectors all over.
Ram Krishna Subedi, information officer at the Plant Quarantine and Pesticide Management Centre, told the Post recently that new pests had been increasing and damaging crops due to climate change.
"Due to a sudden change in the climate, new pests have emerged; and they are more resilient. It's a worrying sign," Subedi said. "The use of pesticides is likely to increase as farmers will choose to spray more chemicals to protect their crops."
---
---