Paddy harvest likely to equal last year's bumper level due to monsoon boost
Agriculture experts say Nepal had a chance to reap a record harvest because of a timely monsoon and abundant farm labour, but the government blew up the opportunity by failing to ensure a strong fertiliser supply mechanism.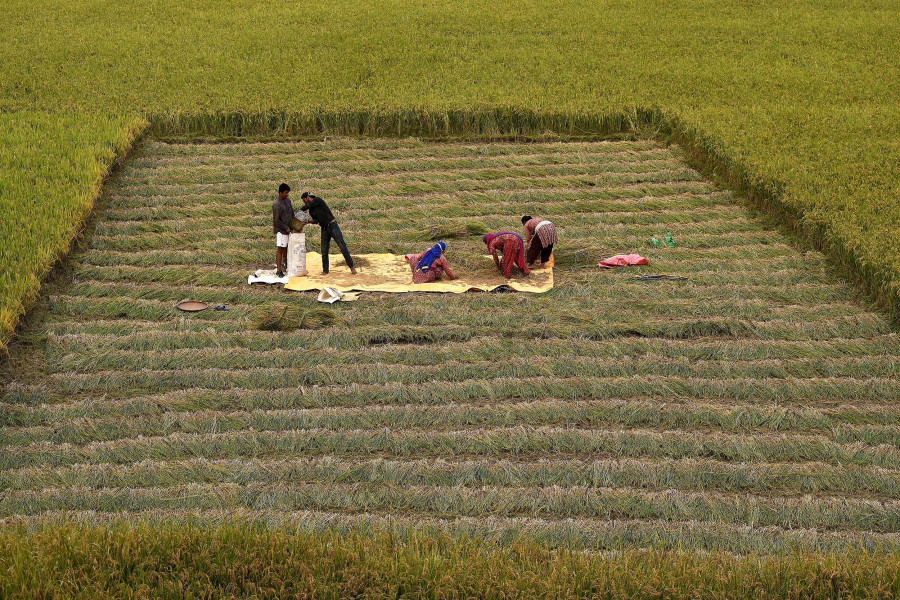 Paddy contributes around 7 percent to the gross domestic product and is the key income source of farmers. POST FILE PHOTO
bookmark
Published at : November 9, 2020
Updated at : November 10, 2020 07:35
Kathmandu
Nepali farmers are likely to bring in as much paddy as last year's bumper harvest, according to preliminary estimates of the Ministry of Agriculture and Livestock Development, which has asserted that output will not fall despite a severe shortage of chemical fertiliser during transplantation and top dressing.

Agro experts said that Nepal had a chance to reap a record harvest because of a timely monsoon and abundant farm labour, but the government blew it due to its weak supply mechanism.
Nepali farmers gathered 5.55 million tonnes—the second-largest paddy harvest in history last year—despite a series of misfortunes ranging from a delayed monsoon, fertiliser shortage and supply of fake seeds to an armyworm invasion.
"Based on the preliminary production data collected from different provinces, the paddy output has been expected to remain the same this year too," said Ram Krishna Regmi, chief statistician at the ministry.
Even the monsoon was very good this year—timely and regular—but many farmers were not able to take advantage of it because of a shortage of chemical fertiliser.
This year, farmers encountered fertiliser shortages right from the beginning of the planting season in June. First, there was a short supply of diammonium phosphate (DAP), the world's most widely used phosphorus fertiliser, as the Covid-19 pandemic disrupted the global production and supply chain.
Then a shortage of urea appeared during the first and second top dressing. In response, Minister for Agriculture and Livestock Development Ghanashyam Bhusal promised to bring urea from Bangladesh and requested a shipment of 50,000 tonnes. But the government failed to import it.
Urea needs to be applied during the first and second top dressing—one at two to three weeks and the second two months after transplantation.
At both times, most of the farmers across the country struggled to get the plant nutrients.
The first top dressing ensures rapid vegetative growth, promotes tillering, and helps strengthen the plants against disease attack. The second top dressing usually ensures complete grain filling.
Nepal depends totally on imported chemical fertilisers. In the last fiscal year, the country imported chemical fertilisers worth more than Rs19 billion.
"Had there been sufficient chemical fertiliser, paddy production should have increased by over 15-20 percent," said Regmi.
One good thing that came out of the Covid-19 pandemic this year is that hordes of migrant workers returned home ready to work in the fields. There was no shortage of farmhands as in previous years. In addition, due to timely and plentiful monsoon rains, paddy transplantation across the country was completed a month before the usual time. This ensures and strengthens the plants against disease attack, according to agri economists.
"The paddy acreage also increased to 1.4 million hectares due to plentiful farm labour," said Regmi, adding that disease outbreaks had been reported in a few areas but they were negligible.
Regmi said that most of the farmers applied fertiliser even though they had to pay more for it. Urea, the most commonly used fertilised in Nepal, is the cheapest and most efficient nitrogen fertiliser for the fields. At the government subsidised rate, it costs Rs14 per kg.
Bhola Man Singh Basnet, a former agricultural scientist from the Nepal Agricultural Research Council, said that availability of chemical fertiliser would have boosted output to a record high 6 million tonnes this year.
"Obviously, we missed a record harvest in the middle of the pandemic," he said. Despite Covid-19, it was a good time for agriculture for two reasons: There was abundant and timely rainfall that helps the lifestyle of paddy, and an adequate number of farmhands.
"But the fertiliser shortage played spoilsport. The farm input is vital to increase productivity, and there was not enough of it," he said, adding that Nepal needed to maintain a buffer stock as the shortage reappears every year.
According to him, abundant rainfall allowed the paddy acreage to increase, and production was able to reach last year's level.
In many districts, farmers bought urea smuggled in from India for Rs50 per kg, following a nationwide shortage of the farm nutrient, according to ministry officials.
This year, the monsoon entered Nepal's skies from the east on June 12, two days past the normal date, according to the Meteorological Forecasting Division. The monsoon is the lifeblood of Nepal's Rs3.76 trillion economy which is farm-dependent, as nearly two-thirds of the farmlands are rain-fed.
Paddy contributes around 7 percent to the gross domestic product and is the key income source of farmers. Agriculture itself contributes 27 percent to the GDP. The Tarai, which is the largest paddy producing region in the country, accounts for 71 percent of the total rice acreage. The hills account for 25 percent and the mountain region 4 percent.
Yam Kanta Gaihre, a soil scientist at the International Fertiliser Development Centre who coordinates field research activities in Asian countries including Nepal, Bangladesh, and Myanmar, said that amid the Covid-19 pandemic which has ruined all economic activities, agriculture was the one bright spot in the country's economy.
"The monsoon and availability of farmhands had provided an opportunity for this government to offset the losses to the economy by boosting farm production. But it was wasted due to the shortage of chemical fertiliser," he said. "We had estimated that paddy output would record a growth of at least 30 percent if fertiliser had been available."
---
---