Hotel Association unveils uniform payout structure amid virus crisis
The new pay structure is applicable from April 13 to December 31.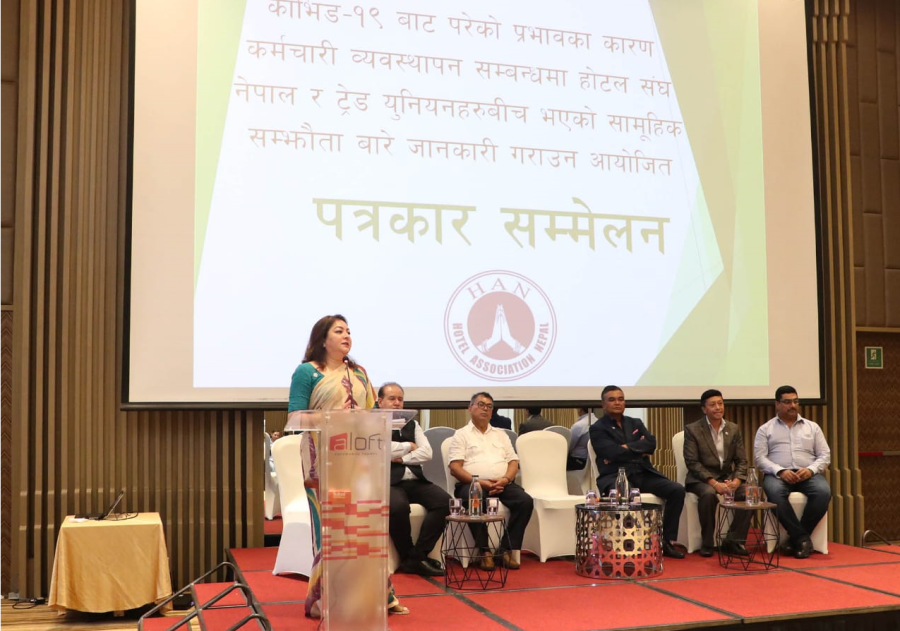 Sreejana Rana, president of Hotel Association of Nepal, during a press meet in Kathmandu on Sunday. Photo Courtesy: Hotel Association of Nepal
bookmark
Published at : July 20, 2020
Updated at : July 20, 2020 07:17
Kathmandu
The year 2020 was to be the big year for Nepal's tourism — the Visit Nepal 2020 campaign had been set in motion with a target to attract 2 million tourists and earn revenues of Rs200 billion.

Hotels were expecting hordes of foreign guests to descend on the Himalayan republic, and accordingly set to renovate their properties while a few dozen new luxury hotels hastened to finish in time to reap the bonanza. Hotel employees anticipated a raise and generous tips.
Then the virus happened, and Nepal's hotel industry got clobbered like it had never been before. In a few short weeks, tourism evaporated, hotels got shuttered and upbeat employees received a rude shock—unpaid holidays.
But on Sunday, nearly four months after the lockdown began, Hotel Association Nepal unveiled a uniform payout structure: All staff, from front office workers to general managers, will remain on salary, but they will get the same pay.
"Everyone will get equal salaries without working and sitting at home. Though unpopular, the move is to avoid layoffs," said Binayak Shah, vice-president of the association, which has around 3,000 member hotels.
The association, trade unions and hotel workers agreed on the uniform payout structure and signed a deal on Sunday. The new pay structure is applicable from April 13 to December 31. "We will review the pay based on the situation further," said Shah.
The new arrangements means general managers who were making around Rs800,000 monthly will get the same pay as front door workers.
As per the agreement, all employees working in deluxe five-star (more than 200 rooms) and five-star hotels will get Rs10,000 and Rs9,000 per month, respectively.
Employees of four-star (more than 100 rooms) and four-star (less than 100 rooms) will be paid Rs8,455 and Rs8,000 monthly, respectively.
Likewise, employees of three-star and two-star establishments will receive Rs5,000 and Rs4,300 monthly, respectively.
According to the new arrangement, one-star and tourist-standard hotels will get payment based on mutual understanding between the employees and employers.
Shah said that the agreement binds employees to cut some of their public holidays after the hotels resume operation.
The hotel sector has been the hardest hit by the pandemic.
Madhav Pandey, president of the All Nepal Hotel Casino and Restaurant Workers' Union, told the Post that it was a win-win deal between hoteliers and the employees. "The deal means both — employees and employers — will survive."
Pandey said that it was necessary to avoid layoffs of around 300,000 workers in the hotel business stranded without any support.
Tourism simply shut down when the virus hit. There were 13, 30 and 100 foreign visitors to Nepal in April, May and June respectively. And they were members of diplomatic missions, not sightseers.
In happier times, more than 100,000 cheerful vacationers would be getting off the plane at Kathmandu airport each month during this season.
With the border closed and internal travel prohibited for nearly four months now, Nepal's pride tourism sector is on the verge of collapse, and it is not likely to recover any time soon, say industry insiders.
In a bid to keep the hotels from sinking, some are being used as quarantine centres for Nepalis returning from abroad; but only a few of them were partially occupied, according to the association.
Last Saturday, the monetary policy announced the establishment of a Rs50 billion refinancing fund for badly affected sectors like tourism. Firms will be able to get loans at 5 percent interest to revive their businesses and pay staff salaries.
"Hoteliers are already in debt up to their necks. So the question is for how long they will continue to borrow funds and pay their employees, " he said, adding that the government did not support the hospitality industry even during such a depression.
According to Shah, it may take at least two years for the industry to return to normalcy.
The Tourism Ministry estimated the tourism industry had incurred losses totalling Rs40 billion as of July 21 when the lockdown was prolonged.
In May, hotels teetering on the edge amid the coronavirus closure had decided to cut their losses by remaining shuttered for six months, as they didn't expect tourists to visit Nepal for at least another year.
"Even if the lockdown is lifted, the tourism industry will take time to recover because travellers will not immediately book foreign trips. The hotels will all be bankrupt by the time tourism rebounds as they have to pay staff salaries while income has come down to zero," said Shah.
The association has even requested the government to pay the workers through the social security fund. But the government did not listen to the plea of hoteliers.
According to Nepal Rastra Bank, banks and financial institutions had a loan exposure of Rs138.68 billion in the hotel and restaurant sectors as of the first seven months of the current fiscal year.
According to Hotel Association Nepal, 99 percent of the hotels earned exactly zilch in the last four months since the lockdown was enforced on March 24.
---
---