Kathmandu airport to be open for 21 hours daily from January 1
Workers have finished renovating the taxiway allowing the airport to resume regular hours.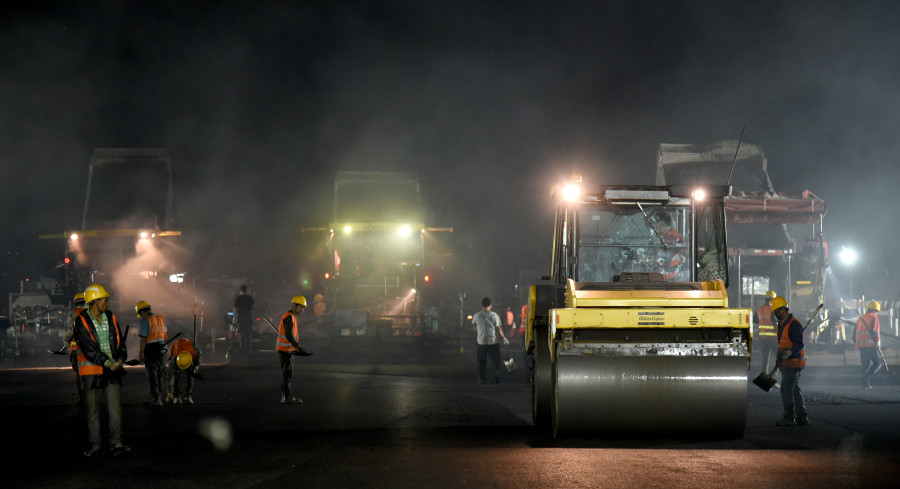 A file photo shows construction workers blacktopping the runway at Nepal's only international airport. Post File Photo
bookmark
Published at : December 16, 2019
Updated at : December 17, 2019 08:02
Kathmandu
Renovation of the taxiway of Tribhuvan International Airport has been completed, and the airport will resume 21 hours of operation daily from January 1, the airport authority said on Monday.
Nepal's sole international airport was closed for 7 hours daily for four months from September to restore the taxiway following the rehabilitation of the 3,050-metre-long runway.
"We have informed all airlines that the runway will resume 21 hours of operation daily from January 1," said Devendra KC, general manager at Tribhuvan International Airport. "The installation of the runway centerline lighting system has also been completed," he said.
The government has planned to operate the airport 24/7 from January for the first time since it opened in 1949. But KC said they were not prepared to begin round-the-clock operation. According to KC, the airport will add two parking bays by February, which are in the final phase of completion.
"The renovation of the runway and parking bays will reduce traffic congestion to some extent. But until the end-to-end taxiway is constructed, it will not bring a drastic change in the traffic congestion," KC told the Post.
From May 21, the government decided to extend the serving hours of Kathmandu's airport by 2 hours 30 minutes to 21 hours a day for the first time due to a sharp growth in air passenger traffic.
Severe congestion has been plaguing Tribhuvan International Airport.
Traffic congestion is also severe on the ground due to a limited number of parking bays. Experts said that Kathmandu's airport had turned into a 'roll and hold' airport as its existing infrastructure has not been able to cope with rising travel demand.
Most international flights operate between 1 and 5 pm, the peak travel time, resulting in chaos for airlines and air traffic controllers. Nearly 70 percent of the international traffic is concentrated during peak hours. Traffic is thin in the mornings till 12 noon and from 6 to 9 pm.
During the tourist season, March-May and September-November, the airport handles more than 500 flights daily, 75 percent of them domestic flights. The main reason behind the congestion at the airport during the tourist season is Lukla flights. And if a flight to Lukla, the gateway to Everest, is disrupted on any particular day due to weather, its rescheduling will create a cascade effect on all flights.
Rajan Pokhrel, director general of the Civil Aviation Authority of Nepal, recently told the Post that they had been upgrading Manthali airport to divert all Kathmandu-Lukla flights there. He said that if Lukla flights were operated from Manthali, traffic at Kathmandu airport would be reduced by 20 percent.
Tribhuvan International Airport continued its run of year-over-year passenger growth in 2018, marking yet another record year for the country's only international aerial gateway.
According to figures released by the airport, 4.34 million international passengers travelled through the airport last year. That marked an 11.70 percent increase over 2017. The figure shows that Tribhuvan International Airport handled 11,898 international travellers daily in 2018.
Passenger traffic at Tribhuvan has been growing since 2003, except for an 8 percent drop in 2015 when the country was struck by a severe earthquake.
The Asian Development Bank has forecast that international passenger movement will swell to 7.29 million in 2028. By 2035, international passenger movement is expected to reach 9.92 million.
---
---