Power stations report drop in output due to reduced water level
The total installed capacity of hydropower plants in operation in the country stands at 1,140 megawatts.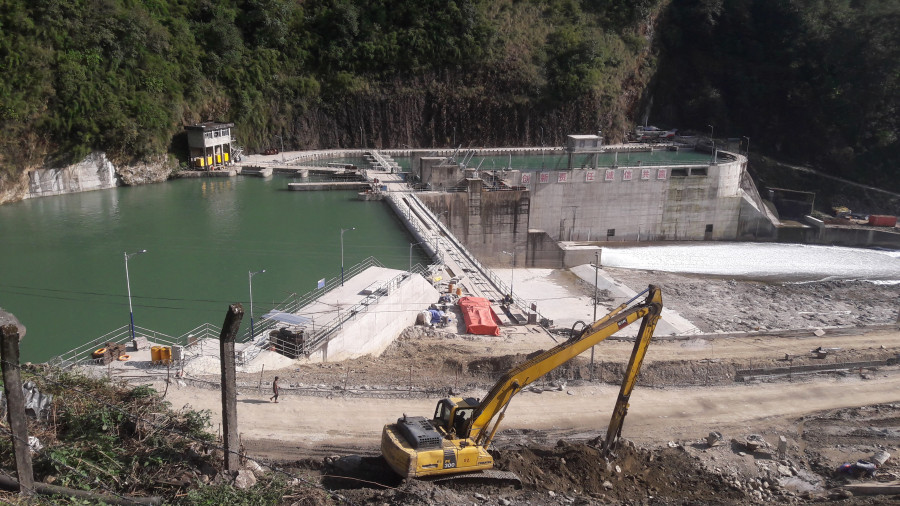 A view of the Upper Bhotekoshi Hydropower construction site. POST FILE PHOTO
bookmark
Published at : November 20, 2019
Updated at : November 21, 2019 09:00
Kathmandu
The dry season has barely started, but Nepal's hydropower projects are already seeing a fall in electricity generation, with some plants reporting a 43 percent drop in output.

Almost all power stations are run-of-the-river types, and production falls sharply between mid-December and mid-January when the water level in the rivers recedes revealing bare rock.

The 30-megawatt Chameliya hydropower scheme in western Nepal is now producing only 17 megawatts. Energy generation at the state-owned Kali Gandaki A power station, Nepal's largest scheme in operation with an installed capacity of 144 megawatts, is down 13 percent while Middle Marshyangdi has reported a 17 percent drop.

The total installed capacity of hydropower plants in operation in the country stands at 1140 megawatts.

"As per the projections of the Load Dispatch Centre, in a worst case scenario, output from independent power projects with a combined capacity of 580 megawatts will fall to 250 megawatts, and generation by state-owned plants will drop to 300 megawatts from 560 megawatts," said Suresh Bahadur Bhattarai, chief of the centre.

A significant drop in domestic output translates into higher imports of power from the southern neighbour.

Last winter, all reservoir, run-of-the-river and peaking-run-of-the-river schemes could generate only 590 megawatts despite a generation capacity of 1027 megawatts, requiring the electricity authority to import 653 megawatts to fulfil the peak domestic demand of 1243 megawatts.

The country spent around Rs22 billion on importing electricity in the last fiscal year owing to a drastic fall in generation capacity. Electricity imports from India during peak hours last December jumped more than 30 percent in a month.

According to Bhattarai, power imports will fall compared to last year with the country's sole reservoir scheme Kulekhani being filled to the brim earlier than usual, the addition of a cascade project at Kulekhani, and highly efficient hydel schemes like Upper Trishuli 3A and Upper Bhote Koshi coming online this year.

"Also, independent producers have added around 60 megawatts in eastern Nepal and it will help us balance the load more efficiently this year," said Bhattarai.

But the plants in eastern Nepal have also started to witness a sharp 30 percent drop in energy output, and the country has added new industrial, commercial and domestic consumers, resulting in increased demand for power.

According to the Nepal Electricity Authority, it gained 309,984 industrial, commercial and domestic consumers in the fiscal year 2018-19.

The state-owned power utility had aimed to cut imports significantly from this year with the commissioning of the 456 megawatt Upper Tamakoshi scheme in Dolakha, but technical setbacks and delayed work progress dented the plans.

According to the power utility, the country will see a turnaround within two years with a slew of under-construction power projects adding around 1000 megawatts to the grid within the fiscal year 2021-22.

The fall in output well before the height of winter has raised concerns whether reduced snowfall due to climate change and rising temperatures had something to do with it.

Environmentalists dismissed the concerns saying that early melting of snow or a fall in snow or water levels should not cause worry for hydel schemes, at least for now.

"The water level patterns are not so unusual that they should cause alarm, and early snowmelt in the short run should not be a cause for concern," said Chandra Pandey, an environment scholar. "If the country sees a significant drop in snowfall over the decade, then we can blame it on climate change."

According to Pandey, environmental analysts with an anti-hydropower development attitude often tend to spread misinformation about how investing in hydropower is equal to gambling, but multiple studies suggest that climate change will not have a major impact on energy generation in the country for the next half century.
---
---