Hybrid rice promises to change the face of paddy cultivation in Nepal
Yields per hectare may see a three-fold increase and could lower Basmati rice imports.

Dina Thakur of Belbari, Morang inspects high yielding hybrid paddy at his farm. TKP
bookmark
Published at : October 13, 2019
Updated at : October 14, 2019 15:06
Kathmandu
Dina Thakur of Belbari, Morang visits his farm and counts the grains at his standing paddy plants that have grown around 1.2 meter high. "There are around 370 rice grains tightly enveloped by the husk," the 69-year-old farmer says excitedly.
There is a reason why Thakur is upbeat. This year, he is expecting to produce 9 tonnes of paddy on a hectare of land — three times the national average paddy productivity rate.
Read: Arable land is shrinking, and so is paddy cultivation
All this is because Thakur cultivated two high yielding hybrid varieties— Arize 6444 Gold and Arize Idea hybrids. He owns 1.7 hectares (2.5 bigas) of land. As the ripening period of these varieties is 125 days, Thakur is expecting to harvest his crop towards the end of October. The early ripening time has also given him ample time to prepare for a mustard farm in the next cropping cycle.
"The production depends on post-harvest loss, but I am confident to produce 9 tonnes per hectare," he says. He is one of the farmers in the village piloting the hybrid varieties. Last year, he grew a high yielding variety called Ranjit — popular in the southern Tarai plains — and cultivated 5 tonnes of paddy.
Thakur is expecting to at least double his income this year. "People, mostly my neighbors, had called me crazy when I decided to go for a hybrid variety," remembers Thakur. "They are all tightlipped now."
In Nepal, most farmers do not use hybrid paddy because they cannot produce the seed and have to buy them every year from the market.
But Thakur decided to take the risk. His hybrid journey began after he got a handful of hybrid paddy seeds from Nepal Krishi Company, Buddha Air's corporate social responsibility initiative that works on farm mechanisation and commercialisation.
Thakur is a bit worried as well. "Since it's a new variety, I don't know what rate I will get for my produce. I don't know if consumers will prefer eating these varieties."
The company plans to release the hybrid rice varieties in the market after four months. The rate of rice is also yet to be fixed.
For most Nepalis, farming is not an attractive job as it has a low rate of return. Low income from farm income has led to an increased migration of farm labour to foreign job destinations.
Belbari, Morang where 9,500 hectares of land is available for farming has been going through severe farm labour shortages.
But Januka Khanal is not worried these days. Khanal who owns around 1.7 hectares (2.5 bigas) of land, says that the paddy transplantation period was much easier this year in early June because of machines provided by the company. "We used a paddy transplanter. For the first time in 27 years, I didn't transplant paddy with my hand. The machine did it."
Khanal has transplanted hybrid Arize 6444 Gold and improved variety, Ranjit on her farm. She says that the production differences between the two varieties would be real and visible after a few weeks.
Khanal says paddy transplantation on 1.7 hectares using the machine, cost her around Rs12,000. "It normally requires 16 farm labourers and each of them has to be paid Rs500 a day." "The machine is a boon where workers are not easily available. It makes farm work easier."
Khanal says initially they were worried about planting hybrid paddy, but the signs are promising.
Farmers in the area say that hybrid varieties have many advantages but there are disadvantages as well. "We have to buy the hybrid varieties every year from the market as it cannot be reproduced," she Khanal. "We are worried that it may make us dependent on seeds. "It's expensive as well."
The price for Arize 6444 seeds per kilo is Rs600 while Ranjit costs Rs70 per kg.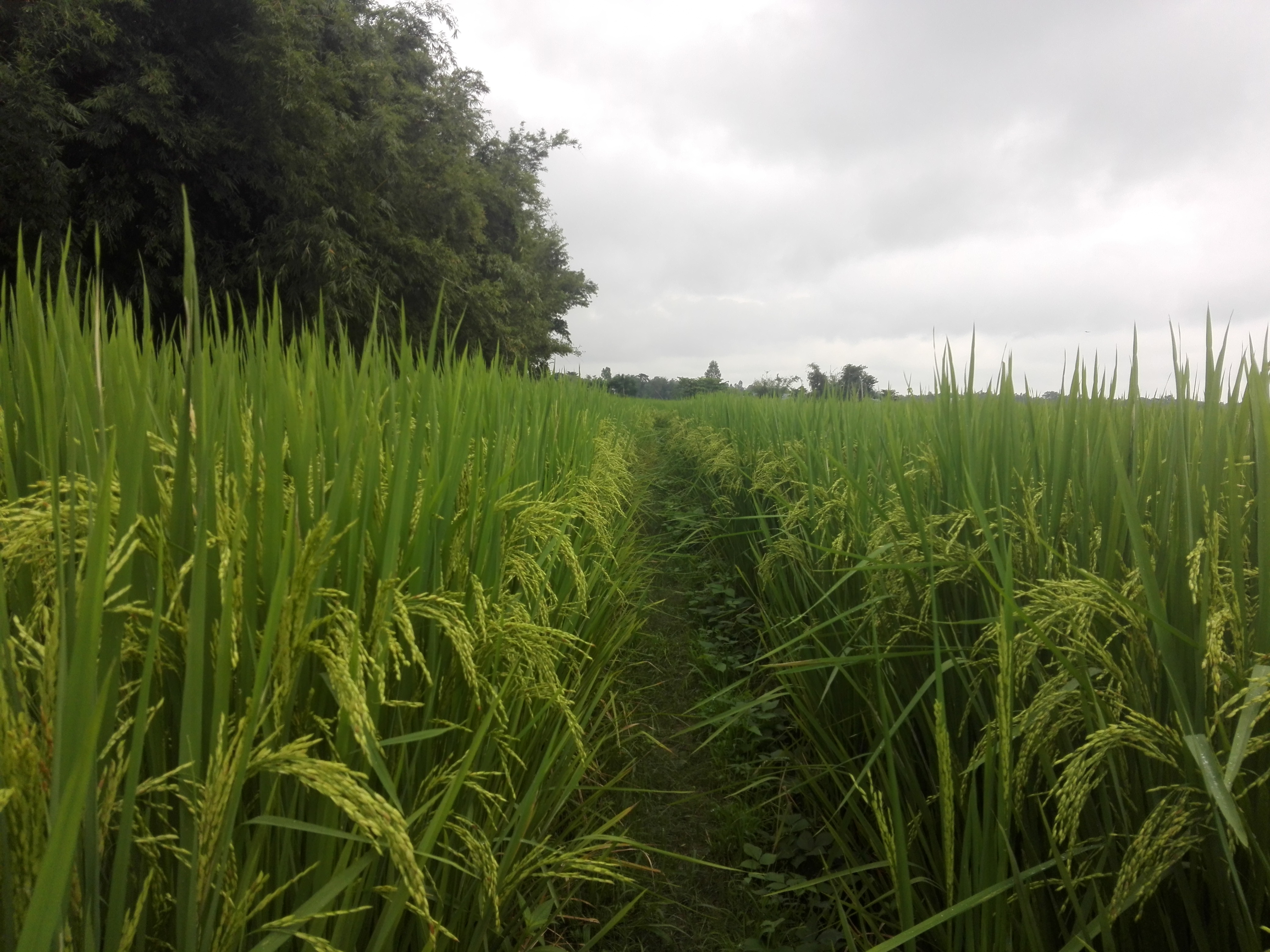 TKP
Hybrids are produced by growing an inbred rice variety with sterile pollen which is cross pollinated with normal pollen from adjacent rice plants of a different inbred variety. According to GRAIN, an international non-profit organisation that works to support small farmers, in a hybrid, the so-called heterosis effect disappears after the first (F1) generation, so it is pointless for farmers to save seeds produced from a hybrid crop. This makes it very profitable to go into the seed business since farmers need to purchase new F1 seeds every season to get the heterosis effect (high yield) each time.
Nepal Krishi Company and Bayer BioScience of India had signed a memorandum of understanding last May to begin a pilot project to use two-hybrid paddy seeds this summer which have the potential to double productivity.
The company has piloted these hybrid varieties on 35 bighas of land. Out of the total land, these varieties have been cultivated with the latest technology and tools on a demonstration plot of 20 bighas owned by Birendra Bahadur Basnet, managing director of Buddha Air, who is also a board member of Nepal Krishi Company. The remaining 15 bigas are owned by the local farmers.
"By October end, we will see the result—the actual cost of production and productivity—of the hybrid varieties," Basnet says. "The Krishi company's objective is not only to produce paddy but we want to establish the fact that paddy farming can be done commercially."
From tractor to tiller, and from paddy planter and harvester to paddy dryer, the entire farming system will be mechanised, says Basnet. "We are also planning to introduce drones to spray pesticides in the field.
According to Basnet, Arize Idea is a short slender grain or fine rice having excellent cooking quality. The ideal harvest time is between 125 and 130 days after planting, and it yields 20-25 percent more grain than other varieties.
"The objective behind cultivating Arize Idea is to stop import of Basmati rice which has been growing at an alarming rate in Nepal as the country does not produce a sufficient amount of fine or Basmati rice."
Nepal's agricultural goods import bill ballooned to an all-time high of Rs220 billion in the last fiscal year, ringing the alarm bell loudly that the country is progressively becoming a net importer of farm products.
The share of agro products in the total import bill has swelled to 15.51 percent. The country's total import bill amounted to Rs1,418 billion in the last fiscal year.
The import of rice and maize amounted to Rs24.59 billion and Rs12.55 billion respectively. Paddy import amounted to Rs6.84 billion. Nepal is importing fine varieties of rice mainly due to expanding middle-income Nepalis who prefers to eat basmati rice, and Nepal doesn't grow such fine rice in sufficient quantities, says Basnet.
"Farmers have the opportunity to cash in on the fine rice demand and it will also significantly check the ballooning trade deficit if Nepal started producing them."
The company plans to introduce 6 tonnes of rice of Idea variety this year that will compete with 'jira mansuli' rice in the market. "We have targeted to introduce the rice in the market within four months. We will be joining hands with wholesalers for packaging and branding of this new rice," says Basnet.
In the long term, if the pilot project becomes successful, the company plans to pull at least 2,000 bigas of land that can produce 20,000 tonnes of paddy with a value of Rs6 billion. "As an integrated farm mechanisation approach, we have also decided to set up a rice mill," says Basnet.
The first hybrid variety officially released in Nepal was maize (Gaurav) in 2004. However, it was not successful due to the non-synchronisation nature of inbred lines.
A hybrid variety of tomato (Srijana) was registered in 2010. The government's National Seed Vision 2013-25 has envisaged developing and promoting 40 hybrids—20 vegetable hybrid seeds, 12 maize hybrids, and eight paddy hybrids—by 2025 to meet the growing domestic demand and also as an import substitution measure. The private sector too is expected to develop and promote 20 hybrids—10 vegetables, five maize, and five paddy hybrids.
***
What do you think?
Dear reader, we'd like to hear from you. We regularly publish letters to the editor on contemporary issues or direct responses to something the Post has recently published. Please send your letters to tkpoped@kmg.com.np with "Letter to the Editor" in the subject line. Please include your name, location, and a contact address so one of our editors can reach out to you.
---
---