Chitwan farmers go for tissue cultured banana
An increasing number of farmers in Chitwan have been switching over to tissue cultured banana plants in a bid to increase output.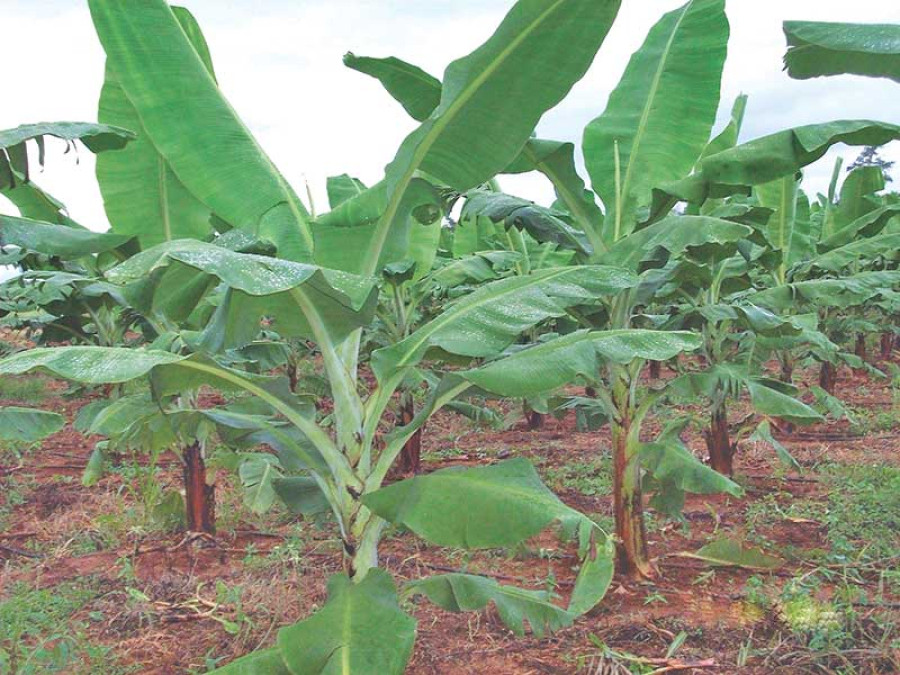 bookmark
Published at : July 21, 2017
Updated at : July 21, 2017 08:40
Bharatpur
An increasing number of farmers in Chitwan have been switching over to tissue cultured banana plants in a bid to increase output.
These disease tolerant banana varieties have been gaining popularity in Kailali from the last few years, and now farmers in Chitwan have become attracted towards them too.
Tissue culture means cloning and micro-propagation of tissues of selected elite plants and daughter suckers and is the modern technology that is applied for mass production of superior grade planting material for most crops.
The so-called tissue culture approach to banana breeding has been successful in most countries, including India.
The main advantage with tissue-cultured banana plants, apart from being based on disease-free and genetically pure material, is that individual plants are of uniform age, according to experts. It also enables farmers to have two ratoons, the new shoots that spring from the plant, and ensure uniform harvest.
The average yield can be raised to around 50 tonnes per hectare if tissue culture varieties are adopted. The country's average banana production currently stands at 17 tonnes per hectare.
Chitwan farmers have imported nearly 5,500 banana saplings from Maharashtra, India under the 'one village, one product' programme. Farmers are provided a 50 percent subsidy on each sapling. A sapling costs Rs50. More farmers in Chitwan have started to order the seedlings.
"We have adopted banana tissue culture in order to overcome problems of disease and low yield that we have been suffering for years," said Bishnu Hari Pant, president of the Banana Producers Association in Chitwan. "We don't have other alternatives left." Farmers in Chitwan expect it will give them high yield and bring down the production cost.
Pant said that last year they had applied banana saplings tested in Nepal, but they did not prove to be good for farmers. "This year, we ordered them from India."
Although farmers in Chitwan prefer planting Malbo varieties of banana, it was unavailable, Pant said. As an alternative, they have planted a banana variety called Grand Nain, the most popular variety in Maharashtra.
Farmers said that Chitwan had potential for commercial banana farming. However, they have been facing disease problems every year, forcing them to look for alternatives. These tissue culture varieties are expected to address their problems and raise their incomes significantly.
Banana farmers have to ensure proper irrigation and nutrient management to get better output. Chitwan is the largest producer of bananas after Saptari, Jhapa, Morang and Rupandehi districts. Banana is cultivated on 14,311 hectares across the country with output amounting to 234,319 tonnes annually. Chitwan accounts for 12,256 tonnes of the country's total banana production.
THE ADVANTAGES
Disease-free plant
Uniform plant-stand in the field
Early harvesting of superior fruit bunches
Round the year availability of saplings
Uniform maturity for the harvest of the fruits
Tissue culture plants fetch better prices
Three crops in 30-month duration
---
---