Harvest season: Yarsa collectors swarm over highlands
The annual yarsagumba harvesting season has begun, and hordes of collectors will be swarming over the hills of Mugu and Dolpa district to gather the fungus which is prized as an aphrodisiac.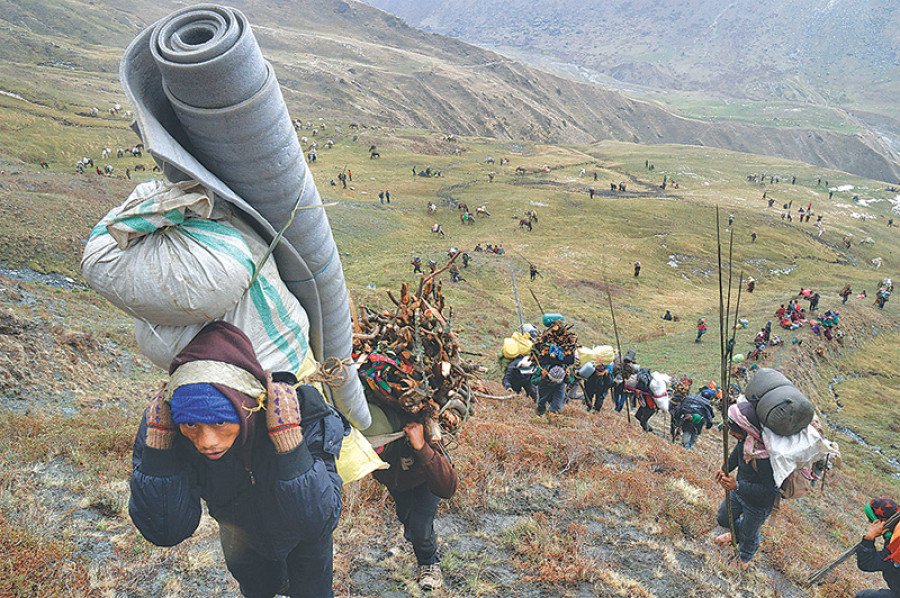 bookmark
Published at : June 2, 2017
Updated at : June 3, 2017 08:00
The annual yarsagumba harvesting season has begun, and hordes of collectors will be swarming over the hills of Mugu and Dolpa district to gather the fungus which is prized as an aphrodisiac.
Whole families will leave their homes and spend at least a month in the highlands where oxygen levels are low. The income will feed them for the entire year, so they take the hardships in their stride. Yarsagumba is found at elevations between 3,000 and 5,000 metres.
The herb is the world's most expensive medicinal fungus. it can fetch as much as $100 per gram on the Chinese market, making it more expensive than gold, according to reports.
Dubbed Himalaya Viagra, the herb is also used to cure anemia, chest and lung infections, tuberculosis, Hepatitis B and kidney and liver diseases.
Crowds of people from Mugu, Dolpa, Rukum, Jajarkot and surrounding districts have assembled in the highlands of Dolpa and Mugu, bringing blankets, tents and cooking materials with them as the picking season begins.
Schools are normally closed during this period, and villages in the western and far western mountain regions become empty as their inhabitants migrate to the highlands to join the key seasonal income generating activity.
The yarsa picking season started late this year due to local elections. While collection in the highlands of Jumla has already ended, it has just started in Mugu and Dolpa. Entire villages in the mid and upper Dolpa have become empty. People from Jajarkot, Rukum, Jumla, Banke, Bardia and Salyan and other areas have reached the highlands of Dolpa.
Deputy Superintendent of Police Sumit Khadka in Dolpa said that more than 43,000 yarsa pickers had arrived at different collecting areas. He said that the police had been collecting personal details of every picker who enters through various points in Dolpa. Details of yarsa collectors who have obtained permits at Shey Phoksundo National Park, Nepal's largest and only trans-Himalayan national park, are yet to be received, said Ram Dev Chaudhary, the conservation officer at the park.
He added that 2,644 yarsa collection permits had been issued so far from the Rigma entry point, 1,995 from Suligadh, 618 from Tripurokot and 99 from Khaliban in Dolpa. The park had collected Rs3.52 million in fees as of Wednesday, said Chaudhary.
Yarsa production has not been good this year due to heavy rainfall and snow, Hari Prasad Dangi, a local picker, said. Some senior locals said that production may have been affected by climate change, while experts argued that overharvesting was the reason behind the drop in output.
In Jajarkot, yarsa collection was delayed due to the first phase local elections. Pickers had reached the highlands of Dolpa last week. Last year, many collectors were disappointed due to low production, but they are optimistic about this year's harvest.
Expenses are also high as collectors have to spend nearly a month in the open in the freezing cold.
"Our expenditure rises to more than Rs20,000 per person, and most of them take loans," said Deepak Khatri of Bheri Municipality. "Whether the harvest is good or not, we have to pay back the loan with interest," he said. "However, we are optimistic that we will be able to cover last year's losses."
A yarsa collector earns about Rs103,000 per year by selling the herb, which is a lot more money than what they would make from other economic activities, according to a Nepal Rastra Bank (NRB) study. A family earns about Rs277,000 annually, which amounts to 56 percent of its total yearly income.
According to the report, the herb fetched $100,000 (Rs10.7 million) per kg in China and $130,000 (Rs13.92 million) per kg in Singapore. The largest market is China, while the herb is also sold in Singapore, Malaysia, South Korea, Thailand, Japan, the UK and the US, according to NRB. Unlike last year, students in Jajarkot have not been bunking classes to collect yarsa in Dolpa. This year, only around 10 percent of the students were absent from school.
"Attendance, particularly in classes 9 and 10, is low," said Gorakh Bahadur Singh, headmaster of Birendra Aishworya Secondary School of Limsa. Attendance is better this year as the District Education Office has told schools to control student absenteeism.
An estimated 8,000 people have left for Dolpa to collect yarsa, compared to 25,000 last year, said Ganesh Baniya, a local at Triveni Nalgadh Municipality. He added that collector numbers had dropped this year as they lost money during last year's harvest.
In Rukum, yarsa collection has been affected by heavy rain and snowfall. Chhaya Bahadur Pun, chairman of the yarsa management committee, said yarsa collection in Patan of Rukum was affected.
This year, yarsa collection permits were issued from May 20.
"However, looking at the collection, it doesn't look good," he said, adding that production had dropped significantly. A yarsa collector has to pay Rs1,000 as permit fee while traders have to pay Rs25,000 per kg as royalty to the District Forest Office. Normally, in Rukum, a household earns Rs50,000 to Rs500,000 from yarsa annually.
Locals in Jumla have started to move to the highlands of Mugu and Dolpa as the collection season in Jumla has already ended. "As there is limited production in Jumla, locals move to Mugu and Dolpa," said Arjun Thapa, a local.
(With inputs from LP Devkota in Jumla, Bishnu Lal Buda in Dolpa, Bhim Bahadur Singh in Jajarkot and Hari Gautam in Rukum)
---