The elusive God
With his clear, clipped visual prose, briskly edited, director Baral tells us an interesting story of ourselves, of our longing, of our quest to unravel the enigma of existence and absurdity thereof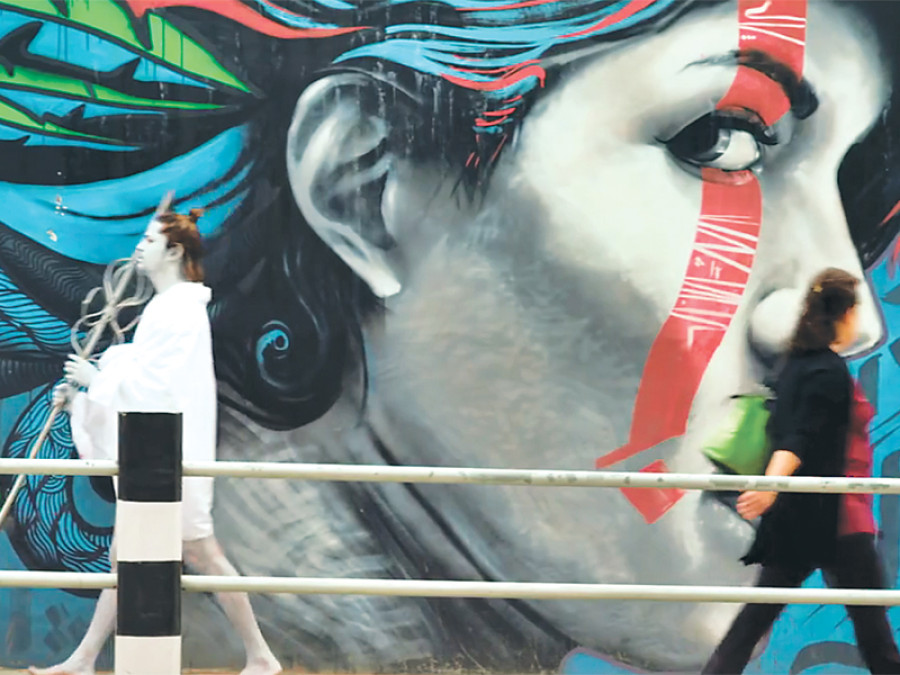 bookmark
Published at : January 23, 2016
Updated at : January 23, 2016 08:46
The Actors' Studio's music video of Ani Choying Drolma's Bhetiyena Ishwor Ajhai can be taken as a dramatisation of a famous Einstein aphorism: "God does not play dice." The essence of the video lies in its obscurity, its ambiguity. Filmed masterfully by Anup Baral, the music video epitomises how a small-scale filming like this one can elicit a grander impact.
In the opening shots of the video, accompanied by a melodic flute, we are introduced to the four characters, through which the story has been told. Four characters, one aim: They have long embarked on a quest to seek that elusive enigma, that supreme deity—God. While the end is the same for all, the means differ. They have put their faith in different beliefs that they figure—or rather, hope—will help them on their quest. Shortly, as the music—which has a classical slant—soars in, Ani croons in a baritone infused with desperation: "Bhetiyena Ishwor Ajhai, Aasha Liyi Kurdai Chhu Ma." I still can't find God, but I am waiting with hope.
Ramesh Diyali's lyrics aptly relay the longing that we, cast adrift in this absurd world, whirl into, from the beginning to the end. In our journey to eternity, we all, at some point or another, long desperately to unravel the enigma of our existence, of the incomprehensively vast universe that we are born into. "Hindu, Islam, Jesus, Buddha Hun Yi Mera Bataharu." We do adopt—or follow—one way or another in that quest to seek the meaning of life.
Yet the desperation of not being able to find God persists in these characters, or rather, not being able to identify the God that is strolling all around them—in one scene, he passes by without them noticing him. The omnipresence of this God that they are seeking goes unnoticed by all. In sync with the shot are the lines, "Bhanchhan Sastra haa… Sworga Milchha Dilai Kholi Heryo Bhane." If you look from within your heart, heaven will be found.
While our characters wander on their journey, the symbolic God, clad in white robes, quite interestingly strolls around, in Lazimpat, in Basantapur, and other places. Sometimes people notice him but don't care, while at other times, they just don't notice. At one point, while 'He' stands in front of a clothing store in New Baneshwor, he winks his red eyes, as if to say: I am right here but you are not noticing me.
Weaving that narrative into the video, the director is trying to articulate the omnipresence of that deity we are all seeking for. That God is everywhere or that 'He' is nowhere. It all depends upon what you want to believe in.
If the video does one thing, it dismisses the primordial conception of God. With his clear, clipped visual prose, briskly edited, director Baral does tell us an interesting story of ourselves, of our longing, of our quest to unravel the enigma of existence and absurdity thereof, and in doing so he attains an oracular philosophical authority.
The video ends rather mysteriously, when the God lies in a ditch and is then buried—a probable indication that the God is dead. But that conclusion, or any other for that matter, the director leaves the audience to arrive at—an apt closure to an enigmatic video rife with subtle symbolism and layered interpretations
---
---