Swimming for strength
Coach Shankar Karki talks about the fitness benefits of the aquatic exercise.

Shutterstock
bookmark
Published at : August 8, 2023
Updated at : August 9, 2023 08:07
Kathmandu
When pursuing a healthy and active lifestyle, finding an exercise routine that not only keeps us physically fit but also brings joy and fulfilment can be a challenge. As we navigate the myriad of fitness options available, one age-old activity stands out as a timeless and effective way to maintain our well-being—swimming.

Swimming has several advantages for the body and mind. There's also the pleasant feeling of gliding through the water, which makes it so appealing. Embracing water's gentle resistance, swimming presents a low-impact yet highly effective workout suitable for people of all ages and fitness levels. From the leisurely strokes of a novice to the precise technique of a competitive swimmer, this aquatic activity provides a versatile way to achieve and maintain fitness goals.
Swimming coach Shankar Karki elaborates on this matter and shares his years of experience on how swimming is one of the best ways to remain fit.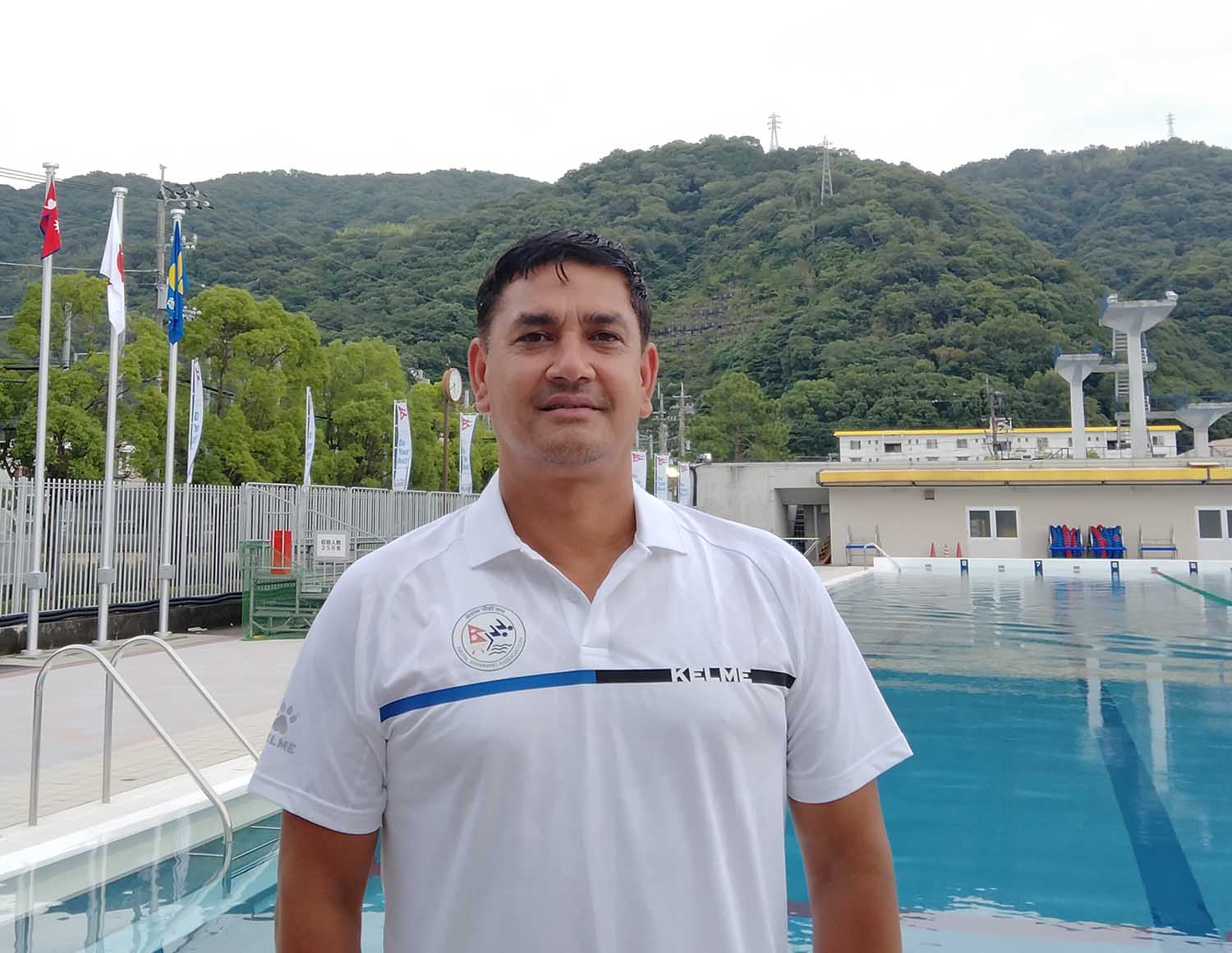 Shankar Karki, swimming coach. Courtesy of Shankar Karki
Karki has participated in multiple swimming workshops in countries like Japan, the USA, Qatar, and India. He has coached athletes who have participated in various international competitions, including the 2022 FINA World Championships in Australia, the 2020 Summer Olympic Games in Tokyo, the 2019 South Asian Games in Nepal, and the 2019 FINA World Championship in Korea. His career as a professional swimming coach spans almost two decades.
What are the health and fitness benefits of swimming?
I call swimming a transformative form of exercise that offers many benefits. Not only does it act as a stress reliever, immersing us in a calming environment, but it also plays a crucial role in weight management by providing a full-body, calorie-burning workout. It strengthens muscles all over our body, from the arms and legs to the core, all while enhancing endurance.
Swimming is also known to improve our cardiovascular fitness. Can you elaborate on that?
Structured swimming sets, encompassing essential elements like a proper warmup and a combination of sprints and long-distance swims, are critical to remarkable gains in cardiovascular fitness. The warmup done before swimming prepares the body for the upcoming exertion, preventing injuries and gradually elevating the swimmer's heart rate. Long-distance swims provide sustained aerobic effort, strengthening the heart and increasing its efficiency over time. Incorporating these sets into your routine can pave the way to a robust cardiovascular foundation.
What role does nutrition play in optimising fitness gains from swimming?
When it comes to swimming, nutrition is a fundamental pillar that can significantly impact an athlete's performance and overall health. Swimmers undergo intense training sessions that place significant stress on their bodies, making proper nutrition essential for their recovery.
One of the primary goals of nutrition for swimmers is to provide the body with the necessary nutrients to aid in the recovery and repair of muscles. During rigorous training, muscles experience fatigue, and the recovery process is crucial for muscle growth and overall improvement in performance.
High-protein foods play a critical role in this process, as proteins are the building blocks of muscles.
Are there specific drills or exercises one can do to target particular aspects of fitness, such as core strength or flexibility while swimming?
Core strength is a fundamental aspect of swimming that influences an athlete's performance in the water. The core muscles serve as the foundation for nearly all body movements. Individuals can incorporate various plank progressions, leg raises, mountain climbers, and other exercises into their training regimen to enhance core strength.
In addition to core strength, flexibility is another crucial aspect of a swimmer's performance. Pre-swimming stretching can help improve flexibility and prepare the body for the demands of the water. Swimmers should focus on stretching the major muscle groups used during swimming, such as the shoulders, hips, hamstrings, and calves.
What are the most common mistakes you see people make while swimming for fitness, and how can one avoid them?
The most frequent error I observe among swimmers, especially beginners, is the improper execution of swimming strokes due to inadequate technique. Many individuals struggle with proper hand rotation and kicking form. To address this, engaging in drills emphasising the entry and exit of hands in the water and practising kicks with a slightly bent knee can be beneficial. Additionally, maintaining a consistent head position underwater, except when breathing, is essential to enhance swimming skills.
---
---