She lost her eyesight at 8. But she had her vision clear
Neera Adhikari has overcome many obstacles to become the first blind person to be promoted to the post of under-secretary of the Nepal government.

Neera Adhikari, who will begin her tenure as an under-secretary, has worked as a civil servant for 12 years. Keshav Thapa/TKP
bookmark
Published at : February 18, 2022
Updated at : February 18, 2022 09:19
Lalitpur
There is a tactile footpath that begins just in front of the overhead pedestrian bridge in Pulchowk. Featuring yellow-coloured raised lines, such tactile footpaths assist blind people in navigating their way around the restless cities of the Valley. But if one follows the tactile footpath abutting Labim Mall towards the Gabahal road, then the journey will be a short one. There is a new building being built in front of Labim Mall, and heaps of sand are laid out on the footpath, completely concealing and blocking the tactile pathway, while lone bricks lay in wait on the footpath ahead as hazards.

On the other side of the road, a pedestrian crossing light flashes green and red, acknowledged by neither the onslaught of carefree vehicles nor nervous pedestrians crossing the road. There is no audio cue accompanying the light changes. Nor is the zebra crossing made physically distinct from the rest of the roadway with raised perforations.
All of these are obstacles for blind people commuting in the periphery of the office of Lalitpur Metropolitan City (LMC), the workplace of Neera Adhikari, the first blind person to become a seventh-level officer in 2009.
Recently, she was promoted to the post of under-secretary of the Government of Nepal. She is slated to take up her new position from March 2022. Meanwhile, she works as an eight-level officer at the women division of LMC. She was also one of the recipients of the 2016 Civil Service Award.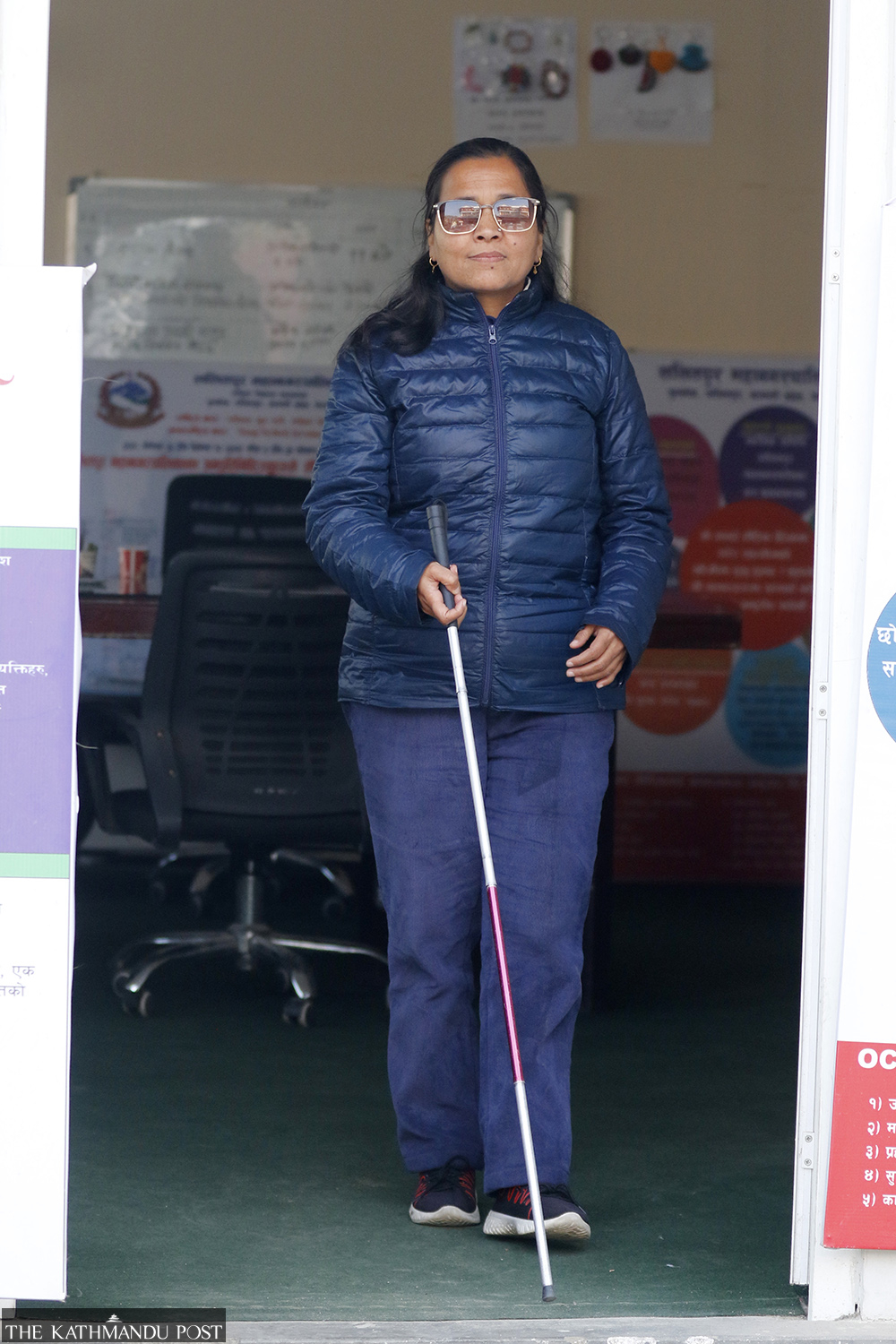 Adhikari was the first blind person to become a seventh-level officer in 2009. Keshav Thapa/TKP
"When I went to a training seminar in Japan in 2005, I was so fascinated by the accessible infrastructure that I felt compelled to write how we could do the same in Nepal when I returned home," says Neera, radiating a warm smile. Eight years ago, she wrote about measures to implement safe mobility for blind and visually impaired persons. Her suggestions, which are commonplace in countries like Japan, the United States, the United Kingdom, among others, haven't been adapted in Nepal.
The enormous building of LMC is grossly inaccessible for people with disabilities. The path from the entrance of the building to the elevator, located at the centre of the building, has a small three-step stairway but no ramp. During the day, there are bikes and cars parked haphazardly throughout the open spaces creating unexpected hurdles for people with disabilities.
As an officer at the women division, Neera's duties mainly consist of counselling people with disabilities, especially children and their families, regarding the importance of disability cards and making them aware of government resources allocated for them. In the past year, she has also been involved in creating a database of senior citizens and children in LMC.
Speakers and headsets adorn her workspace since she uses the screen reader software NonVisual Desktop Access (NVDA) to assist her in typing and reading documents. But her most prized possession is a reliable piece of technology that has helped her for more than 17 years: a refreshable braille display. She had received a Braille Memo BM 24 made by the KGS Corporation during her training seminar in Japan in 2005. The device has been her close companion for years, allowing her to collect a range of information—from phone numbers to notes for her exams.
The journey to becoming an under-secretary has not been easy for Neera, who had been appearing in the civil service examinations for the post from 2014. There are three ways of getting a promotion to become an under-secretary: internal assessment, merit-based promotion, and civil service examination.
"I had passed the initial civil service examination once, but I wasn't selected in the interview round," says Neera. "I didn't give up hope, and now I finally received a merit-based promotion."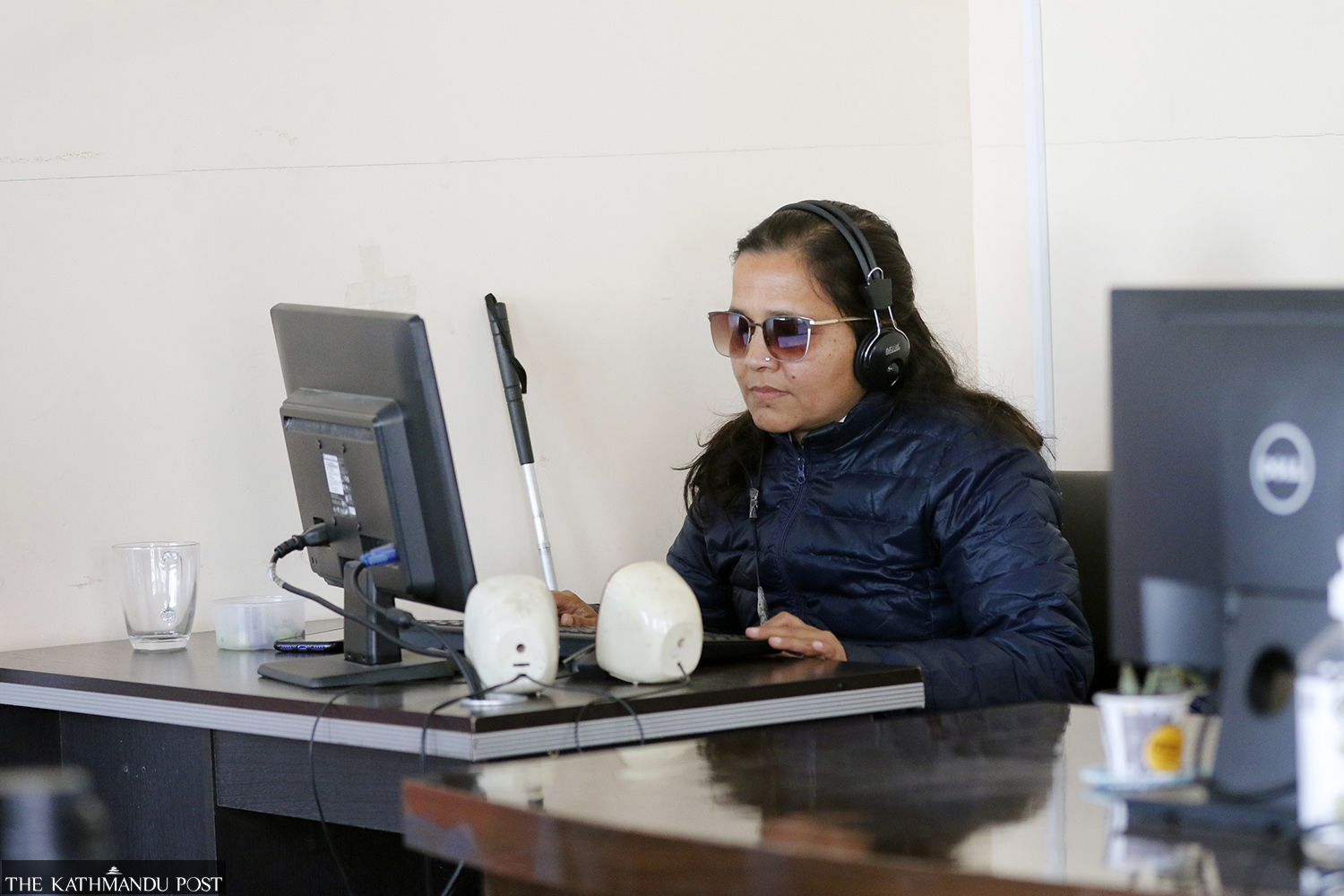 Speakers and headsets adorn her workspace since she uses the screen reader software NonVisual Desktop Access to assist her in typing and reading documents. Keshav Thapa/TKP
Never the one to be complacent, Neera has already started preparing for her next target: the post of joint secretary of the Government of Nepal. She has already taken the civil service examinations for joint secretary three times, but there are systemic hurdles.
During civil service examinations, people with disabilities are assisted by scribes who enunciate questions and write answers for them. Except for a half an hour extra time limit, there are no other special provisions to accommodate the needs of people with disabilities.
"The joint secretary examination questions are almost two pages long, so listening and understanding such long questions is extremely difficult," says Neera. "If the question papers were printed in braille, then I would have a much easier time. In the current scenario, we have to rely on other people during our examination, but I think that we are more than capable of taking the exams on our own if our needs are properly accommodated."
Currently, there is a five percent reservation quota for people with disabilities in the civil service. Though the system has allowed people with disabilities to join the public service sector, there is room for improvement.
The quota system in its current state is like a wholesale market where the nuances of different disabilities and their needs aren't accommodated, says Neera.
"For example, deaf and hearing-impaired people usually struggle sitting exams, and they are forced to compete with others with other forms of disabilities," she says. "Diversifying the disability quota into further sub-categories may lead to a diverse representation of people with disabilities."
While a career in the public service has brought a sense of stability for Neera, she feels that she has not been able to unleash her full potential. Since she is mostly involved in administrative and counselling works for now, she hopes to be involved in more policy-making and designing works in the future as an under-secretary. The prospect of relocating to a new office or a new division and having added responsibility seems slightly daunting for Neera, but she is never the one to back away from challenges.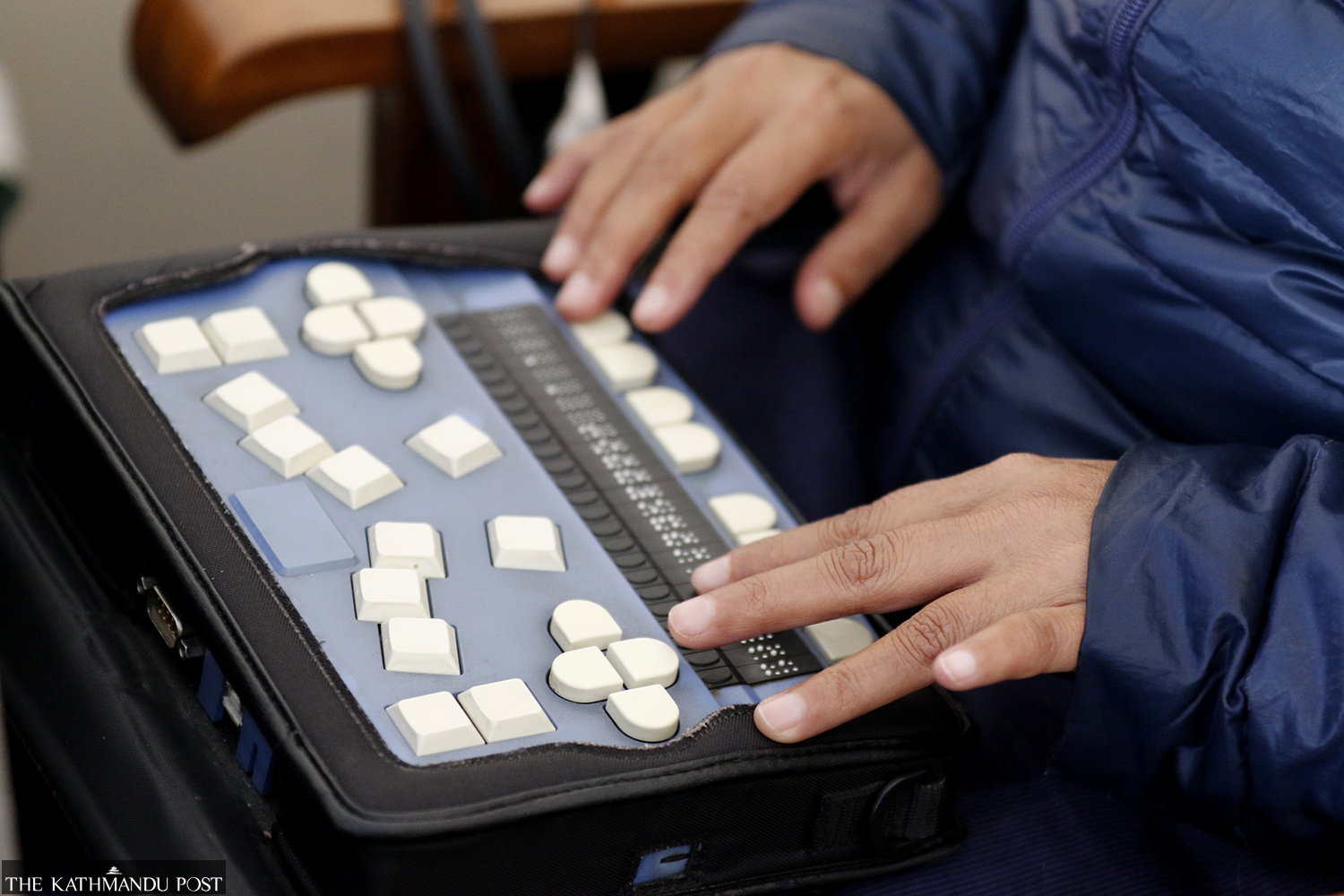 Neera Adhikari's most prized possession is her refreshable Braille display, which safely stores information such as contact details, exam notes, and Neera's own writings. Keshav Thapa/TKP
"When I first came to my current department, it took me some time to adjust. My colleague didn't know how to help me and let me coordinate with them, but we adjusted soon," says Neera. "It's become a routine thing for me to go to a new place and teach people how to accommodate my needs so that I can use my skills and knowledge."

Sushma Regmi has been working together with Neera for almost three years. Though she was rooting for Neera to be promoted to under-secretary, she is nevertheless sad now that she will soon part ways with a capable colleague and a close friend.
"Neera is very knowledgeable about laws, policies, and acts, and she is the go-to person in the office whenever anyone needs help with legal matters," says Regmi. "Since she can type in unicode, she sometimes helps us with preparing official documents too."
Born in Gotikhel, a village in Lalitpur district's Mahankal Rural Municipality, to Yagya Bahadur Adhikari and Hari Maya Adhikari, Neera was a bright student.
Innate curiosity and a studious nature meant that she always topped her examinations. But she was a sickly child; she used to go to school in the morning healthy but would return home ill and feeble, she recalled.
Bouts of fever were a common occurrence for her, so when she was eight and fell ill again with a high fever, her parents and relatives thought that she would get better by herself within a few days. During the same period, her mother's elder sister also had just passed away and everyone was busy organising the funeral while Neera's health gradually deteriorated.
When Neera was finally taken to a health post, she was diagnosed with typhoid fever which had already affected her eyesight. She underwent an eye surgery at Nepal Eye Hospital in Tripureshwar, but the surgery wasn't successful, and she lost her vision completely.
"I still remember the intense feeling of helplessness and suffocation I felt when the doctors removed my eye patch and I couldn't see anything," she says. "Before the surgery, I could make out rough shapes of people and objects, but after the surgery, I became completely blind."
Her father tried his best and consulted various doctors, shamans, and healers to regain his daughter's eyesight. However, after a year of trying without success, both her parents were forced to come to terms with their daughter's condition. Since few schools accommodated blind and visually impaired students at that time, she had to leave home and join a hostel to attend Namuna High School in Lagankhel.
"It was hard for my mother to allow me to leave home," she says. "She was worried how I would fare alone in the hostel. But my parents believed that I should continue with my education, so they let me go."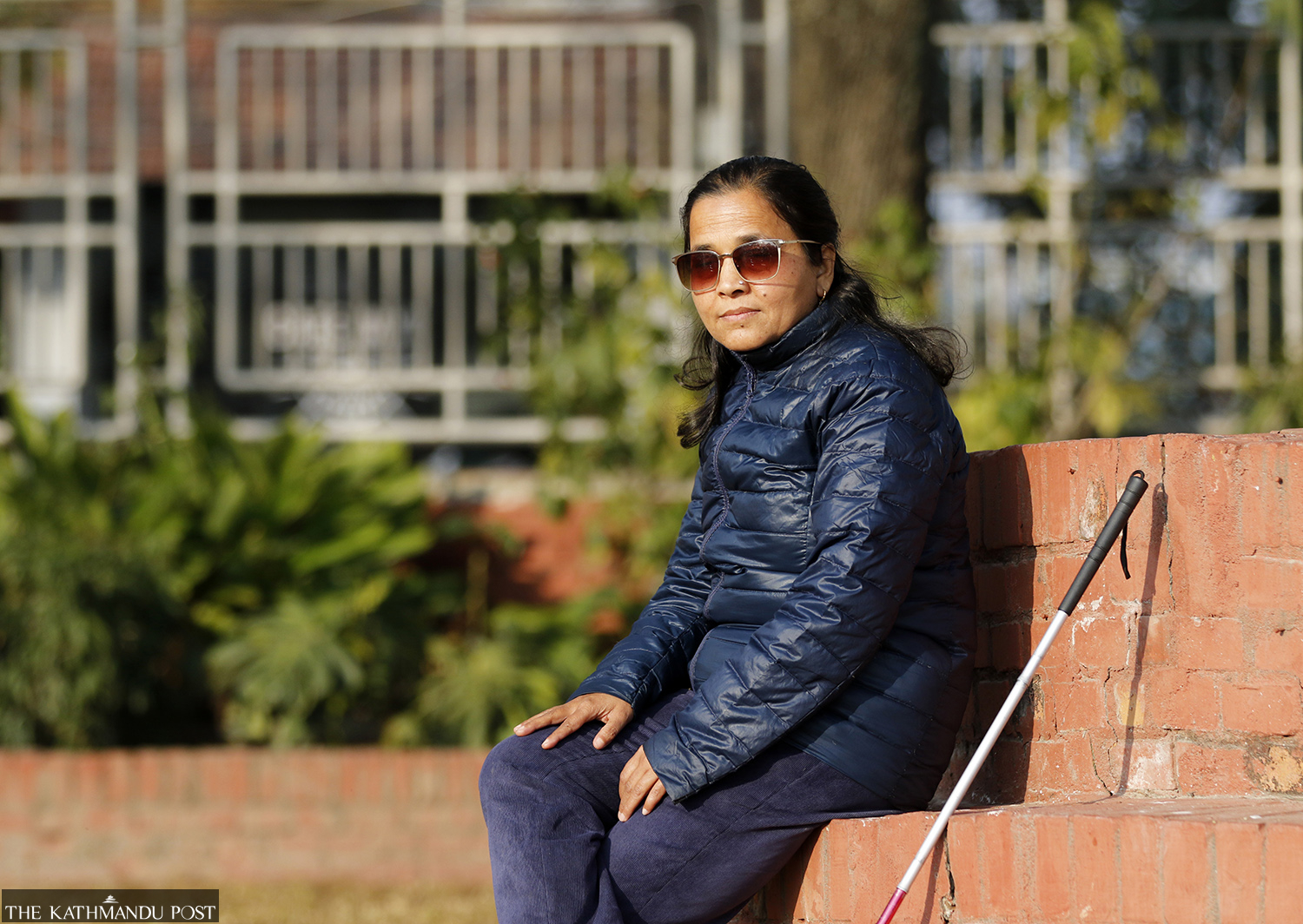 Adhikari hopes to be involved in more policy-making and designing works in the future as an under-secretary. Keshav Thapa/TKP
Neera is still continuing her academic journey. After completing her master's in sociology, she is now in her second semester of a PhD in sociology at the Tribhuvan University. She faced both physical and mental struggles while pursuing education, but people around her, especially her parents and friends, says Neera, were pivotal in motivating and encouraging her.
"During my school days, my close friends Puja and Reena used to assist me whenever I needed to go somewhere. Puja also used to invite me to stay at her home during holidays," she says. "During my undergraduate and postgraduate years, friends would go out of their way to help me whenever I faced any problem. I don't think I would have reached where I am today if it weren't for my supportive friends."
For Neera, her life has been full of struggles and triumphs. Her sickly nature hasn't abated till now, and health complications often arise. Yet, she looks forward to each day with a smile on her face and tenacity in her steps.
"My body has never been as capable as my mind. While my mind wanders free, my body limits me time and again," she says. "But despite all the struggles and obstacles, nothing has stopped me yet."
---
---