Making meals plastic-free
A few companies in Kathmandu are striving to make a dining experience more eco-friendly by producing biodegradable, organic cutlery for the Nepali market.

Enterprises like Eco Sathi Nepal, Leaf Plus and B2B Hospitality are making plastic-free cutlery and paper packaging. Photos Courtesy: B2B Hospitality/Eco Sathi Nepal/Leaf Plus
bookmark
Published at : September 7, 2020
Updated at : September 7, 2020 06:15
Kathmandu
For Garima Shrestha, living a sustainable, environment-friendly lifestyle is not a passing fad. It is a lifestyle choice she has made to become more responsible towards nature, she says. At home, she says, she has no problems adhering to her lifestyle, but outside, things are a little tricky—especially when it comes to eating out.
And that's why she decided to buy eco-friendly cutlery from Eco Sathi Nepal, an enterprise that sells eco-friendly products, so that she does not have to use anything made from plastic even while going out, she says.
"After I bought the cutlery, I felt more responsible, as I could easily carry it and use it when I go out instead of the plastic ones," says Shrestha, founder of SHE, an eco-friendly organisation that advocates for menstrual hygiene.
For such environmentally-conscious people like Garima, who want to live a more sustainable and eco-friendly life, many Nepali brands in recent years have been creating eco-friendly products.
But these handful of companies are not only hoping to make eco-friendly cutlery available in the market for the individual consumer, they are hoping to widen their market and sell their products to restaurants, to make people's eating out experience more eco-friendly.
Among the few companies working in this area is Eco Sathi Nepal, a recently established enterprise that besides selling eco-friendly cutleries, which are made from bamboo, also caters other eco-friendly day-to-day products.
A dentist by profession and eco-warrior by heart, Manu Karki started Eco Sathi Nepal in 2019. "As someone who was making an effort to adopt a sustainable lifestyle, it was really hard for me to get good quality eco-friendly products in Nepal, which I could use," says Karki. And that's when the idea hit her of starting an enterprise, where she could make eco-friendly products available to environmentally-conscious people like her.
While Karki started her business by selling bamboo brushes, in the back of her mind, she always wanted to introduce eco-friendly cutlery in Kathmandu's market. "Every day, in the canteen, I wasn't comfortable using plastic cutlery. The plastic cutlery was not only harmful to the environment but also to public health, since there's a presence of chemicals in it which directly goes inside of our mouth," says Karki.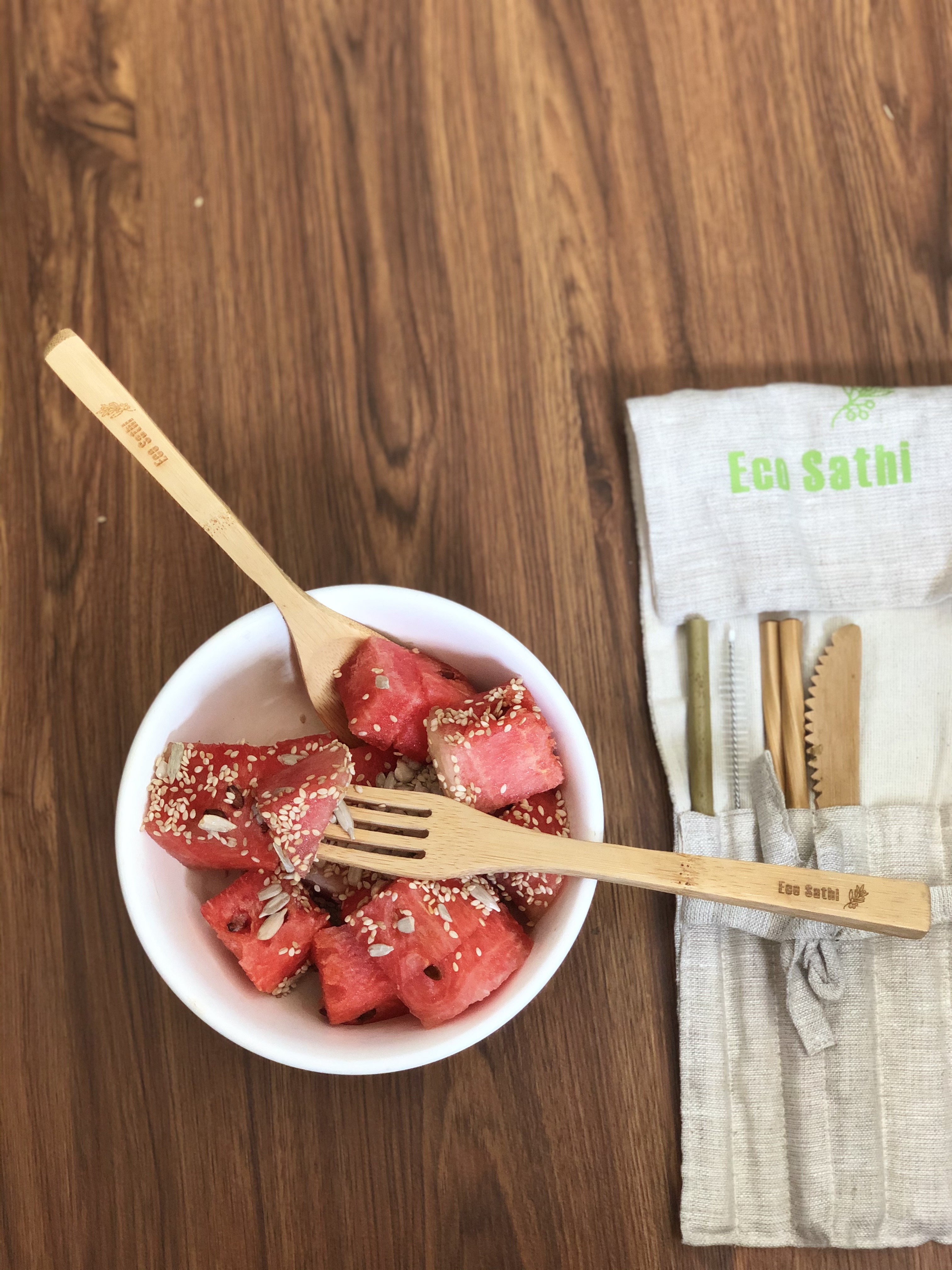 Photo Courtesy: Eco Sathi Nepal
And although it wasn't that cutlery made from bamboo wasn't available in Nepal, Karki bought products from Vietnam to be sold here, as the ones found here weren't sustainable enough.
"The response from our customers for the eco-friendly cutleries is overwhelming," says Karki.
While Eco Sathi Nepal's effort in making dining experiences more eco-friendly is targeted towards people who want to make conscious choices by using plastic-free cutlery, Prateek Agrawal, through his company B2B Hospitality Nepal, is addressing the burning issue of plastic packaging by making paper paper packaging available in the Nepali market for the hospitality and restaurant business in Nepal.
Two years ago, his company introduced paper straws in the Nepali market, but Agrawal knew then that was only the start of addressing the concerning issue of sustainability in the hospitality and the restaurant business in Kathmandu. And that's when he decided to come up with paper packaging that would be an alternative in the market.
"We wanted to create a niche in the market that could address the problem of plastic packaging with an alternative which is both environmentally and economically friendly," says Agrawal.
Through his company, Agrawal caters paper packaging to restaurants, eateries , and hospitality business houses. Likewise, B2B hospitality is also planning to diversify its products by entering into the retail business for which they have received an authorised distribution from Detpak, an international company that specialises in paper and cardboard packaging. However, what makes his products unique is its ability to hold liquid, which many paper packaging fails to do.
"We live in a country that is fond of eating curries. However, the available paper packaging cannot hold liquid, due to which the food gets spilled, leading many people to use plastic packaging. That's why we introduced paper packaging that can hold the liquid," says Agrawal.
Traditionally, many communities in Nepal have used duna, taparis and botas, plates made from leaves of Sal trees to pack food. These days, a few restaurants and even roadside eateries have started using such leaves to serve food. While such products are environmentally friendly and can make the eating experience more authentic, their use hasn't seen much surge, given the fact that they lack finishing and can't be used to serve food items that are in a liquid state.
To fill this gap, and create a market for eco-friendly biodegradable leaf plates, in 2016, Kobit Singh Baniya, along with his three-member team, embarked on a journey of creating plates made from areca (Supari) trees under the company, Leaf Plus.
"Although in the beginning we wanted to manufacture plates made from Sal trees, we didn't find it convenient as they aren't liquid proof and the sinka, used to hold the plates, could invite further problems for the customers," says Baniya.
Since there was an abundance of the Supari tree in the Terai belt, especially in Jhapa, Sunsari, and Morang, finding raw materials wasn't so tough. However, stringent policies and the risk of introducing a new product in the market did create challenges for the enterprise. However, now after four years of hard work, their efforts are getting recognised as they are selling 18 different varieties of products which includes dinner plates, bowls, and spoons to various restaurants, eateries, and departmental stores both in Nepal and abroad, like in Germany, Japan, Australia, and the UK.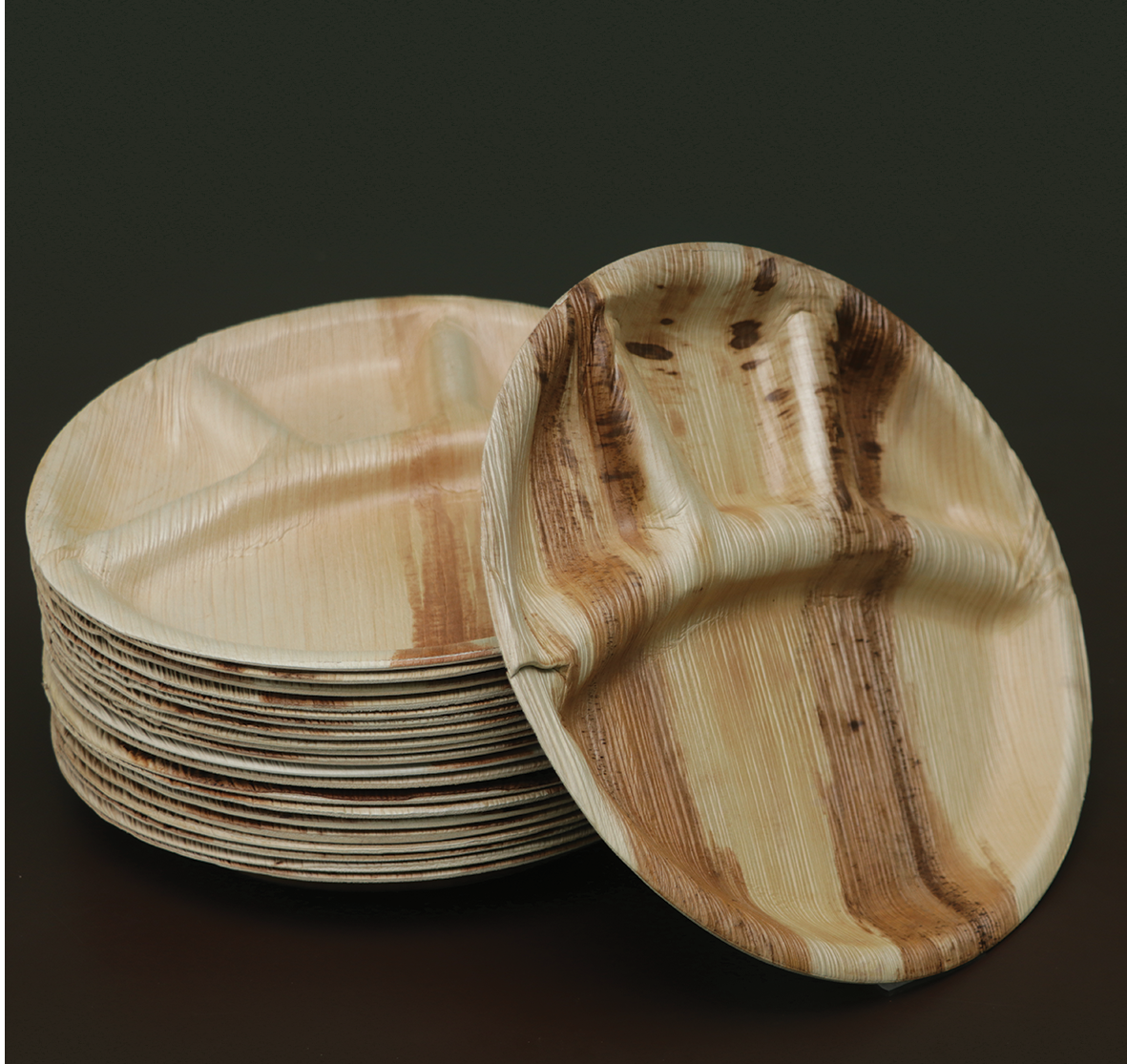 Photo Courtesy: Leaf Plus
"Since our products are biodegradable, water-proof, microwave-able and refrigerate-able, the demand for our products is rising which is also supported by the growth of environmental consciousness among the masses," says Baniya.
For the enterprisers, things have definitely now become easier, as more people are showing interest in making sustainable and eco-friendly choices in their lifestyle. However, there is a certain level of ignorance among the masses about how much of a difference individual effort can make.
"There is ignorance among general people regarding their impact on the environment due to which they do not feel responsible enough to make conscious choices," says Karki.
Likewise, since eco-friendly products are comparatively more expensive than plastic products, many people and businesses are hesitant to make the switch.
But, according to the enterprisers, if you look at the larger picture, their products aren't as expensive as their products are reusable and quite durable.
"If you analyse it from a larger perspective, our products aren't expensive. For instance, if you use ceramic plates, you also need to add the labour cost as well as the cost of water. Plus there is also the risk of the plates getting smashed since they are delicate which in comparison to our plates aren't handy," says Baniya.
But these handful of companies are determined to widen their reach and make more people understand the benefits of their products. That is why the enterprises are resorting to using various marketing tactics that can attract more people in using their products. For instance, according to Agrawal, B2B Hospitality Nepal distributes samples of their products to restaurants just so they can know about the quality and the benefits of his products.
Similarly, Karki uses social media as well as invests time to aware her customers about the environmental and health benefits of her products.
The rising popularity of such products however is currently on a standstill because of the pandemic. However, the enterprisers say that in the future, they believe they will see a surge in people and companies buying eco-friendly products and adopting sustainable choices.
"The pandemic has made people understand the importance of the environment around them, I believe, and that has made them conscious about their choices," says Karki. "That's why in the future, I am optimistic that we will see a rise in people picking everyday products that are environmentally friendly".
---
---