Nepali brands that are sewing their way up the social ladder, sustainably
There is an undoubted consciousness rising among the people when it comes to purchasing clothing that is available and purchasing what is sustainable and ethical. And these brands are leading that change in Kathmandu.

HattiHatti has one primary mission: to empower women from marginalised communities in rural Nepal through education and practical skills. Photo courtesy: HattiHatti
bookmark
Published at : March 11, 2020
Updated at : March 12, 2020 13:57
Kathmandu
A resident of Ganabahal, Dil Hera Tuladhar earned her first rupee at the age of 83. She's part of the team at Aji's, a collaborative platform that enables the elderly community of Kathmandu Valley to make and sell handmade products. Tuladhar knits and sews, a habit she picked up to battle loneliness after her husband passed away 22 years ago.
Once Tuladhar's products are sewn and packed, Aji's team comes and receives her products at her doorstep. Since all Aji's makers are home-based, it is easier for elderly women like Dil Hera to participate.
Started in 2018, Aji's is a social enterprise, with over 90 percent female workers, that attempts to empower the elderly to live healthy and happy lives by providing a platform to showcase their skills and knowledge. They offer consumer products in three categories: clothing and accessories, for babies and children, and home goods.
"Aji's makes and sells products through their online store and retail partners. We also have Aji's podcast and blog, where we connect with the younger generation via campaigns such as #AskAnAji," the co-founders of Aji, Lorina Sthapit and Pursarth Tuladhar tell us.
Another aspect of Aji's brand and mission is preservation. Through the sales of Aji's products, the team is preserving the traditional skills of the makers and also casting a spotlight on traditional products such as Nepali dhaka, bhoto, silver jewellery, mheechas, sukul, etc.
Along with Aji's, there are a number of brands that aspire sustainability from a financial, environmental, and cultural standpoint. HattiHatti joined the bandwagon in 2014.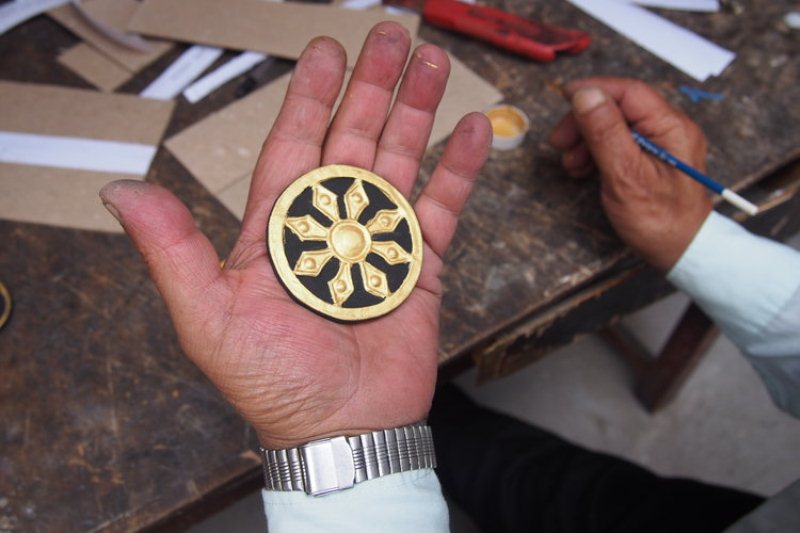 Photo courtesy: Aji's
With 100 percent female workers, HattiHatti has one primary mission: Empowering women from marginalised communities in rural Nepal through education and practical skills through advanced tailoring. "We believe everyone, despite ethnicity, sexuality, gender, social/economical situation, should have access to equal opportunity and have the opportunity to feel joy and happiness in their lives," says Sajina Jirel, the executive director of HattiHatti.
Besides tailoring skills, HattiHatti provides non-formal education and other training programmes targeting self-confidence and social issues. Additionally, they provide a market platform to the tailor girls who complete an one-year programme and choose to be an entrepreneur in the field.
HattiHatti also produces upcycled saree fabric products. Old, vintage sarees are used to make kimonos, bowties or head accessories like scarves, scrunchies, headbands, etc. The women start with a three-month training session, where they get a chance to explore their vocation and strength. Having the time and the money to care about where clothes come from is a feature of the 21st century fashion industry. Following the crusade, Kathmandu is now in midst of experiencing the shift between purchasing what is available to purchasing what is sustainable and ethical.
And the co-founders of Aji's, Sthapit and Tuladhar are excited to see so many new brands with ethical and sustainable commitments emerging in Nepal. "You can see them at the local markets all over Kathmandu," adds Lorina.
Danfe Works is another emerging fashion brand, started in 2015, that believes in being sustainable and ethical is the core. Danfe is a social enterprise of SAATH, an INGO, and was initially designed for girls affected by the earthquake in Nepal in 2015. The beneficiaries of the project were given advanced tailoring training for a year. Their products are locally stitched by beneficiaries who come from villages in Sindhupalchok, Rasuwa, Kavre and Makwanpur.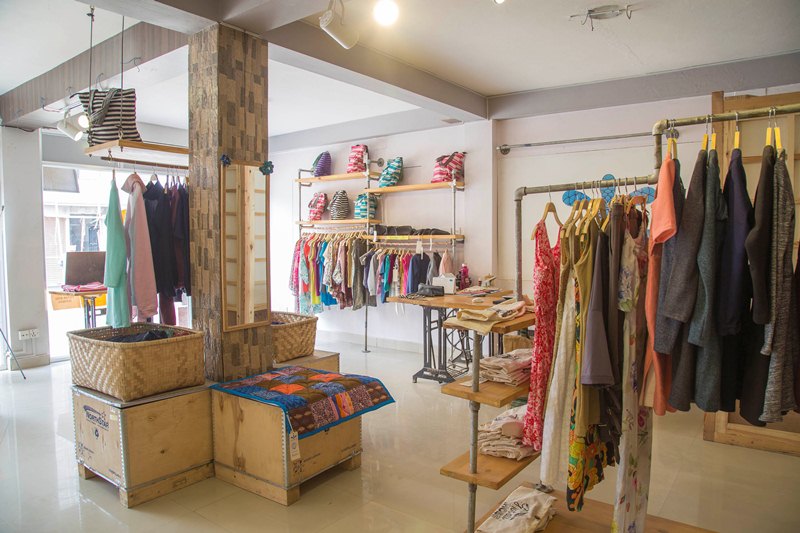 Photo courtesy: Danfe
As a brand, they support and use local raw materials for the production to promote Nepali fabric. "Like the bird Danfe, our project envisions to instil more dimension in the lives of individuals we work with and for. The different colour symbolises people from different backgrounds, ethnicity and culture coming together as one," says Kritishma Karki, president of Danfe Works.
"We have also incorporated waste management in our production line where we reuse the wastages to make kids clothing, gloves, purses, quilts and so on. We also make use of used clothes to make new designs," says Karki.
In the future, Danfe aspires to emerge as an enterprise that is mindful about environment-friendly practices. Besides environmental sustainability, the focus of Danfe lies on gaining a sustainable position concerning women empowerment through equal opportunity, by incorporating marginalised women in the workforce and safeguarding their rights as they become more independent and aware.
The brands are well aware that despite their progressive steps, the Nepali fashion and clothing industry lags behind when it comes to sustainability. "We are aware of it, and that is why it is more important that everyone works towards being ethical and sustainable. It is not a revolution but an evolution. It will take time but we should be mindful of our actions as a brand," says Karki.
---
---