The story behind the intriguing liveried man
He's known for his kerchiefs, sunglasses and pipe, but where exactly does this man's style come from?

Keshav Thapa/TKP
bookmark
Published at : December 11, 2019
Updated at : December 11, 2019 09:04
Kathmandu
One cannot help but notice a certain older gentleman as he struts the streets of Baluwatar, liveried in colour-coordinated suit, wearing black sunglasses with a pipe adorning his lips.
For decades many around Baluwatar were curious about the dapper man and his eccentric style, but it wasn't until he was featured on Stories of Nepal's Instagram account in 2014—when he was dubbed "The Man with The Pipe"—that he started making waves. That picture carried a small blurb, and his picture stood out from the rest. He wore a black fur Russian ushanka hat, sported a leather trench coat and gloves, with a contrasting blue shirt, a red bowtie and a scarf.
Then there was his trademark black pipe, of course, black goggles and a well-tended moustache.
Following five years of being a social media personage, Sudarshan Prasad Gauchan remains unspoilt by the undying attention he receives around the Baluwatar area. But what exactly informed his style? Why is he so loved? What is the story behind the man that intrigued so many, for so long?
When the Post met Sudarshan Gauchan for an interview in a Baluwatar-based cafe, Gauchan swaggered in. His gleaming persona infected the area. This time, he didn't rock any leather. Instead, he wore a three-piece royal-blue tartan suit, and turned heads with each step. His jet black hair, blue silk shirt, red bowtie, along with that familiar red scarf, instantly caused necks to crane.
As soon as he entered the restaurant, he asked server Suman to fetch his favourite masala chiya. "These people should know my taste by now," said Gauchan cheekily, settling into his chair.
Gauchan, born in 1949, is entering his 70s gallantly, with an attitude befitting of a younger man and wrinkle-free face to boot. That considered, he's quick to start by saying age and style have absolutely no correlation.
Gauchan was born in Pokhara to a well-off family. He described himself as a naughty kid, who was always creating a ruckus in the city. But that was until he was enrolled in Kathmandu's St Xavier's school.
"St Xavier's changed everything about me, within a year from being a naughty townboy, I turned into a proper English gentleman—walking around in blazer, shirt, tie and well-polished shoes," mused Gauchan. "If it wasn't for Father Marshall Moran, the principal of St Xavier's, I would still have been that naughty child."
From what he describes as "phalatin ko labeda suruwal" as his uniform as a student in Pokhara, his entire persona and attire changed once he came to the capital.
After completing his education there, Gauchan joined Tri-Chandra College to pursue political science, economics and English. "You see, I wanted to become a politician because I was very active in public speaking in school. I skipped that plan though," he said, toying with his pipe.
His plans may have changed, but not his style. Recalling his golden days, Gauchan mentioned that while most of his friends resorted to casuals towards the end of their college days, the man chose to wear formals as it made him "stand out in the crowd".
Having started to don suits as a teenager, Gauchan has accumulated a presumably ample collection. When the Post asked him the number, he remained coy.
"I will not tell you how many suits I have, and your wardrobe should never be about the number of suits you own, but how you wear them," Gauchan said, adjusting his Polaroid sunglasses. But, he is prepared to reveal one small piece of advice.
"The secret is, I never repeat same suits the next day. I like to play with colours. This way, even if you have 10 suits, they'll think you have 100," he added.
According to Gauchan, matching colours with suits is important. "If you wear extremely contrasting colours, you'll look like a circus tent. You should use colours that complement one another."
But, just wearing a suit doesn't make you stand out, he clarified. One needs to be careful with other details too. While placing his masala chiya on the table, he was quick to flaunt his matching blue kerchief, royal blue cufflinks, red kerchief, black socks and his Polaroid glasses.
"You need to have a knack or talent for spotting the right colours. I may, perhaps, have that inborn talent," Gauchan said with a laugh.
On the Maharajgunj to Baluwatar stretch, it's impossible for bypassers to fail to notice Gauchan and his unique style. While most of them gape at him for more than a couple of seconds, some have often wondered his inspiration for such dapper looks.
Apparently his love for suits, bowties and smoking pipes is mostly inspired by Hollywood. "Have you watched Gregory Peck's classic General Mcarthur?" Gauchan asked.
"My pipe's inspiration came from the General—what a rebellious attitude he had and it completely complimented my entire look," he said.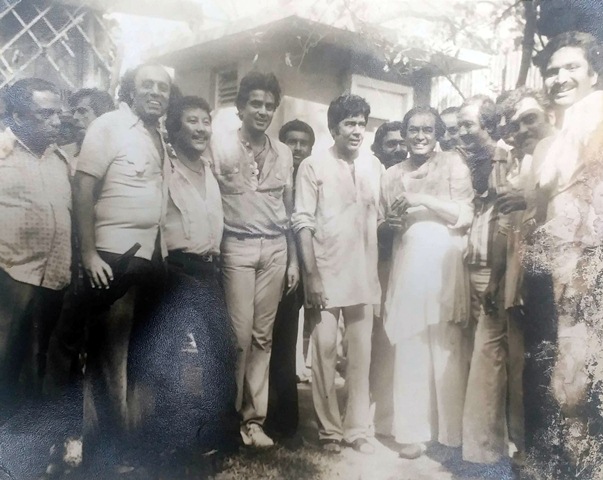 Sudarshan Gauchan (third from left) with Bollywood actors Jeetendra (fourth from left), Sanjeev Kumar (sixth from left) and Prem Chopra (seventh from left) among others. Photo courtesy: Sudarshan Gauchan
Like that of the General, his outfit is the result of many inspirations from the characters and styles of that era of film. Of course, the 1942 classic Casablanca comes up.
"Humphrey Bogart's costumes have stayed with me for decades now," Gauchan said. "You see, everyone has their own inspiration."
Before his retirement a decade ago, Gauchan often travelled around the world. And, of course, those places had great clothing for him to add to his collection.
"The Savile Row Company—that's where you go to buy the best for yourself," he mentioned.
"I am not a narcissist and I don't dress to impress; I dress for myself and, remember, never wear to impress," said Gauchan. "Dressing up builds confidence. I am not trying to belittle others. Everyone has their forte, I like my Nepali dress. I wear it occasionally."
On-lookers may love or hate him for his sartorial elegance, but Gauchan doesn't seem bothered by the way people react. "If you don't love yourself and respect things around you, people wouldn't respect you either," he said with an unusually straight face.
Gauchan was a businessman before his retirement, he owned several businesses—a carpet factory and a jewellery store, Silverman, which was located within the Soaltee Crowne Plaza complex in the early '70s.
Among Gauchan's many travels, he often found himself in Mumbai, where he dealt with precious and semi-precious stones to sell in his jewellery store. It was during those constant visits, when he made friends with famous Indian actors such as Jeetendra, Danny Denzongpa and Prem Chopra. He says it was his style that helped him make friendships.
While Gauchan lost touch with many of his Bollywood friends, he continues to be best friends with Prem Chopra, the iconic villain from Hindi classics—Hare Krishna Hare Rama, The Great Gambler, and Teesri Manzil.
While Gauchan, still a bachelor, is now living a rather relaxed life as a retiree, he is still active around Baluwatar, and that doesn't seem like it will end any time soon. He still frequents places, and people know him well.
Predictably, Gauchan gained his own fan following—especially after that photograph was published on Stories of Nepal. On that photo, one comment read, "For those of us who studied at National College, 'The Man with The Pipe', immaculately dressed, walking carefree on the Baluwatar streets leaving a cloud of cigar smoke and air of mystery as he passed by, unwavered by onlookers, was always a subject of conversation. Long wondered who he was."
---
---