Affordable Nepali watches to amp up your style
Alma Artes hopes to make their traditional timepieces a global brand.

Photo courtesy: Alma Artes
bookmark
Published at : November 6, 2019
Updated at : November 6, 2019 09:45
Kathmandu
When watches were invented, a wearable timepiece that evolved from portable spring-driven clocks during 16th century in Europe, they were a practical necessity. Their functionality remained unchanged throughout the transition from pocket to wrist watches, but they also became a style and ornamental accessory. By the beginning of the 2000s, technology started taking over many aspects of human life, and the functionality of watches were replaced by smartphones. The wrist accessory, however, again made a comeback by 2013, but as smartwatches.
The charm of the traditional watches, which are a technological accomplishment in their own right, has yet to fade away. While smartwatches have also recently evolved from an ultimate smartphone accessory to being standalone gadget, traditional watches, especially luxury ones, are still sought after for with their unique designs and style quotient.
"Young people may prefer smartwatches over more traditional watches because they are convenient and do more than just show time," says Pranaya Chuke, one of the founders of Alma Artes, a designer watch company based in Nepal. "But the traditional watch market continues to exist because those types of watches tend to reflect a person's history and character."
Chuke and his partner Rothan Gurung were pursuing their undergraduate degrees at Islington College when they discovered their shared passion for watches. Gurung was inspired by his grandfather, who frequently wore and treasured traditional watches like the Seiko 5 watch, a popular Japanese watch brand and model. In 2018, the duo decided to turn their passion for designer timepieces into a business.
"When we first told people that we were going to start our own watch company, they were sceptical of us and didn't believe we could do it," said 26-year-old Chuke, who is also the head of marketing at Alma Artes. "But we made it possible, and fortunately enough, so far everyone has loved our watches."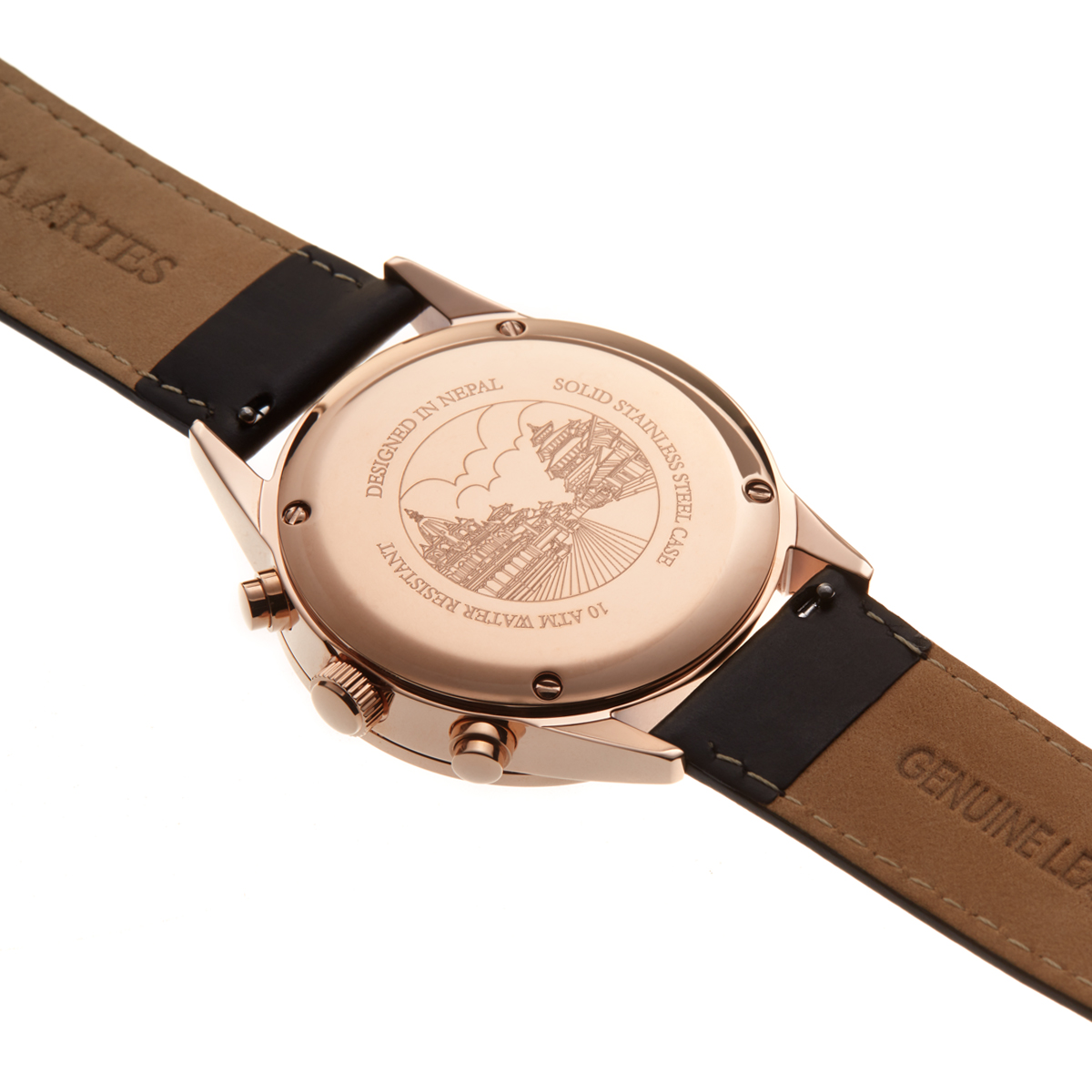 Photo courtesy: Alma Artes
Within just a year, Alma Artes' watches have appealed to and attracted many people. Their watches, which are designed in Nepal, are unique, elegant and affordable—especially when compared to other designer watch brands. With their unique designs and relatively affordable prices, the duo hopes to establish their brand as one that will be recognised globally. Hence, they chose to name the company 'alma artes', borrowing from Latin, which translates to 'pure soul.' But apart from the name, the founders say that they plan to have designs that are more authentic to Nepal.
"Our customers like the fact that the watches are designed in Nepal," says Chuke.
In their first set 'The Heritage Series', depictions of famous heritage sites like Swayambhunath Stupa and Patan Durbar Square are engraved on the back of the watches.
Since being established a year ago, the company has sold more than 400 watches. According to Chuke, most have been purchased to be given as gifts to send abroad, Australia being one of the countries where they get sent to the most. But it has been popular among those who love traditional watches.
"It's very classy and elegant," says Nipun Shakya, who owns an Alma Artes watch. "It is also special to me because it's designed in Nepal."
Alma Artes watches come in five different colours and the price ranges from Rs17,988 to Rs20,237. But, according to Chuke, many customers are sceptical of their lower prices.
"But price is not indicative of the quality of the watches," says Chuke. "It is a market strategy for us right now, to attract as many customers so we can build our brand."
The founders are very mindful of their product, company and brand because they are very aware of the labouring process of establishing a company. Fresh out of college, both Chuke and Gurung had to figure out the bureaucracy and hassles of company registration and tax provisions on their own. Even in terms of design, they had to ensure theirs was as unique as possible, so that they did not resemble the designs of any other international watch brands, as to avoid legal and patent issues.
"A lot of people take 'the designed in Nepal' part for granted, thinking it's an easy thing to do, but there's a lot that goes into designing a watch," said Chuke. "There were times when we wanted to quit, but once we saw the prototype, we knew we had to continue."
According to Chuke, he and his team of five work together to come up with a design for the watches, focusing especially on the inner mechanisms of how a watch should move. For their watches, they use Japanese movement, which is used in popular brands like Seiko. But while they are designed in Nepal, the watches are assembled at a factory in Shenzen, China, for the time being, due to lack of capital.
But Chuke says that with the release of a new series of watches in about three months, he expects to be able to import raw materials and assemble the watches here in Nepal, after which the company will also be able to export them to other countries.
"After finalising the design, we send them to China, where our agent, who looks after the production, finalises everything and exports the final product to us," says Chuke.
Currently, the watches are sold online, via their website and social media accounts, which Chuke says is a boon, due to the popularity of digital marketing. But in the future, he hopes to sell the watches through local vendors and stores, where customers can see the physical product before purchasing them.
But running a company also means facing competition from other businesses, and for Alma Artes, there is a lot of it in Nepal, where foreign brands are still popular, and smartwatches are certainly the new fad. But with the number of queries on their social media pages, even from young customers, they are sure that traditional watches are not going out of style anytime soon.
---
---