Finding independence through travelling
By travelling alone, these women are starting a new trend in Nepal—one through which they are re-discovering themselves

Gaurie Malakar at Kora La border during her travel to Upper Mustang. Photo Courtesy: Gaurie Malakar
bookmark
Published at : June 28, 2019
Updated at : June 28, 2019 09:44
Kathmandu
On November 19, 2018, Pooja Rijal embarked on a journey to Everest Base Camp from her home at Pepsicola, Kathmandu—on foot. The general itinerary to get to the base of the world's highest peak starts with taking a flight to Lukla or a jeep to Jiri or Phaplu, but the 23-year-old walked approximately 600 kilometres, reaching her destination via Gokyo Lake and Cho Pass—completing the trek in a total of 33 days.
Rijal was one of 13 winners of Swo-Yatra, a solo women travel challenge in 2018. Swo-Yatra has facilitated and funded solo trips for 42 women to different parts of Nepal since 2016. The organisers, Nepali Travellers, apart from discussing the travellers' itinerary, provides five-day intensive risk management training, self-defence training, wilderness first-aid training and a storytelling workshop before sending the selected women on their respective solo trips.
According to Rijal, during one such itinerary discussion, someone suggested walking to Everest Base Camp as a joke, but the idea stayed with her. Soon, she scrapped her initial route and decided to walk to EBC.
"I became curious, and I wanted to know the feeling," says Rijal, who describes the experience as "life changing".
"My perspective has definitely broadened after meeting different people and seeing their lifestyle. I also got a chance to spend time with myself while trekking alone," says Rijal. "It felt empowering taking decisions for myself."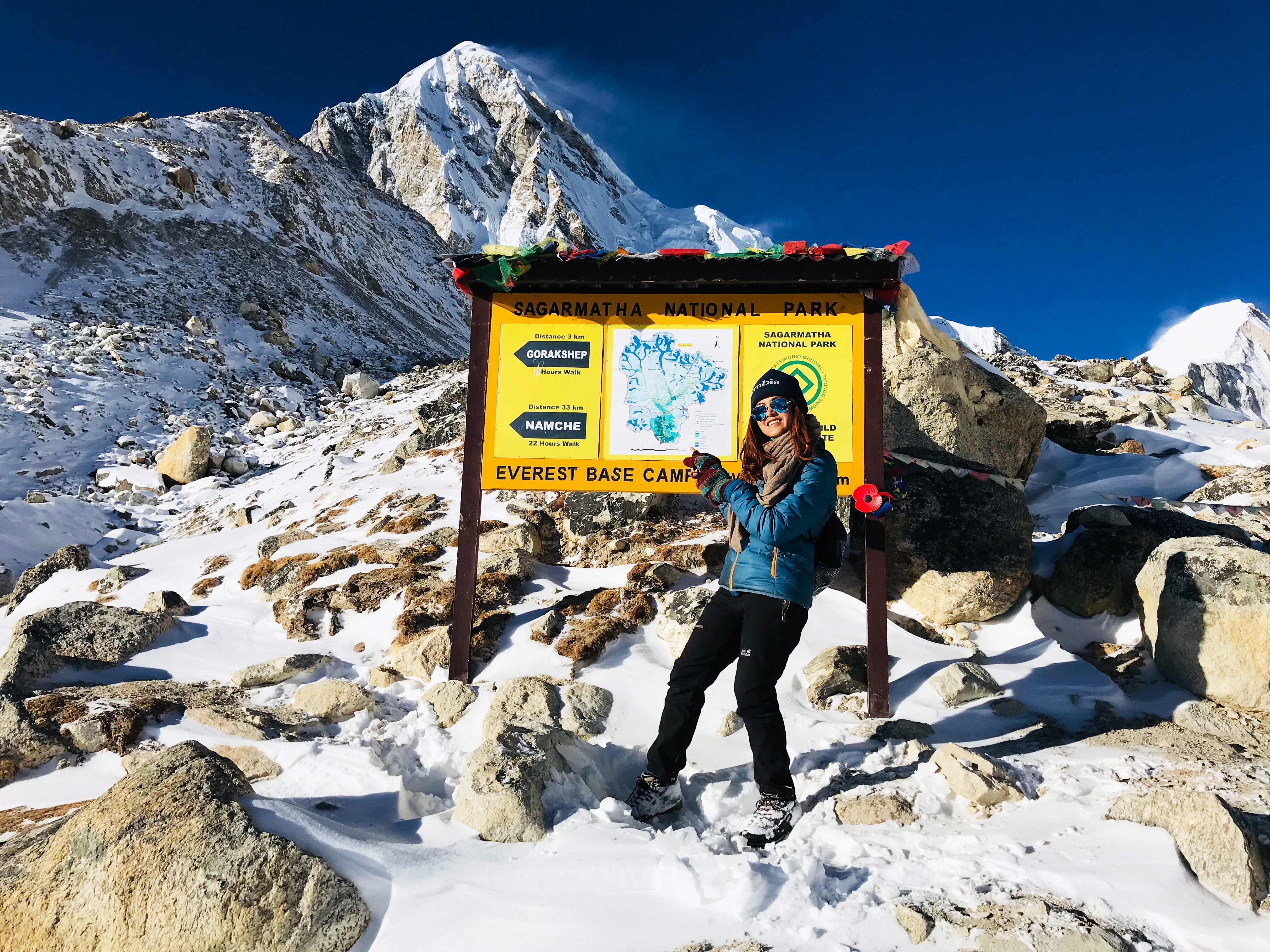 Pooja Rijal at Everest Base camp.  Photo Courtesy: Pooja Rijal
Although travelling solo is not a new idea in western countries, it has not been explored much in Nepal, especially by women. Most people usually have safety concerns. Women travelling alone for days, without any company, and that too in rural parts of the country, is something Nepali society is still not used to. But with events like Swo-Yatra, some women have taken up the challenge to normalise this concept.
Forty-nine-year-old Eka Kumari Basnet also shares an experience similar to Rijal's, who was one of the winners of the same challenge in 2018.
"Whenever I went on trips with a group, I always depended on others to make decisions. I did feel secure and didn't think much about looking out for myself because at the back of my mind I always thought that someone would help me out if something happens," she says. "But this trip has changed my attitude."
Basnet's route went through Ilam-Pachthar-Dhankuta-Dharan, during which she passed through 11 districts. Because she was on medication for diabetes and asthma, she couldn't walk continuously for hours, but she participated in the challenge nonetheless in hopes to inspire young women to travel.
"I could pass off as most of the other participants' mother, because of my age. So if I could do it why can't the young and healthy girls do it?" says Basnet. "This trip made me realise that I still have strength in me to do things, and it isn't too late."
Another winner of Swo-Yatra 2018, Gaurie Malakar, 44, who did the Annapurna Circuit Trek, passing through Thorong La and even going to Tilicho Lake, says the thought of travelling alone itself was very empowering.
Ever since her childhood, Malakar wanted to visit Manang and Mustang, but never got a chance, so when an opportunity arrived, she knew she had to take it. "I travelled for myself. I got to spend time with myself. While travelling in a group, I had to accommodate myself to what others wanted to do, had to think about others. In this trip, I went wherever I wanted to go and did whatever I wanted to do."
The Annapurna Circuit was Malakar's first ever trek. Even as simple as deciding where to eat, when to take a tea break, and even the walking pace felt liberating, she says.
"I got to test my strength and my capabilities through this trip," she says.
But things were not always easy for these solo travellers. There were times when they had to explain to strangers they met on the way why they were travelling alone. In a tea shop at Illam, Basnet was approached by a group of men, who questioned her about her whereabouts and her motive of travel.
"When I told them that I was travelling alone for leisure, they told me that a woman only travels if she is working for an INGO/NGO or if she has a bad relationship with her family and conflict at home,'" says Basnet.
According to her, she had to explain the details of the challenge before they left her alone. "I was disheartened because it showed me how our society still has a hard time accepting that even women can do activities like travelling alone," she said.
Despite the occasional bad days, Rijal says that when women travel to rural areas, it inspires other women in those areas to travel as well. It also encourages women to become independent and empowered.
"Even if 15 women travel, think how many lives they can inspire and change including theirs," Basnet.
Apart from that, the travellers say that the experience gives one a lot of time for self-reflection. "I realised that after taking trips like these, you really get to know yourself—without any labels. You understand your strengths and your limitations." says Malakar. "All my life, people told me who I was. It was only after the trip that I got to know the real me."
---
---