Chatpate, panipuri ban mulled to prevent diseases
Amid monsoon illnesses, consumer rights activists say food and water served at restaurants need checking too.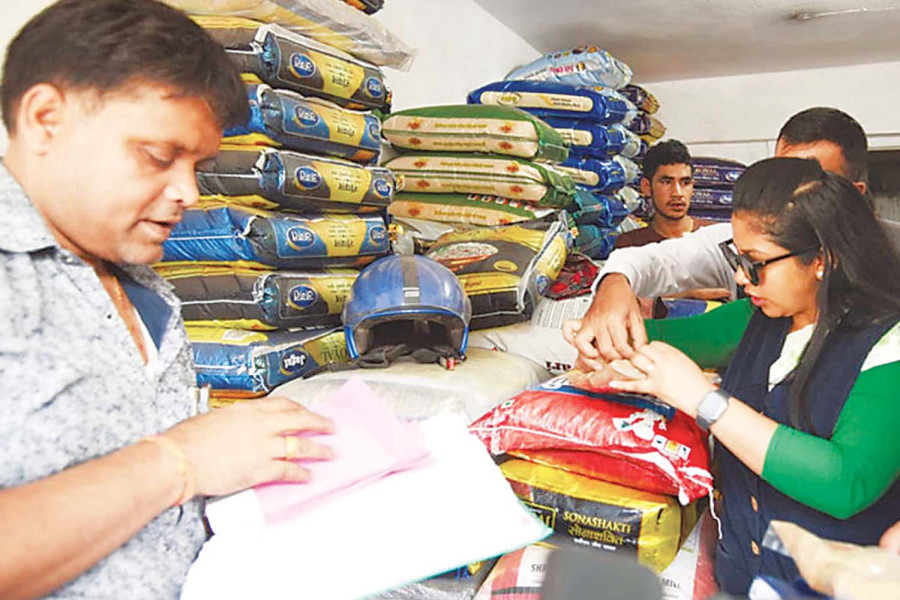 Kathmandu Deputy Mayor Sunita Dangol (right) is seen monitoring goods sold in the market in this handout picture taken last year.
bookmark
Published at : August 14, 2023
Updated at : August 14, 2023 07:15
Kathmandu
The Kathmandu Metropolitan City has announced stringent measures to control waterborne diseases such as cholera and to curb the sale of adulterated goods and the use of pesticides in vegetables.
Speaking at an event in Kathmandu on Sunday, Deputy Mayor Sunita Dangol, who is also the chief of the market inspection committee, directed officials to make plans for preventing waterborne diseases.
The monsoon season means people are prone to various diseases, said Dangol, stressing the need for market inspections. She said the metropolis is strictly monitoring meat items, water, milk and other daily kitchen essentials.
Consumer rights activists say the move shouldn't be a mere ritual. They have called for an effective implementation of the municipal plan.
"We have chosen preventive, protectionary measures of market inspection," said Dangol, addressing a meeting organised by the Market Management and Consumer Protection Welfare Committee.
KMC chief administrative officer Basanta Adhikari said they plan to impose a blanket ban on the sale of 'panipuri' and 'chatpate'—spicy street foods popular among youths. "These kinds of foods are responsible for diseases like cholera and other waterborne ailments," he said.
When it comes to dealing with street vendors, Kathmandu metropolis has been quite notorious. Its police force in the past faced much criticism for confiscating the goods from street vendors or even beating them up.
Adhikari also said there will also be a ban on the sale of milk in plastic bags fastened with rubber bands. "This is illegal…and has to be banned immediately," he added.
Consumer rights activists have criticised Adhikari's announcement as a publicity stunt, and for its harsh treatment of vendors.
Instead of making stringent laws and monitoring mechanisms, the KMC just seems to be doing publicity stunts, said Madhav Timalsina, president of the Consumer Rights Investigation Forum.
Timalsina questioned the KMC's concern over the quality of food being sold in restaurants and shops. He said even the milk sold in packets was laced with washing soda and other detergents, and the KMC and the federal government should monitor such malpractices.
"Unless the local and federal governments make stringent laws and have regulations in place, such announcements make no sense," said Timalsina.
Also, commoners and consumer rights activists have shown concern over the contaminated drinking water in Kathmandu and have lashed out at the government's inability to prevent it.
According to a study carried out by the government's Epidemiology and Disease Control Division a few months ago, nearly a fourth of the drinking water sampled in Kathmandu was found contaminated with faecal coliform.
Faecal coliform, a microscopic organism, lives in the intestines of warm-blooded animals and their faeces.
According to the division, most of the samples tested were taken from bottled water.
Asked about the inspection of bottled water being sold in the Capital without following the hygiene standards, Dangol said the metropolis was concerned over it.
"During inspection, we also have found many contaminated water jars, but we don't have our own lab to test them," said Dangol. "When we take them to the government lab, it can't check more than 10 samples [a day]."
The metropolis has scheduled a meeting with the Kathmandu Upatyaka Khanepani Limited, the drinking water authority, to discuss the issue.
Meanwhile, food adulteration is widespread in the country with a long list of items ranging from milk, edible oil, dairy products, spices, water, tea, and lentils found to be contaminated with unhealthy ingredients.
The use of pesticides in vegetables is rampant in the absence of regular inspections.
The KMC's 'Market Management and Monitoring Act' issued in February, 2021 states that all businesses, firms and shops should ensure the quality of goods they produce or sell. The law also prohibits the sale of goods or services by deception or through black marketeering, overcharging, and creating artificial shortages and the sale of fake and adulterated goods. However, these legal measures haven't been enforced effectively.
Given the failures of the local and federal governments to enforce the law, consumer rights activist Timalsina said such malpractices could be discouraged with proper market monitoring.
In the case of Kathmandu Valley, all the deputy mayors should come together and make stringent laws and enforce them, said Timalsina.
It's yet to be seen how effectively the Valley Deputy Mayors' Forum will coordinate over the issue. For integrated planning and work procedures, 'a network' of deputy mayors in Kathmandu Valley was formed in March this year.
---
---