Kathmandu metropolis: A chequered history
Mayor Balendra Shah's mismanagement of Kathmandu Metropolitan City is in keeping with the lack of vision of the body's past heads, observers say.

Mayor Shah is criticised for taking up many tasks simultaneously while completing none. Post File Photo
bookmark
Published at : December 25, 2022
Updated at : December 25, 2022 10:56
Anup Ojha
Kathmandu Metropolitan City has been besieged with chronic problems such as mismanagement of garbage, decades-old squatters' issue, encroachment of open spaces, poor heritage conservation, shoddy drinking water system, and lack of footpath and sewage management. Successive mayors have spent years addressing these problems, without much success. But what accounts for this lack of progress?

How did it start?
Kathmandu is the largest metropolitan city in the country, the five others being Pokhara, Bharatpur, Birgunj, Biratnagar and Lalitpur.
Preliminary data of the 2021 national census shows that Kathmandu has a population of 845,767 local residents with 105,649 households.
The Kathmandu Metropolitan City has a 100-year history, if one goes back to its roots. Its genesis has a connection with the 'Safai Adda' established in 1919. It is said that the then Rana ruler, while walking on the streets of Kathmandu, saw garbage litter the streets. He then decided to establish an office to clean the city's roads and named it Safai Adda, which was established in December 1919. At the time, it had just two departments, Tallo Phant and Mathilo Phant. Later, the same structure was converted into a local unit (Nagar Panchayat).
What was the purpose of establishing KMC?
Seven decades later, in 1992, PL Singh became the first elected mayor of the City after the re-establishment of democracy in the country in 1990. He said that the aim of establishing the local body was to solve the basic problem of the city's citizens.
In his short conversation with the Post, Singh said that the city didn't have its own office at the time, and he set it up at New Road, by renting a house. "Then, I hired some officials, added infrastructure and the City Police, but it was really difficult. I didn't have a budget, you see," said 83-year old Singh, who is currently unwell and has been advised bed rest.
Singh said another reason for the KMC's establishment was to make the life of its citizens easy by providing them with better roads, arranging drinking water, managing waste, doing urban planning, along with protecting heritage sites and structures.
The past and present of the waste problem
According to Singh, initially, the City had one Chinese tractor to help in the removal of garbage. There were only a few dozen staffers then. Now, the Kathmandu Metropolitan City has 1,700 staff, including 171 city police personnel and 751 sweepers who clean up the streets. Singh said that compared to the past, there haven't been any changes in waste management, sewage, traffic jams and drinking water issues. If anything, the City now has bigger traffic problems, in addition to the problem of squatters and urban poverty, which have made things more complicated.
In 2005, the Kathmandu Metropolitan City, in a bid to solve the garbage problem, started dumping the garbage collected from the Valley at Sisdole in Nuwakot district. The landfill spread over 750 ropanis (37.65 hectares) of land was initially agreed to be used for three years. But, until last year, the Valley's garbage was being dumped there, despite protests from the locals.
After nearly three decades of the KMC's establishment and Balendra Shah being elected its new mayor, the incumbent continues to grapple with the old problems. Although Shah had assured Kathmandu's residents five months ago that the waste generated would be segregated, the garbage problem persists.
Rich City, poor delivery
The KMC is the richest metropolitan city in the country. In this fiscal year, the city's budget was Rs25.41 billion, an increase of more than six billion rupees from last year's Rs18.9 billion, which is four times that of neighbouring Lalitpur Metropolitan City.
At present the KMC has 1,700 staff in 14 departments.
"We didn't have our own property and manpower, and even though Kathmandu was announced as a metropolis, it didn't have a budget like it does today," said Singh, the first mayor of Nepal.
He said mayors past and present have been unable to deliver despite having so much manpower, budget and equipment. "Whether it's a small or a big city, the problems are almost the same everywhere. But it's the duty of the elected representatives to sort them out," said Singh.
Why can't the City deliver?
Kishor Thapa, a former government secretary experienced in urban planning, says the main reason why the City cannot deliver is the lack of proactiveness of its past and present leaders. "The city's population has been increasing, and this has resulted in many problems related to pollution, traffic jams, garbage, drainage, parking management, and stray animal management."
He said the City has been beleaguered by its inability to solve its problems. Thapa said there were 137 city personnel during the tenure of Keshav Stapit when the population was around 500,000, but now the City's population has crossed 800,000, while there has been no significant change in police numbers.
"If you look at the KMC's organisational structure, not much has changed even after two decades," said Thapa.
Problematic policies or implementation?
Those in the know say there was some development work during Sthapit's tenure, but precious little was done during Bidya Sundar Shakya's. The previous mayor Shakya had promised to complete 105 works in his first 100 days at office, but could not do anything meaningful in his five-year term.
Instead, he made big promises like a monorail, installation of smart public toilets, smart traffic lights and zebra crossing, improving drinking water supply, managing drainage systems, extending cycle-friendly lanes, solving traffic problems, and the construction of Buddha Park at Tinkune—but none of them quite panned out.
Balendra Shah and his drives
Many say the delivery failures of former mayors who came from various political parties helped Balendra Shah win the mayoral election as an independent this time. The first commitment he made after being elected was to solve the garbage problem, and many appreciated it when he reached Sisdole to meet locals who had been greatly troubled by the dumping site nearby.
Initially, some urban planners like Thapa and Suman Meher Shrestha also appreciated Shah's drive to demolish 'illegal structures', calling it a "much-needed action". The mayor was praised for raising Rs17 million in entertainment taxes from the Bhrikutimandap-based Kathmandu Funpark within 24 hours in the first week of September, and also for bringing some of the activities of Nepal Army and Nepal Police under the tax net.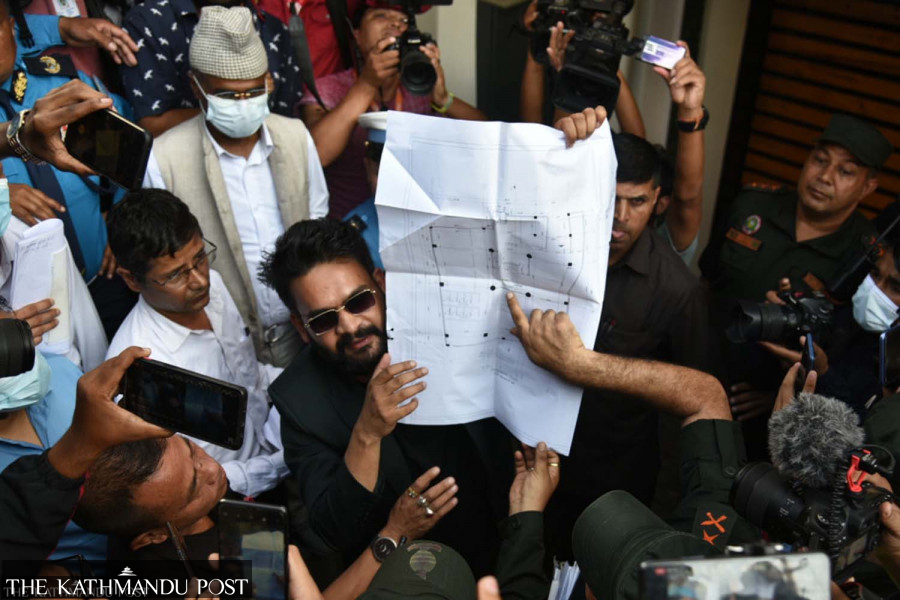 Kathmandu Mayor Balendra Shah shows the blueprint of the Alfa Beta Complex to its owner before demolishing an illegal extension. Post File Photo
Lately, he was appreciated for following the diplomatic code of conduct while meeting the US Ambassador to Nepal Dean R Thompson. Shah had stated on Facebook that he met the American ambassador only after the foreign ministry's permission.

Shah's shoot-from-the-hip approach
Shah's campaign to demolish illegal structures drew cheers from the public at large, but raised concerns too, as he started chasing away poor vendors from the streets, on the eve of Tihar. In just over seven months in office, Shah waded into more than half a dozen issues—he vowed to resolve the garbage problem, tried to remove footpath traders, pulled down digital hoarding boards, dug up Tukucha to restore the encroached river, re-introduced a ban on smoking in public spaces, attempted to remove squatters from Thapathali and decided on an underground parking lot at Khula Manch. All these steps have drawn controversy.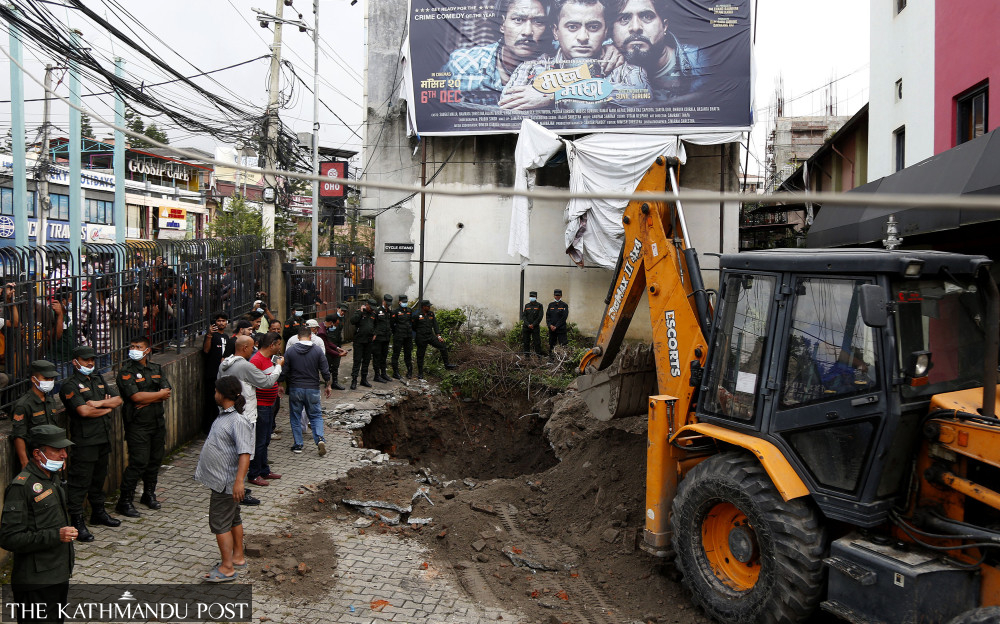 Post File Photo
City planner Thapa said the decision on squatter-removal and building an underground parking in Khula Manch was made without proper study. "Both these issues were discussed during the tenure of Keshav Sthapit in 1997, but had to be backpedalled, so the City should have been cautious this time as well."
In the case of squatters, Khula Manch and Tukucha, his own officials at the KMC accused the mayor of working unilaterally. "Although Shah is popular on social media, with regard to Khula Manch, squatters or digging up the Tukucha river, he didn't consult anyone," said Bhairam Khadgi, the KMC Ward 28 chairman.
"Many ward representatives questioned mayor Balendra Shah for his unilateral decision on the Thapathali squatter settlement."
Way ahead
The mayor is criticised for taking up many tasks simultaneously while completing none. Urban planner Shrestha suggests the mayor does proper homework before jumping into action.
"The mayor has to consult stakeholders such as local communities and ward committees and take their suggestions before initiating any action that directly affects them," Shrestha said. "He also needs to take the bureaucracy into confidence while taking stringent actions."
---
---