Kathmandu court orders shopkeepers not to run shops from Dui Maju until it passes an interim order
Conservationists and locals are hopeful that the court will give a fair judgement to restore the encroached space of the historic shrine.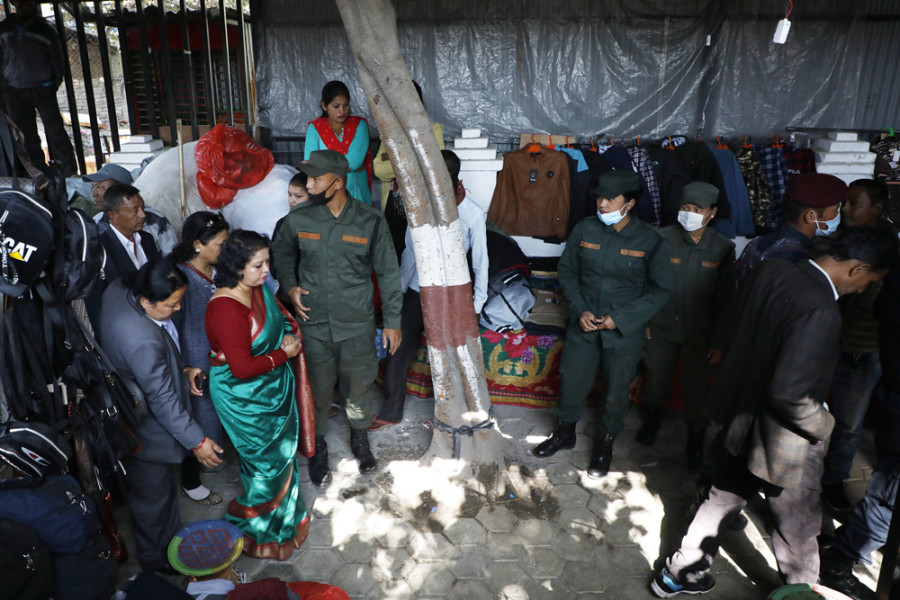 Deputy Mayor Hari Prabha Khadgi (second left) visits the Dui Maju shrine in Kathmandu on Saturday. Sanjog Manandhar/TKP
bookmark
Published at : November 19, 2019
Updated at : November 20, 2019 15:13
Kathmandu
The Kathmandu District Court has ordered the shopkeepers operating their business on the premises of Dui Maju shrine not to run their shops there until it passes an interim order.

A single bench of Judge Bhuvan Singh Thapa issued the order to this end on Monday.
Heritage lovers and conservationists have welcomed the court's order.
"This is a welcome move. We are hopeful that the court will help revive the property to its original state," said Ganapati Lal Shrestha, heritage conservationist.
More than two dozen shop owners had been running their business on the property belonging to the Malla-era shrine located in the north-west part of Khulla Manch.
After continuous protests and lobbying by heritage conservationists and locals, the Kathmandu Metropolitan City had padlocked the entrance to Dui Maju on Saturday.
The court order came in response to a complaint filed by Urmila Kadariya against Amrita Bhattarai on November 3. Bhattarai is the custodian of Dui Maju shrine.
Guthi Sansthan, the trust responsible for managing religious sites and organising cultural activities, had last year entrusted the responsibility of looking after the temple for five years.
As part of the agreement, the trust had allowed Bhattarai to lease part of the temple's property to shop owners for a monthly rent of Rs 15,000. Bhattarai, however, had leased the property to Martin Thakur International which, in turn, had sublet the site to over two dozen shop owners for hefty rent.
After widespread public protests and criticism, on September 23, Guthi Sansthan had sent a contract termination letter to Bhattarai, but the latter did not pay any heed.
On Saturday, after padlocking the entry gate of Dui Maju, Deputy Mayor Hari Prabha Khadgi had publicly announced that the city officials would take charge of cleanliness and security of the historic shrine.
---
---