What's in your future? Open up your palms (and your wallet) to find out
Thousands of people come to Pashupatinath Temple to worship Lord Shiva, and then find solace from one of the dozens of palm readers standing by to tell them everything about themselves.

A snap survey with the palm readers showed that business is good, and they were mostly happy with what they earned. Anish Regmi/TKP
bookmark
Published at : September 18, 2019
Updated at : September 18, 2019 08:32
Kathmandu
On a recent afternoon at the Ramghat in Pashupati, Tika Prasad Ghimire was examining the hands of Paras Khadka, a 62-year-old man from Banke.

"You have surpassed an upheaval in life. Good days are ahead now," said the 82-year-old Ghimire, carefully reading the lines on Khadka's right palm. "But it seems you have some health problems, mainly in your stomach."
Khadka's wife, son, and daughter-in-law, who were all intently listening to the palm reader, nodded their heads in agreement, as Khadka had just been treated for a kidney stone. The session lasted 15 minutes and Khadka paid Ghimire Rs 2,100, which included charges of performing a ritual in memory of his father who had passed away.
Ghimire is one of the two dozen palm readers who await customers at Pashupati every day. A snap survey with the palm readers showed that business is good, and they were mostly happy with what they earned.
Pashupati Khanal from Dhading came to Kathmandu after the 2015 earthquake destroyed his house.
"I polished my knowledge in palmistry after arriving here," the 47-year-old said. "I make between Rs 30,000 and Rs 35,000 a month."
Apart from reading lines on palms, Khanal also performs different Hindu rituals for which he charges separately.
"It's only natural that people are curious about their future and they ask me to examine their hands," said Khanal, who did not appear very keen to explain just how he had improved his palm reading.
Palm reading has been in practice for centuries, even though the debate over whether it is science or pseudoscience has been around for nearly as long. Some studies suggest the practice is not completely off base. The Atlantic in 2015 cited numerous pieces of research that suggest how human hands can predict physical and mental traits as they contain a wealth of information.
Anthropologists and sociologists say that a belief in palmistry has more to do with people's cultural and religious beliefs than the actual ability to predict the future.
"People all over the world have held faith in palmistry, astrology and birth chart reading for thousands of years," said Damber Chemjong, head of the anthropology department at Tribhuvan University. "A majority of people in our society might say they do not believe in such things even if they actually hold deep faith in them."
According to Chemjong, even if people don't believe in what they are told by palm readers or astrologers, such visits can help boost people's confidence.
That's exactly what happened with Susmita Baral.
The 20-year-old woman from Pokhara had come to worship at the Pashupatinath temple when she decided to visit a palm reader.
"I have some relationship issues with my husband," said Baral, who was happy to pay Rs1,500 to a palm reader. "I am quite relieved. I was told that the lines on my hands show that I will have better days ahead. I think I just have to perform some rituals."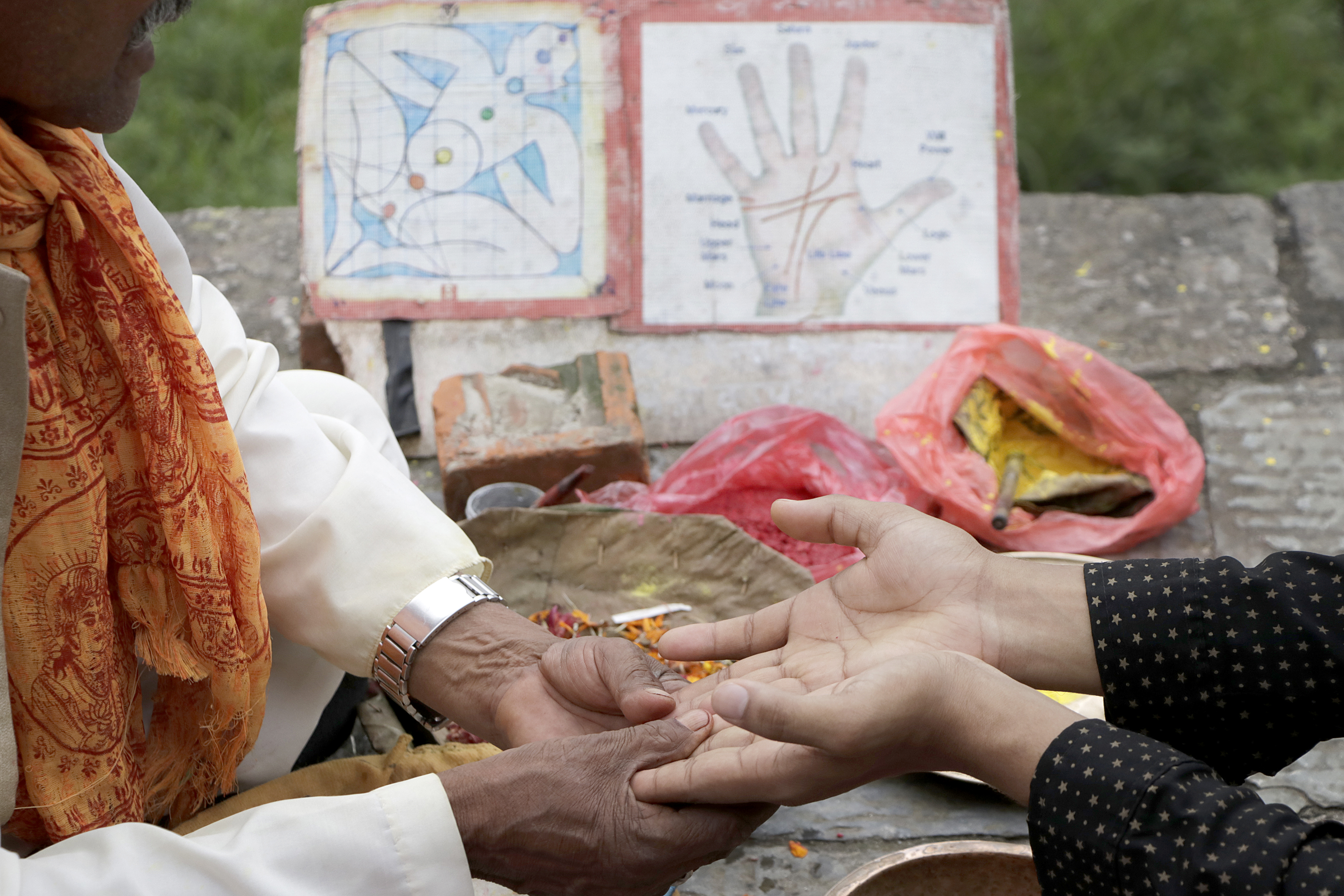 This image shows an astrologer reading a person's palm at Pashupatinath temple premises. Anish Regmi /TKP
Anthropologists say it's human nature to search for happiness and people try different ways to seek solace—some go to astrologers and palm readers, others might try to look for things on the internet.
"There is nothing wrong as such as long as people do not get overwhelmed and completely leave their lives up to fate," said Chemjong. "Ultimately, it's people's actions that determine their future. If things work out well, they might link their success with luck and well-aligned planets."
Forty-five-year-old Dilmaya Pode looked concerned about the future of her son, 21-year-old Kishan. "My son's second marriage failed. He just roams around the city. He is my only son and I want to find out what is best for him," said Pode, who was paying Rs2,000 to a man reading her son's birth chart. "I hope things will work out."
She did not know how exactly but appeared confident.
Kedar Man Bhandari, the chairperson of the group that oversees Pashupati, said that there's no harm in a brief palm reading session if it makes people happy.
"But what is concerning is that the majority of palm and birth chart readers here have very basic knowledge. I don't know exactly what they tell the people who approach them," said Bhandari. "I just hope they are not misleading people."
Arjun Lamichhane, the editor and publisher of 'Gauri', a magazine that focuses on Hindu heritage and culture, however, is sceptical.
"Most of these priests first instil fear among those who approach them and then act as if they have some magical formula to address all of their problems," said Lamichhane. "This is illegal. Palm readers and astrologers with half-baked knowledge often rip off people who are in distress. Happy and successful people do not approach them."
Lamichhane, however, does not disapprove of palmistry and astrology. He just stressed that if people need sane advice, they should go to those with expertise.
Then why has the number of palm readers and astrologers increased at Pashupati?
Because the clients keep coming, said Chemjong.
"People's aspirations have shot up, but many don't know how to fulfil them, so they seek help from palm readers and astrologers who they believe can show them the way," said Chemjong. "Pashupati is one of the major temples in Kathmandu visited by thousands of people. Where there are clients, there are service providers. It's simple demand and supply."
---
---