Nine minors rescued from a children's home in Bafal, three arrested
The children were living in dismal conditions, surviving only on rice and salt, authorities say.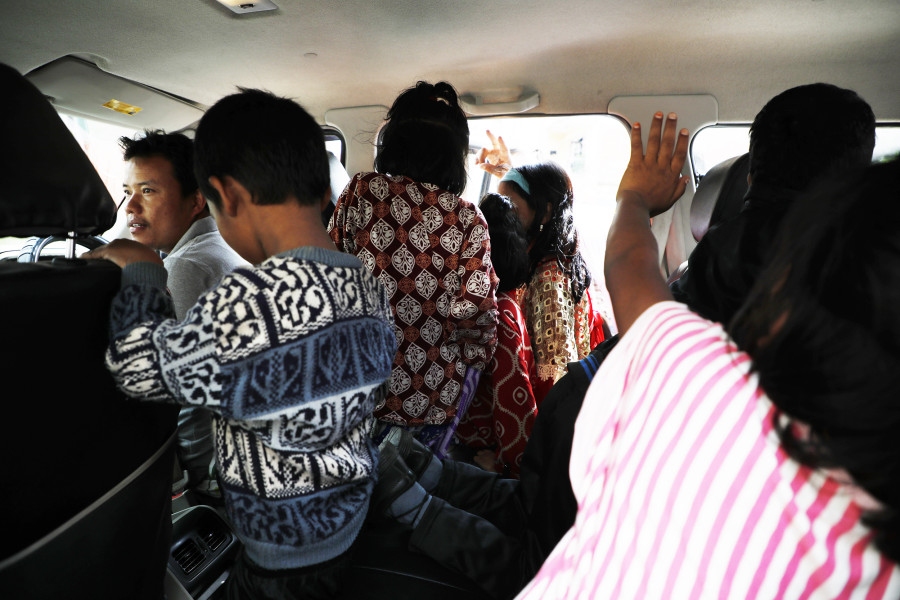 Children are put in a vehicle after being rescued from a Children's Home in Bafal, Kathmandu, on Wednesday. Sanjog Manandhar /TKP
bookmark
Published at : August 22, 2019
Updated at : August 22, 2019 08:44
Authorities on Wednesday rescued nine children from Namuna Pragatisil Mahila Samaj, an unregistered children's home, in Kalanki, Kathmandu, after receiving complaints that the children there were being treated poorly.
Police officials along with team members from the National Child Right Council and Children Search Coordination Centre found the nine children living in squalid conditions in a two-story house during the raid on Wednesday morning.
According to Mohan Bikram Dahal, inspector at the Children Search Coordination Centre, most of the children at the shelter home were from Kailali and Kalikot districts. The shelter's record shows there were 15 children living there, but officials only found nince. The other six children, according to Sujit Raymajhi, one of the members of the organisation, were sent back to their families.
"We are still trying to confirm what happened to the other six children and if they have actually been reunited with their families," said Inspector Dahal. It is still unclear why the minors were brought here in the first place.
According to the staffers, the organisation was regulated by a woman named Kopila Kunwar, of Dhading. However she was not at the site when police officials raided the building.
"Our team is still searching for Kunwar and she will be taken into custody soon," said Dahal.
Radhika Pandey, 21, of Jumla, who was working as a help in the organisation told the Post that she had been working at the organisation for the past two months and hadn't received a penny. "It was a terrible situation. There was nothing to feed the children," said Pandey. "Although they were sent to the nearby Sirius English Boarding Secondary School, the children didn't have any books or uniform."
The police also uncovered that although the organisation was run as Namuna Pragatisil Mahila Samaj, all the papers were in the name of Youth Community Service Centre (YCSC), said the police. They have yet to investigate the matter further.
Mina Tamang, who lives in the same building, said she had no idea about the legality of the organisation nor about the children. "We are busy doing our own work and had no time to talk with the minors," said Tamang. "I was shocked to find out that the place was being run illegally. "
Sunita Shah, an official at National Child Right Council, who was there to rescue the minors said, "We were here just to inspect, but when we arrived here the situation seemed very critical. They were having only rice with salt."
"The children might have gone through different sorts of abuse or violence as well. Although there is no confirmation of such activities till now, we will investigate it," said Shah.
According to Shah, the children will now be taken to a transit home where they will undergo psychological counselling and a health checkup. After establishing contact with the children's family, the children will be sent back home, but only if the family is economically stable, says Shah. "If the families cannot support the children, then we will find other organisations that will take on the responsibility for caring for them," shared Shah.
This is not the first time that authorities have raided shelter homes and found children living in dismal conditions. Earlier this year, authorities rescued 125 children, a majority of whom were from Humla and Mugu, from Aishwarya Children's Home in Sukedhara.
But in the absence of proper government structures, insufficient budget allocation and lack of coordination among government bodies, there is a lot of confusion in the aftermath of such raids. And more often than not, authorities fall back on charities and NGOs running shelter home for children.
"Despite limited resources and expertise, we have to house the rescued kids on government authorities' request, and we know how under-resourced these agencies themselves are," said Bhaskar Karki of Chhora Chhori, which runs a children's shelter home in Lalitpur and took in 20 of the rescued kids from Aishwarya Children's Home earlier this year. After staying there for nearly three weeks some of the children were reunited with their families or sent to other children's home.
"The government needs to have a plan and allocate enough budget to monitor children's homes more strictly and also ensure there is a mechanism to take care of them," said Karki, "or else these children, who come from extremely poor families, will end up in another poorly managed shelter home."
---
---