In rural Salyan, an uphill struggle for medical care
Some villagers say they'd rather endure the pain and resort to traditional healing methods than walk for hours to get medical treatment.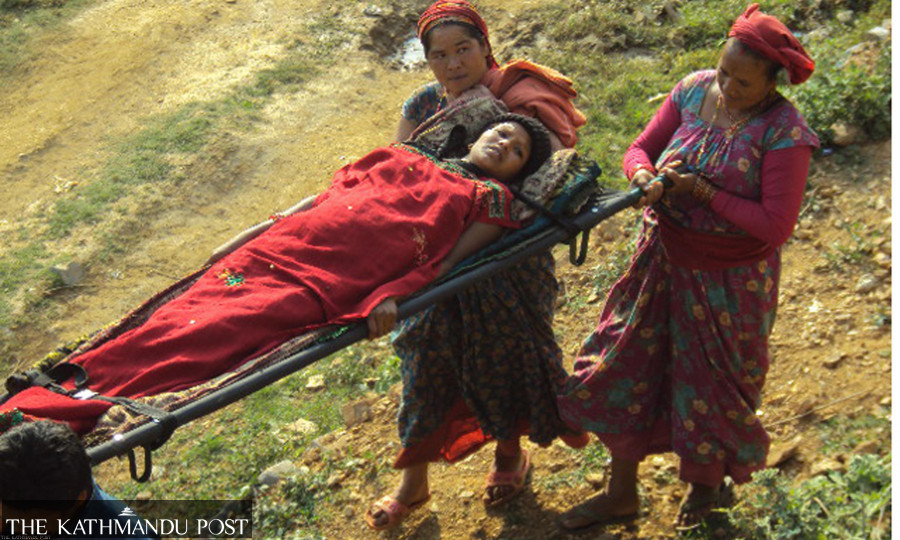 People carry a patient to the nearest health post on a stretcher. Biplob Maharjan/TKP
bookmark
Published at : June 18, 2022
Updated at : June 18, 2022 11:27
Salyan
Nandalal Oli, 50, has been suffering from fever for the past couple of days. After he fell ill, his family rushed him to the basic health centre at Daredhunga in Setikhola, an hour and a half downhill from their residence in Kochhatte, Kalimati Rural Municipality-2. But Oli's treatment was not possible there. His family then took him to the health post at Putalibazar, the centre of the rural municipality, a two and half hour's walk from Daredhunga.
Oli returned home after normal treatment at the health post but his recovery has been slow.
Anybody who falls ill in Kochhatte is forced to travel for more than four hours just to get general health care. Kochhatte, a village of 100 households, is yet to be connected to a road network due to the difficulty its rugged topography poses.
The government has envisioned basic health centres for patients to get healthcare near their homes but in most rural villages in the hilly areas, basic health centres are more than an hour and a half walk away.
Most of these health centres reel under shortages of health workers and medicines, depriving locals of proper health services.
Gangaram Oli, another Kochhatte local, said that even though the municipality has set up a basic health centre in relatively closer Daredhunga, it lacks skilled health workers and necessary medicines, among other essentials.
"People are forced to walk uphill, downhill and through the jungles to get medical attention," said Gangaram. "The long arduous journey has proved fatal for sick people."
He added that given the phenomenon of foreign employment, finding people who can carry a patient to a health centre is hard. "Pregnant women face major problems than anyone else since there are no health centres providing maternity services nearby," he said. "They are even deprived of regular check-ups and iron tablets. Many pregnant women give birth on the way to the health centre putting their and their newborn's lives at risk."
Two elderly people in the settlement have lost their lives in the past two years due to the lack of timely medical intervention, according to Thaman Bahadur Gharti, another local of Kochhatte.
"The construction of the 15-bed basic hospital in each municipality is ongoing to provide health care services to the locals from specialist doctors but the project is running at a snail's pace," Gharti said.
Ved Bahadur Dangi, a 60-year-old man, has stopped seeking medical attention for more than two years now due to the long distance between his village and a health centre. No matter how bad his condition gets he does not want to go to the health centre for treatment or for medication.
"One has to walk for more than three hours for a tablet of paracetamol and a packet of rehydration solution. Instead, I endure the pain and stay at home," said Dangi. "I use herbs to treat my ailments. I have requested the authorities several times to pay attention to the health services in the municipality. More than a dozen families have already migrated from this place to another due to inconveniences including drinking water, health and electricity. Others are preparing to follow suit."
According to Indra Bahadur Oli, chairman of Kalimati Rural Municipality-2, the municipality has not been able to set up basic health unit centres in all places. "We have demanded the concerned authorities to run health camps in the village and deliver medicines to senior citizens and children at their doorsteps," he said. "But none of those demands has been met so far."
---
---