Suspects in quarantine allowed to go home due to delay in results
Local units in Dailekh directed to trace 87 individuals who were staying in the same facility as three Covid-19 patients.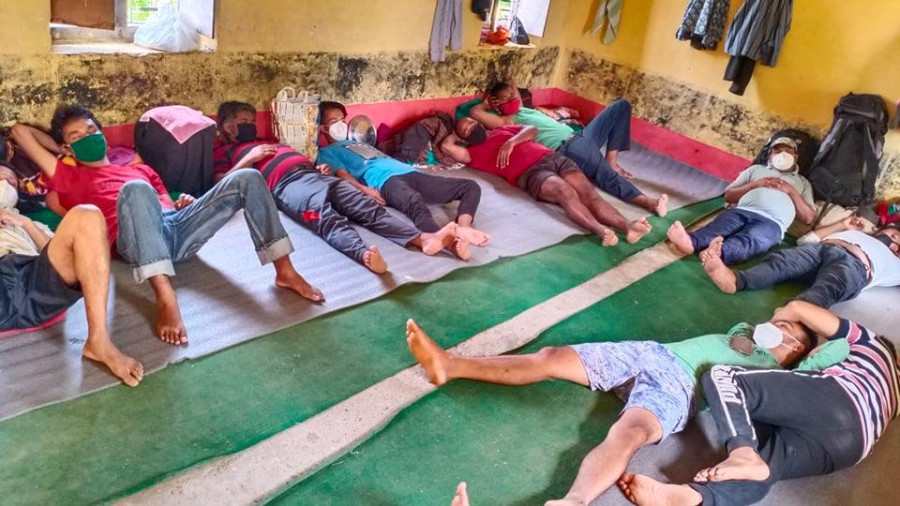 Most local units in the district are ill-prepared to manage quarantine facilities for returnees. Post file photo
bookmark
Published at : June 9, 2020
Updated at : June 9, 2020 18:08
Dailekh
Three returnees from India who were quarantined in Narayan Municipality of Dailekh were sent home on May 28 after their rapid diagnostic test results came out negative. But on Friday, they were called back to the facility, as their polymerase chain reaction test results came positive on Thursday.
Currently, the three infected are kept at a quarantine facility in Jarkot Ward No. 2 of Narayan Municipality. On Friday, the municipal office notified all local units in Dailekh to search for 87 others who had returned home with the three infected individuals.
"The officials sent us home from Narayan Campus quarantine, saying that it will take some time before we get the PCR test results," said one of the infected individuals. "We were relieved when the RDT results came negative and we were allowed to go home. But now we have put our families at risk of contracting the virus."
Narayan Campus in Dailekh has turned into a breeding ground for the virus, as almost all returnees are placed at the facility before being sent to their respective local units.
"I was allowed to enter Nepal only after both my RDT and PCR test results came negative. But I got infected at Narayan Campus quarantine facility," said one of the infected individuals.
According to the data of the District Administration Office, around 10,700 people have reached Dailekh from India since mid-May. A majority of them were kept at Narayan Campus quarantine before being sent to their respective local units.
Currently, there are 250 individuals staying at the 100-bed Narayan Campus quarantine facility.
"The number of positive cases in the municipality is increasing by the day because the local authorities were not prepared for the sudden influx of returnees. If the infected were separated from the rest before the outbreak, the spread could have been controlled," said Khadka Bahadur Sijapati, a civil society leader in Dailekh.
Lal Bahadur Khadka, chief at the Health Section of the municipality, said, "The Covid-19 suspects have reached their villages because they couldn't be tested on time and we could not keep them in quarantine any longer," said Khadka." We could not do adequate testing due to limited human resources."
Dr Niranjan Pant, chief at the District Health Service Office, said it is becoming challenging to identify the infected due to delay in obtaining test results. "For the time being, we are running an isolation facility and quarantine facility, in separate rooms, in the same campus building due to lack of space," he said.
Until Tuesday, the coronavirus infected in Dailekh reached 368.
Prem Thapa, chief at the District Coordination Committee, said the situation spiralled fast after the local units started sending newcomers to their homes without conducting tests. "Earlier they were only conducting RDT on newcomers and were letting them go to their villages based on the result. The results haven't been very reliable," he said. "The quarantine facility is still mismanaged and crowded increasing the chances of further spread of the virus."
Meanwhile, the District Administration Office in Dailekh clamped curfew for an indefinite period from Friday onwards to control further spread of coronavirus.
According to Yubaraj Kattel, Chief District Officer, curfew has been clamped in Narayan Municipality and Dullu Municipality. "All of the borders in Narayan Municipality and Dullu Municipality have been sealed. We have been compelled to impose a curfew as Dailkeh has seen a sudden rise in the number of cases in the last few days," he said. "The curfew will limit people's movement and help in controlling the spread of the virus."
---
---