Constitution became more of a political than constitutional document
Nilamber Acharya, Nepal's former envoy to India, who was involved in drafting two of Nepal's most recent constitutions, on eight years of constitution implementation and the prime minister's recent foreign visits.

Deepak KC/TKP
bookmark
Published at : October 1, 2023
Updated at : October 2, 2023 07:30
Nilamber Acharya was involved in drafting two of Nepal's most recent constitutions, first in 1990 and then in 2015. Nepal's former envoy to India Acharya was also a member of the Eminent Persons Group (EPG) jointly formed by Nepal and India. The Post's Thira Lal Bhusal and Mohan Guragain sat with him to review the eight years of constitution implementation and the prime minister's recent foreign visits.
Eight years after the constitution's promulgation, how do you evaluate the statute in retrospect?
The aspect of the constitution's implementation has been quite weak and disappointing. We need to do a critical review and reform it as a priority.
So, has the time come to review the constitution?
When we review the constitution, we have to evaluate its implementation and re-examine what we did during this period. If we conclude that we don't need any amendments to the constitution but changes in laws and our practices are necessary, we can do the same. For instance, if we think that we committed mistakes in selecting candidates under the proportional representation category [of elections], then we can correct our practices as per the spirit of the constitution. The same applies to the implementation of federalism. We find some disputes on the list of concurrent powers [of the three tiers of government]. These can be resolved through reviews. Another problem is the instability of political coalitions. Now a distant-third party leads the coalition and that makes the government weak as it remains focused on how to stay in power. Such a government indulges in unhealthy practices. Foreign relations also suffer when the country is led by a politically weak prime minister as the leader may make unnecessary compromises with foreign powers to retain the seat.
Are you suggesting that the constitution can't be properly implemented by a politically weak government?
Yes, because such a government doesn't prioritise long-term issues, such as the formulation of laws needed for full-fledged implementation of the constitution. Such a prime minister constantly worries about the government's longevity, and ends up forging unnatural deals. Such a government pardons a culprit convicted by the three tiers of court, even before the top court issues the full text. A strong government could have avoided such inappropriate decisions. Such activities naturally undermine the constitution and the rule of law.
We shouldn't forget the context in which the constitution was made. It was a document of compromise among various political forces. On the one hand, constitution-making was a part of the peace process that ended a violent movement and politically mainstreamed a militant force. On the other hand, it had to reject the autocratic monarchy. The Nepali Congress, the CPN-UML, and the then CPN (Maoist) forged an alliance while the monarchy was sidelined. Later, the Madhesi parties emerged as another political force and joined the process. It was a document of compromise among the various political forces but none owned it up wholeheartedly. While trying to strike a balance between these four forces, the constitution became more political than a constitutional document. That complexity has been affecting its implementation. If you study constitution-making worldwide, in most cases, it is led by a dominant force. Ours wasn't so.
All laws needed for full-fledged implementation of this constitution haven't been formulated. How do you see this tardiness?
Not all necessary laws have been formulated but political parties have passed laws that serve their vested interests. For instance, they swiftly amended the law to split a party as they needed. Likewise, laws are amended to pardon criminals to serve their interests. This is pure dishonesty. All these changes in the constitution and laws have been made only to prolong some politicians' stay in power.
The Supreme Court, the Constitutional Council and the constitutional bodies have been weakened to protect their positions. Political actors don't respect constitutional principles. We've seen in the past eight years that a politically weak government and unstable politics weaken the constitution and enfeeble the state even in foreign dealings. Our parties often forge 'package deals' involving give and take. That is the wrong approach. Such moves will open Pandora's Box and give rise to new disputes.
Some sections have started demanding revision of such important features as the federal republic system, electoral model and secularism. Has the time come for that?
We must be ready to debate these issues even if they are complex. We can't run away from them. Our history has settled some important issues like pluralism and parliamentary system. These can't be reversed. As far as secularism is concerned, different groups have interpreted it to suit their interests.
Have foreign powers' concerns also come into play here?
Yes, it is there. We faced a blockade for the same as India expressed its reservations over the constitution. Another dissatisfaction over the constitution came after we incorporated our new map into it. Those who are against the republican system want to reinstate monarchy, and those who want provinces along ethnic lines are against this constitution. Those who want dictatorship dislike the democratic features of this constitution.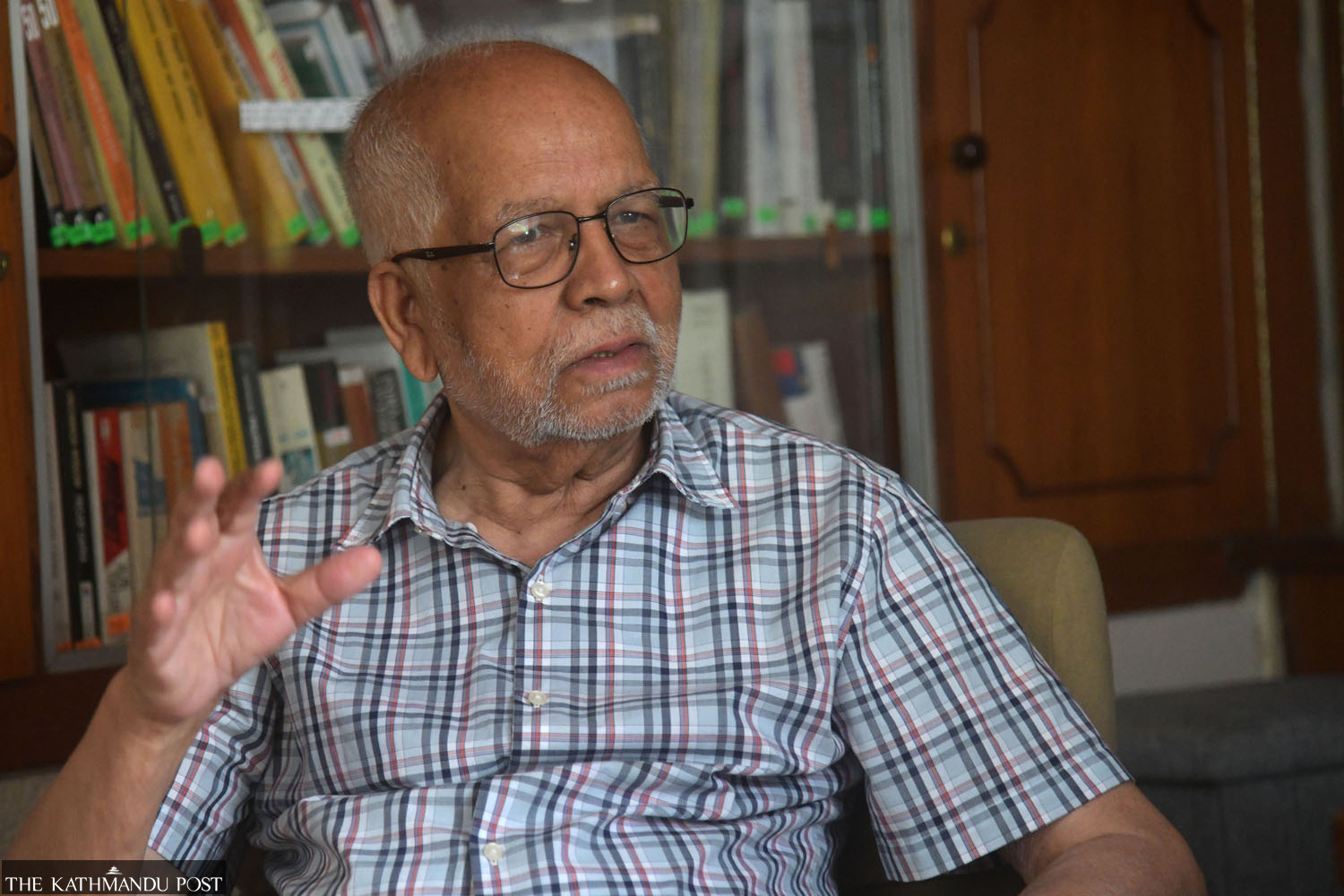 Post File Photo
How can this constitution be sustained?
We must be cautious about any moves that intend to make it a failure. To safeguard this constitution, we should be ready to reform it without creating fresh disputes in the process. If we don't do a critical and timely review of the constitution, there might be bigger problems down the line. The elements that don't want democracy to flourish in our country may be emboldened. Without timely revision, the constitution cannot withstand disruptive forces.
You were a member of the Eminent Persons Group (EPG) jointly formed by Nepal and India to study and suggest measures to improve bilateral relations. The team completed its report years ago but India has avoided receiving it. What happens to the report now?
It's been five years since the EPG prepared its report. The team completed the task within the two years given. Both governments have acknowledged completion of the task. It should be formally received but the government concerned can decide which [measures] to implement.
Some sections are proposing that Nepal should make the report public and implement its provisions independently. Would it be appropriate?
First of all, Prime Minister [Pushpa Kamal Dahal], who was in India a few months ago, didn't even mention the term 'EPG' during the trip. Prime minister's visits are important mainly because thorny issues are discussed at the highest political level and an environment is created to resolve them. He said he avoided the issue so as not to spoil the climate. Why would it irk the Indian side? Is the report only in the interest of Nepal? It addresses the concerns of both sides as the panel had four members from India as well. So, there is no point in saying the EPG issue would irk India. Prime minister's visits are made for situations like this, where the leader properly communicates and convinces the counterpart and finds a solution. Other general issues can be resolved at the ambassador, secretary or joint secretary levels.
If the prime minister can't enter into complex issues like Limpiyadhura, what is the point of such visits? In bilateral matters, we must raise concerns and register our claims properly when there are differences, even if they can't be resolved immediately. Had our government protested India's move to station its army at Kalapani right at the start, it would have been easier for us to tackle it now. Such mistakes have weakened us. We have to keep reiterating our claim even though a resolution may take time. We must make it clear that "we had to issue a new map because you issued a new map showing our territory in the first place".
When you were the ambassador in New Delhi, did you get any response from the Indian prime minister or the foreign minister in this connection?
Before the 2019 election in India, then-external affairs minister Sushma Swaraj told me India would receive the EPG report. Besides, at a function, Indian Prime Minister Modi, too, told me that they would soon receive it.
How do you evaluate the prime minister's recent visits to India, the UN General Assembly (UNGA) and China?
Nepal holds the South Asian Association for Regional Cooperation (SAARC) chair. But South Asian foreign ministers' meetings couldn't be organised on the sidelines of the UNGA, even though they were regularly held until a few years ago. We should have tried to make it happen. The prime minister didn't even utter the word SAARC during his India visit too. It looks like the prime minister is afraid to raise any issue that India dislikes. As far as the visits to India and China are concerned, I value them. We shouldn't evaluate these visits only in terms of what we got. Visits to our neighbours are important in themselves. The map issue should have been raised clearly with both our neighbours. We should not worry if one neighbour will be offended if we cooperate with another in our national interest. We should try to benefit from all friendly nations.
---
---