'No decision made in RSP without discussions'
Sumana Shrestha, central committee member of RSP and a federal lawmaker, on her experience as a lawmaker, the current health of her party as well as national politics.

Keshav Thapa/TKP
bookmark
Published at : August 13, 2023
Updated at : August 14, 2023 15:58
Last year's general elections and this year's by-elections suggest a wind of political change is blowing across Nepal. The Rastriya Swatantra Party (RSP) has emerged as the fourth largest force in the federal Parliament in its first foray in parliamentary politics. The Post's Nishan Khatiwada talked to Sumana Shrestha, the central committee member of RSP and a federal lawmaker, about her experience as a lawmaker, the current health of her party as well as national politics. Excerpts:
How do you summarise your experience as a lawmaker from a new and popular political party?
There is a lot of work to do.
Many say Nepal has the best laws but there are problems at the implementation level. Implementation of many laws has been inconsistent. Our laws can be knotty, leading to uncertainty. Lawmakers should check if the laws are actually serving the people and, if not, they should be fixed. So the experience has been exciting but also overwhelming. Time is scarce but we are trying to make the most of it.
Nepal's parliamentary practice seems to have deep flaws. The Parliament has even failed to make laws. Why?
The current federal Parliament has been ineffective because of uncontrolled bargaining and uncertainty of the alliances during the government formation process. Ministries have remained vacant due to everlasting negotiations. The big parties have finalised the number of chairs in House committees but the names of the chairs are as yet unknown. This time, unfortunately, there was a lot of horse trading.
Lawmakers should serve the people. But the Parliament has been putting power, position and ministries at the centre. Thus very few laws have been passed. We also need to address other urgent issues like the demographic dividend we are missing out on and natural calamities. We don't have time to waste.
How do you assess the duties and responsibilities of a lawmaker? Critics say our Parliament is primarily concerned with making and breaking governments and our lawmakers on big promises of infrastructure building.
The main role of parliamentarians is to make laws. Their second job is to see the laws being implemented. We make laws, and the ministries and the executive make regulations. In case of ineffectiveness in implementation, we must speak up. What's the purpose of making laws if they do not make any sense to people? The third job of a parliamentarian is to take up the issues and problems of their constituency that need action at the federal level.
How have you seen the CPN-UML's ongoing House obstruction?
It is a complete waste, at a time the public are facing many problems. Where should we go now with the public's problems? Yes, corruption is a big issue but so are floods, landslides, the lumpy skin disease, and the federal education bill.
I think the politicians should give full authority and freedom to the investigative agencies that are trained for the task. If you ask how to stop gold smuggling, I don't know. The political leaders should stand behind such investigative bodies to ensure no one can put them under undue pressure. The House obstruction is unfair. We came to work for people, not to obstruct the House.
What in your view should be the role of opposition parties?
Opposition parties have an important role. Opposition parties do not have to oppose everything the government does. When somebody is doing good, we must support them.
The role of opposition is also to block ridiculous bills such as the some points of the Bill to Amend Some Laws. We tried to prevent it from being tabled, but we failed. Now when it comes up, we will make sure that everybody knows about its flaws. Opposition parties should educate people. Another role of the opposition is to put forward motions of public importance so that vital issues, actual problems and solutions are discussed in Parliament. We had put forth such a motion in the gold scam and lumpy skin issues.
What is the RSP's political ideology? Critics say the party lacks ideological clarity as it emerged by cashing in on public dissatisfaction with traditional parties.
The RSP is working on a policy and ideology related document by forming a 17-member committee, and the document will be unveiled soon. I agree that we did not emerge from grassroot movements. We emerged from a movement of people who are frustrated with the existing setup. We did not know whether we would win but were very clear that the status quo would not work.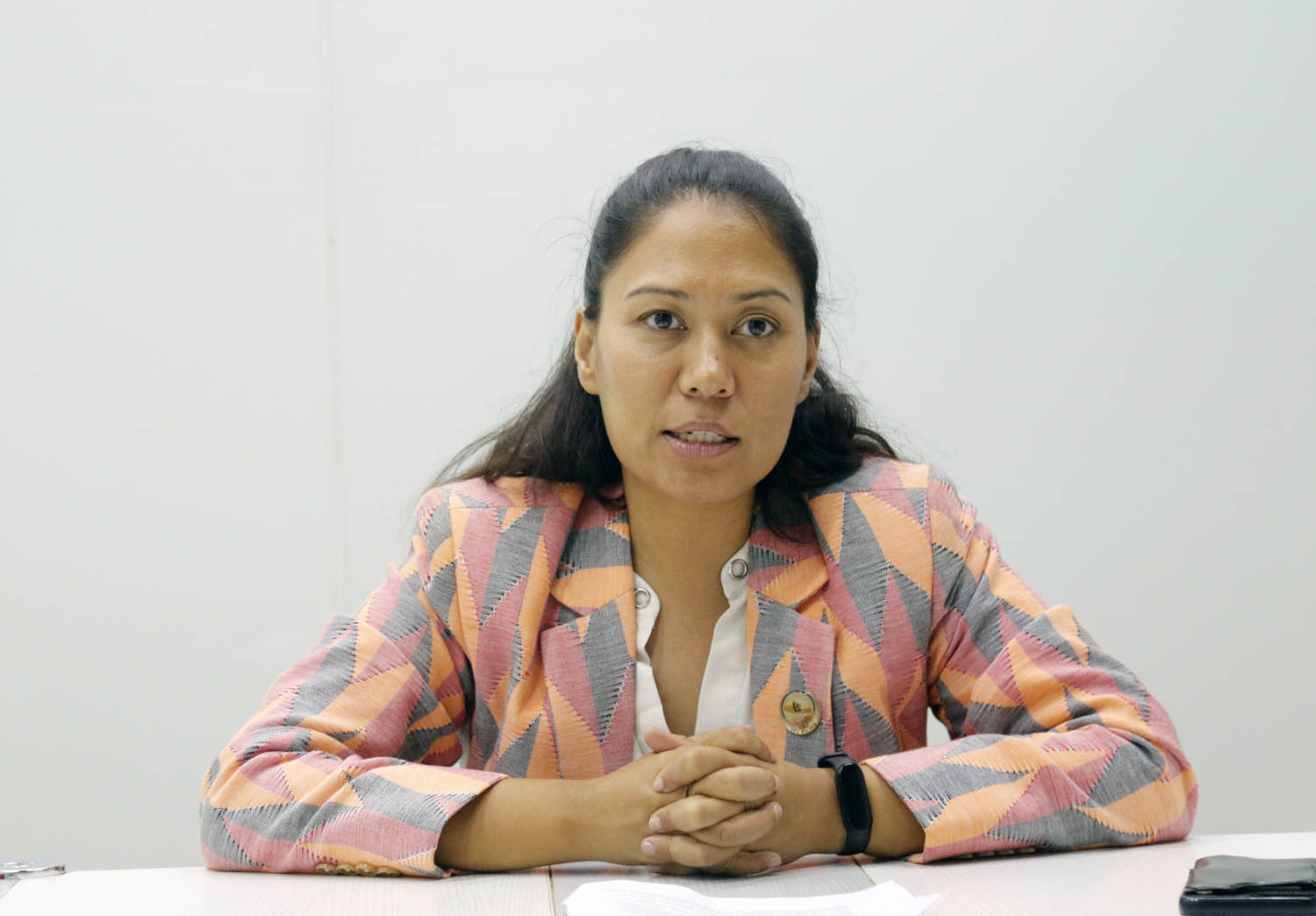 Keshav Thapa/TKP
Whenever we talk about political ideology, we talk about left or right. I do not think even the existing political parties have a clear ideological stand as it does not reflect in their policies and actions. Are the traditional parties delivering based on their ideologies? No. Did the UML work in favour of the workers of different industries and address their concerns? No. Similarly, we don't have competitive markets, we don't have laws on monopoly. Why did the Nepali Congress not bring them?
What are the major challenges for the RSP?
The main challenge is that it is growing way too fast. When an organisation grows so fast, there is a fear that vital processes might be cut. Next challenge is setting the right culture through training. We would love to be a mass based party rather than a cadre based party. Every office bearer needs to realise that we must serve everyone who seeks help from us regardless of their political affiliation. But how big should a party be, that is still a question?
Our first focus will be sorting out problems at their respective levels. But if they need to be sent up the chain of command, that process should be agile. When an organisation is big, there is also a chance of losing that agility.
The RSP has embarked on a cadre-training programme without having a political document. How does this work?
Training entails not just talking about vague ideologies. Above all, it means educating and informing people about our working style and organisations and departments setup at the local, provincial and central level. Our ongoing training is focused on these ideas.
How does the party make its decisions? Is there internal democracy in the RSP or is it a person-centric party as many allege?
Both the party and the parliamentary party make decisions. The best thing about us is that the party statute clearly states that a whip can be applied only in four cases—budget, government formation, international treaty and national security. If we are going to practise democracy, there needs to be a very robust democracy within the party system. Thus, every decision of the parliamentary party comes after deliberations. If the whip system is too heavy, a single leader will dominate all party affairs and there will be fractionalisation. I think other parties should also consider it. It will strengthen internal democracy because every MP is equally powerful.
In the party, not a single decision has been made until now without proper discussions. Even when the party chair wanted to negotiate government formation, we discussed and gave him the authority. This is how we make our decisions. The party departments also make decisions after thorough discussions and information sharing with the members. Two minds are better than one mind and better decisions are thus made.
In the end, is there any message you would like to give to our readers?
In the current context, politics should be for the people. For delivery, we must do in-depth study and have sound knowledge about the matter. To solve a problem, you must understand it first. If you ask me about the energy sector, I don't know much. Politicians must double down in their thematic areas. We must work on making outcome based milestones.
Earlier, the traditional parties needed students' and other unions to carry on their political activities. But now, why should such unions be politicised? For example, university and colleges should be a place for independent thinkers, who can challenge the political parties and their wrongdoing. But if they become pawns of political parties, who will speak up for the university's betterment?
---
---