Aruna Shahi: These are great times for those who want to make a career in volleyball
The volleyball captain on her love for the sport and the challenges that come with it.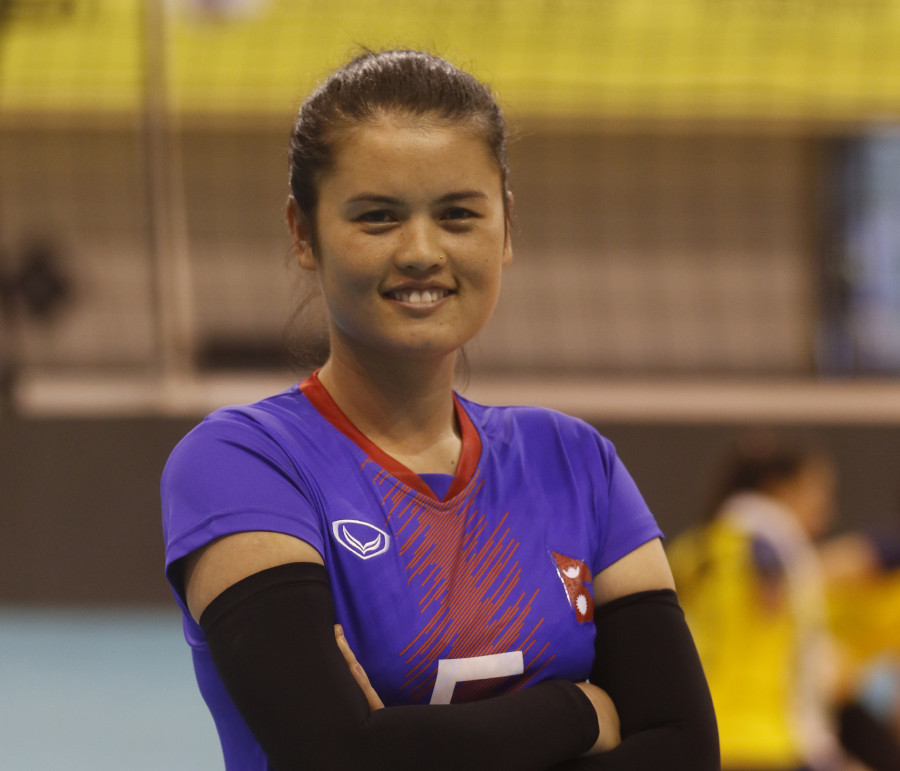 Hemanta Shrestha/TKP
bookmark
Published at : January 21, 2020
Volleyball is Nepal's national sport and captain Aruna Shahi has led the national women's volleyball team to historical successes: first by winning the Asian Volleyball Confederation Central Zone Senior Women's Volleyball tournament without dropping a set—their first major international title—followed by a silver medal finish at the 13th South Asian Games, behind India in a five-set thriller.

The Post's Prarambha Dahal spoke to Shahi over the phone about her love for the sport and the challenges that come with it.
This interview has been condensed for clarity.
How did you get into volleyball? What inspires you to keep playing?
I got into the sport some 12 years ago at my school in Myagdi. Most of the seniors used to play volleyball. The team spirit, the pace of the game and the challenge of having to make decisions quickly drew me towards the game. It was initially for fun. However, gradually, my coaches started motivating me to do better. I joined the western regional team 11 years ago.
I play out of a sheer passion for the sport. I strive to do better for my country and for the team. The pride in representing and leading Nepal at international tournaments is surreal; nothing can match that.
What is your most significant personal achievement in volleyball?
The gold medal finish at the Asian Volleyball Confederation Central Zone Senior Women's Volleyball tournament was a great achievement for all of us. But for me, I think the silver medal at the 13th South Asian Games ranks higher as it was the most significant achievement for women's volleyball in the regional sporting meet. The silver medal initially came with some despair, as we had given away our lead to lose against India. But it has only motivated us to go a step further and earn the coveted gold next time.
Nepal has started achieving great results under your leadership. What challenges do you face in leading as a captain?
I have noticed a few differences in playing as a team member and leading the entire team as a captain. The weight of responsibility as a captain was initially overwhelming for me and there is still a lot I need to learn. But the support from the team members, officials and supporters gives you the confidence to deal with challenges. Regarding performances, as volleyball is a team sport, understanding among the players is of paramount importance. We play a lot of matches together and that helps me understand the strengths as well as identify room for improvement.
There are a lot of young players on the women's volleyball team. What is being done to motivate them to play volleyball?
In our early days, there was not much scope for volleyball players. We have seen many players quit the sport and leave the country seeking better opportunities elsewhere. However, we now have several club-level tournaments in the country that have helped us identify a bunch of young players. The national team has also begun to do better. All this creates an enabling environment for the growth of the sport and its popularity. These are great times for those who want to make a career in volleyball. But they must be very passionate about the game as perseverance is always rewarding.
How was the support from the government in the past year where Nepali volleyball achieved several historic results?
Support from the government has been improving lately, but it's still not adequate. While they helped us with training camps before the South Asian Games, what hurt not just the volleyball players but the other team sports as well as the government's failure in delivering on their assurances of 'a special package' for medal winners at the Games. We were utterly shocked to witness the lack of preparation when the prime minister invited us to congratulate us on our achievements. It was a bitter experience.
What has been done to improve infrastructure for volleyball?
There have been promises for the development of infrastructure across the seven provinces, but little has been done so far. I feel sad to share that we do not even have a dedicated covered hall for volleyball, even in the capital. We always have to depend on the multipurpose covered hall which is not always available. These are apparent challenges and must be taken care of at the earliest to help the sport grow. As players, we have been trying our best to make the nation proud despite such complications.
What are your recommendations to the government and sports associations to uplift the standard of your sport?
It would be nice if the government gave more priority to the national sport by allocating an adequate budget for its growth and development. There will be no point calling volleyball 'the national sport' if it is going to remain in the shadows. The government must be able to ensure financial stability so that we can stop good players from choosing different career paths.
Meanwhile, the associations and the National Sports Council should come up with a proper volleyball league for specific age groups. Doing so would not just help us identify new talent, but also help grow the popularity of the sport. Restricting national players in some ways would mean they won't get to participate at all tournaments but it would also protect them from getting fatigued. During such break periods, national players must be provided with closed camp training or be sent to compete in international friendlies or tournaments.
Competing at the national level will not be enough to enhance our capabilities. We must play against better opponents to grow. In the internal structure, the private sector has yet to get involved in volleyball in comparison to other sports like cricket or football. The government and the NSC must have plans in place to attract their investment, which would create a 'win-win' situation for everyone.
What has the support from your sports association and the National Sports Council been like in terms of funding, remuneration, and benefits?
If you are asking about salaries, we are provided with none. Only players associated with clubs receive salaries. A large number of tournaments held across the country help us earn our living. The association and National Sports Council certainly appreciate our efforts when the national team achieves excellent results at international tournaments. While all athletes appreciate that such recognition is great for motivation, it is certainly not adequate for long term sustainability.
Where do you see yourself after your playing career? Will you still be involved in the sport or will you do something else?
I have a deep relationship with this sport and I want to give back to volleyball after I hang up my boots. Having completed my Level 1 coaching course, I want to pursue a career in coaching after I am no longer fit to play. As for now, I will play for as long as conditions allow.
Nepali parents still do not consider sports a good career for their children. What do you want to say to them?
Family support is the backbone for anyone to succeed in any field. It is sad to see how a career in sports is still met with criticism in Nepal. However, we now have examples of spiker Prativa Mali who plays volleyball in other countries, cricketer Sandeep Lamichhane who plies his trade around the globe, and a whole lot of footballers who play abroad as well. So, athletes are beginning to do well while doing their country and families proud. Parents must not force children to give up on their dreams, as they may not end up doing well in something they never wanted to do in the first place.
---
---