During his China visit, PM Oli's primary focus will be on implementing past pacts
Prime Minister KP Sharma Oli is embarking on a five-day state visit to China beginning on June 19. With his visits to New Delhi and now Beijing, the Oli government has underscored the importance it attaches to Nepal's bilateral relations with India and China.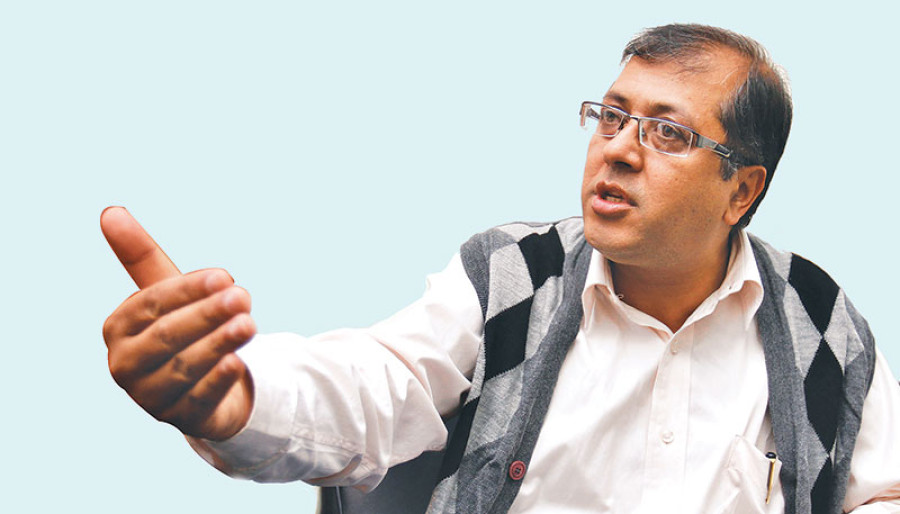 bookmark
Published at : June 11, 2018
Updated at : June 11, 2018 12:58
Prime Minister KP Sharma Oli is embarking on a five-day state visit to China beginning on June 19. With his visits to New Delhi and now Beijing, the Oli government has underscored the importance it attaches to Nepal's bilateral relations with India and China. Mukul Humagain and Anil Giri met Rajan Bhattarai, a member of Nepal-India Eminent Persons Group (EPG) and unofficial foreign policy point person in the PMO, to discuss the PM's upcoming visit, the need to balance relations with two giant neighbours, the Oli government's outlook towards other countries and international institutions. Excerpts:
The Prime Minister's upcoming visit to China is in a week. What will be the main agenda of this visit and what areas will he focus on?
The primary focus of this visit will be implementing the 10-point agreement signed by the two countries in 2016. Prior to the agreements with China, we were exercising our rights as a landlocked country in terms of trade and transit only with India, but the Trade and Transit Treaty with China made way for an alternative. This treaty with China should have been finalised and implemented right away, but it could not be done.
The second focus area pertains to connectivity; mainly connectivity through railway, transmission lines or energy cooperation, and roads. These were the focus areas of Prime Minister Oli's first visit, and I believe it will remain so this time too. Third focus will also be on increasing Chinese investments in Nepal. The fourth focus area will be agriculture. China has the world's largest population, and they feed themselves. They sometimes even export their agricultural products. Nepal is largely an agrarian country. So how can we use Chinese expertise in terms of modernising our agriculture sector and increasing our production capacity is another important focus area. Another big agenda will be hydropower.
The Prime Minister recently visited India, and the Indian Prime Minister paid a reciprocal visit as well. Now he is going to China for a state visit. One of the biggest foreign policy challenges for the Prime Minister is balancing these important relations. What is the thinking?
As long as we are clear regarding our relations with neighbouring countries and all other countries—and present our agenda keeping this in mind—I think we can balance relations with both India and China, or with any other country for that matter. We should keep our national interest in mind, and as long as we identify what our national interests are, and take a stance accordingly as per the practice of international law and international relations, balancing relations will not be an issue.
There were a lot of speculations about where Nepal-India relations were headed when the Prime Minister was visiting India in April. But Nepal-India ties that were marred by acrimony relations in recent years have come a long way. We now have successfully transformed that relationship into an amicable one. In the process of that transformation, naturally, there was much speculation and scepticism. But throughout, our focus had been only on creating a relationship governed by ideas of independence and sovereignty and we are thankful to the Nepali people who supported us wholeheartedly in this endeavour.
Compared to our relations with our southern neighbour, India, our relations with our northern neighbour, China, have been relatively trouble free. At a time when China is expanding its influence globally, how other countries see that development and how we define their understanding becomes imperative. As long as we view Nepal-China, Nepal-India and Nepal's relations with any other country independently, Nepal should not worry about the results. We should be free from fear and anxiety regarding what India or China might say while maintaining bilateral relations with either country. Establishing the fact that all the three countries are independent sovereign nations and their relationship with each other should also be so is our primary focus. That's what guides the Prime Minister, the Foreign Minister and our entire foreign policy.
Are we expecting any specific agreements to be announced during the Prime Minister's visit?
As far as I know, the assistance will be in the infrastructure sector and towards employment generation. Seeking assistance to support current expenditures will lead the state
into a difficult situation and I do not feel the government is going that way. Neither has it made many preparations in that regard. We will seek assistance in three forms—grants, soft loans and commercial loans. The government must identity what kind of assistance it is seeking in any sector, and accordingly, approach the Chinese government. The recent Sri Lankan experience has raised issues about falling into a possible debt-trap, too. So I believe the government will be mindful of sustainability.
You were on record saying that building railway infrastructure in Nepal would be possible only if China provides grants.
I never said that a railway in Nepal would be possible only if China provides grants. What I actually said was that there are three modalities for taking loans, and if a railway is to be built, the amount of grant should be high compared to building it by taking soft loans or commercial loans. The railway connectivity to Kathmandu is important as it is our requirement. But as preliminary studies have shown, building it based only on a huge amount of capital from our side will not be viable because we are not in a position to do so. In a
situation like that, building a railway with high assistance in terms of grants will be easier.
A major focus of our foreign policy is rightly on relations with two immediate neighbours India and China. However, there is a perception among a section of Nepali society that our engagement with other countries and institutions—like the United Nations, the United States, Japan and European countries has taken a back seat in the short tenure of the Oli government. Is that the case?
I don't think that is true. Naturally, as neighbours our engagement with India and China might seem deeper compared to our engagement with others. At a time when both neighbours are emerging as powerful nations, this has raised more scope for them both to invest in Nepal. But this does not mean that the government is deepening bilateral relations with Nepal's two important neighbours at the expense of its relations with others.
There is impression that Beijing is not entirely happy with some recent developments on West Seti and Budhi Gandaki, or the visit of Foreign Minister Gyawali to Mongolia. Will this affect the Prime Minister's visit to China?
The issue of Budhi Gandaki is not connected with the present government. What the current government should do is find a way forward to this problem, keeping past problems at bay. Coming to the foreign minister's visit, he is visiting Mongolia to take part in a certain multilateral forum. And yes, the new budget speech did create some confusion regarding West Seti Hydropower Project wherein it claimed that the Finance Ministry would build West Seti with internal resources. But the Investment Board has refuted such claims and maintained that there were no decisions made by the government to scrap the accord signed with Three Gorges, the potential developer of the 750MW reservoir project. Legally, Three Gorges is still responsible for building the project, and whatever was mentioned in the budget is just a technical glitch.
The Oli government seems to have taken a hard-line approach to I/NGOs and some donor agencies. The Integrity Policy too aims to rein in I/NGOs. Some have even qualified the government move as authoritarian. What is your take on it?
The Oli government honours and takes ownership of the constitution and its every action is guided by it. When it comes to I/NGOs, no action will be taken against any organisation working according to the rule of law. But there are a few organisations that have not been functioning lawfully, and if the government is going to rectify that, I don't think that will be authoritarian in any way.
The next meeting of the Eminent Persons Group (EPG) is slated for June 29. There are reports that India is trying to postpone the meeting. What is the status of the EPG?
The Nepali side wants to make the upcoming talks the last one. Our effort will still be to complete this process within the stipulated time. But since we have already worked on it for the last two years, and if the meeting gets postponed, then we should show flexibility. The eight members of the EPG team—four from Nepal and four from India—will strive to bring out a single report. Only then will all the EPG meetings and deliberations find their relevance. A few outstanding issues remain but they will be taken care of at the upcoming talks.
The Oli government has completed 100 days. Given the sizable mandate this government enjoys, the general impression is that its pace has been relatively slow. When is the government going to show tangible results?
The Prime Minister summoned a Cabinet meeting along with the secretaries of all the ministries and briefed them on all aspects of the programmes and policies of the government and key features of it in the budget. Once the discussions in Parliament regarding the budget are over, the government is committed to fully implementing whatever has been mentioned in it. Before this, the government was involved in preparing the programmes and policies,
the budget and merging the two communist parties. With the management of general secretaries and civil servants in different ministries, some amount of stability has now been maintained within the bureaucracy as well. So now finally we have reached a stage where the government is all set to implement whatever it has promised.
---