Malnutrition threat for pregnant women, new mums, children displaced by disasters
Nutritionists recommend distributing nutritious foods instead of noodles, biscuits and beaten rice to displaced people.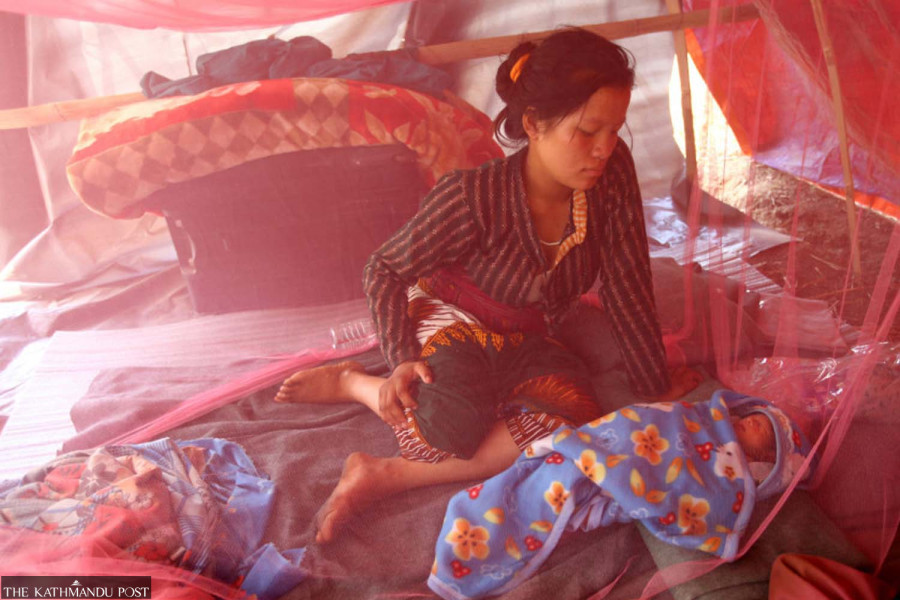 Experts say that natural disasters, from which thousands of people get affected every year, exacerbate malnutrition problems. Post File Photo
bookmark
Published at : August 19, 2022
Updated at : August 19, 2022 08:25
Kathmandu
Of the over 400 people displaced by the recent Koshi floods at Belaka Municipality in Udayapur district, around a dozen are pregnant women, some are new mothers and dozens are under five years old.

Those people from wards 1, 2, 3, 8 and 9 of the municipality have been taking refuge at the community shelters constructed by the local unit for the past several days.
"Some of the children, pregnant women and new mothers have started getting sick," Chet Nath Adhikari, an official at the municipality, told the Post over the phone from Udayapur last week. "We have been trying to mitigate the risks of an outbreak of communicable diseases at the temporary shelters of the displaced people."


Officials deployed to the displaced camps for management said that displaced people, especially pregnant women, new mothers and small children, are not only vulnerable to communicable diseases but also are at risk of getting malnourished as they lack adequate nutritious food and access to health care services.
Experts say people displaced in natural disasters are highly vulnerable to acute malnutrition and that the displaced need additional nutritious foods and safe drinking water.
"Everyone residing in temporary shelters is vulnerable to several communicable diseases," said Dr Ashok Bhurtyal, a nutritionist. "Infants, young children, pregnant women and lactating mothers are malnourished."
Malnutrition is developing into a silent crisis in Nepal. The country has made significant progress in reducing stunting among children under five. Stunting decreased from 57 percent in 2001 to 32 percent in 2019, according to the recent Multiple Indicator Cluster Surveys (MICS 2019).
Wasting, a debilitating disease that causes muscle and fat tissue to waste away, among children under five was 11 percent in 2001, 10 percent in 2016 and 12 percent in 2019. Wasting or low weight for one's height is an undernutrition condition, which is a strong predictor of mortality among children under five, according to the UN health agency. Wasting in children, if not treated properly, is associated with a higher risk of death, according to it.
Anaemia among children under five is still at 51 percent (NDHS 2016), which experts say is concerning.
The problem of malnutrition has been escalating quickly amidst the ongoing coronavirus pandemic, according to nutritionists.
Experts say that natural disasters, from which thousands of people get affected every year, exacerbate malnutrition problems.
"The government as well as several other agencies distribute relief materials to displaced people," said Dr Sudha Shree Adhikari, a nutrition scientist, adding, "But those agencies also distribute junk foods like noodles and biscuits as relief materials. Such foods could contribute to the increase in malnutrition cases."
The Ministry of Health and Population has decided to distribute super cereal (fortified flour) in the displaced camps of Udayapur.
A 1.5 kg packet of fortified flour, which consists of carbohydrate, fat and other minerals, will be provided to all children between six months and 23 months, all pregnant women and new mothers, officials said.
When asked about food relief for thousands of others displaced in other parts of the country, officials said that they do not have any such programme.
"Displaced people, whether they are from Koshi flood or from any other disasters, are highly vulnerable," said Dr Atul Upadhyay, a nutritionist. "Authorities concerned should take the issue seriously and address it accordingly."
Experts say that nutrition has a direct link with the overall development of the country. Malnutrition affects physical as well as mental growth of children, which ultimately affects the country's economic health, according to Upadhyay.
Malnutrition also plays a major role in the under five mortality rate, according to the nutrition section at the Family Welfare Division under the Department of Health Services.
"Distributing food relief alone is not enough as those distributing should carefully consider whether the food items are beneficial or harmful," said Upadhyay.
---
---