Just as virus cases surge, non-Covid-19 patient numbers are rising too
Demand for oxygen doubled in Kathmandu in the past week. But authorities are still not focussing on preventive measures like tests, experts say.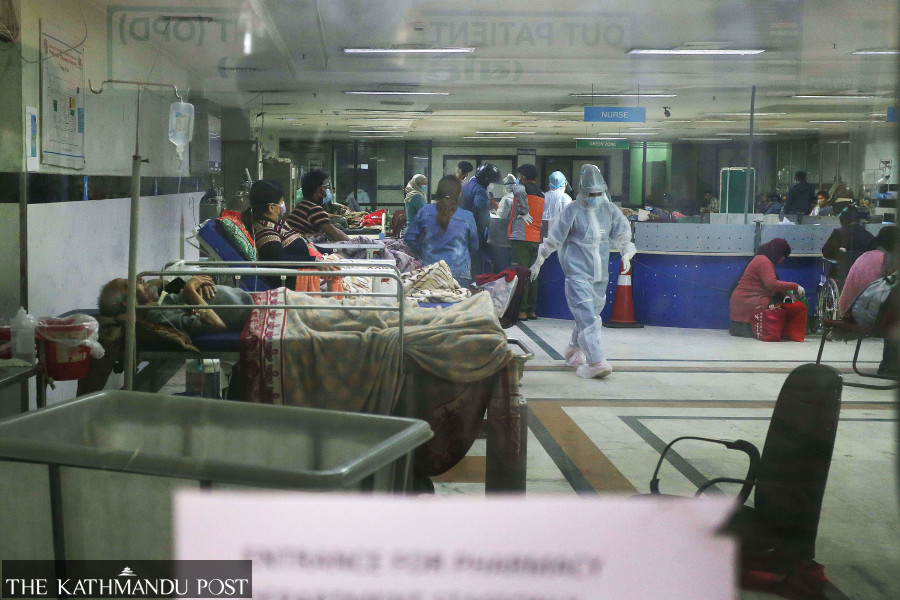 Post File Photo
bookmark
Published at : August 15, 2021
Updated at : August 15, 2021 00:50
Kathmandu
On Saturday, there were 136 Covid-19 patients at the Tribhuvan University Teaching Hospital in Kathmandu.

All 40 intensive care unit beds allocated for Covid-19 patients were occupied, with many more waiting for intensive care unit beds.
"We are not in a position to provide an intensive care unit bed to newly-admitted patients," Dr Santa Kumar Das, deputy director at the hospital, told the Post. "The number of seriously ill patients has been increasing in both the in-patient department and the intensive care unit."
At Patan Hospital, Lalitpur, the story is similar.
The 26 intensive care unit beds and 100 high dependency unit beds for Covid-19 patients are more or less occupied. Oxygen consumption at the hospital has more or less doubled.
"We had to turn away a few patients due to the lack of ICU beds in the past two or three days," said Dr Ravi Shakya, director of the hospital.
Most of the patients have been seeking treatment only after they become critical.
"A lot of patients who come here after becoming seriously ill are diagnosed positive only after they come to the hospital," said Das. "In other cases, a person who had been infected may test negative when they reach the hospital 10 days after being infected but by then they will be suffering from other complications because of the virus."
What is even more concerning is that along with the rise in new coronavirus infections, more non-Covid-19 patients are being admitted to hospitals and many need intensive care. At the Tribhuvan University Teaching Hospital there were over 650 non-Covid-19 patients.
"In the first and second waves of the pandemic, the number of non-Covid patients had declined, but currently both Covid and non-Covid patients have been increasing," said Das.
"We had used general beds and intensive care unit beds for Covid-19 patients in the first and second waves but due to the rising flow of non-Covid patients, we are not in a position to allocate more beds to the infected patients now."
According to him, with transportation services resuming after the restrictions imposed from April being lifted, more patients are coming to the hospitals as the sick cannot postpone hospital visits indefinitely.
It is just not in Kathmandu that hospital admissions are increasing.
At Koshi Hospital in Biratnagar, almost all beds are occupied by Covid-19 patients.
According to an official at the hospital, who spoke to the Post on condition of anonymity, it is witnessing a rising number Covid-19 cases as well as post-Covid-19 cases with critical lung problems.
"Most of the cases are coming from hilly regions," he said. "Most of them need high-flow oxygen. Demand for oxygen, therefore, has risen substantially."
After the devastating impact of the second wave of the pandemic, the number of cases at different hospitals had gone down substantially. At Koshi Hospital the number stood at nine at one time.
"Oxygen demand had gone down to 10-12 cylinders a day but now 135-160 oxygen cylinders are being used at the hospital daily," the official said.
At Patan Hospital, around 250 oxygen cylinders are needed every day from fewer than 100 a month ago, according to Shakya.
"Currently, there is no problem with oxygen supply but whether oxygen supply will be enough depends on the extent the virus spreads in communities," said Dr Shakya.
When Nepal was hit hard by the second wave of the virus in May, the country suffered an acute shortage of oxygen, leading to deaths of many patients due to the lack of timely availability of the life-saving gas.
Amid rising demand for oxygen from Kathmandu's hospitals, Shankar Oxygen Gas, a private sector manufacturer, has been running its oxygen plant 24 hours a day for a week now from 8 to 10 hours daily until a month back. The plant has the capacity to fill 1,000 cylinders a day.
"We are also filling oxygen cylinders from our liquid oxygen tanks as demand has gone up," said Shankar Lal Agrawal, managing director of the oxygen plant. "We used to supply 60 tonnes a week just a month ago and this has now crossed 100 tonnes a week. Besides, with more hospitals installing liquid oxygen tanks the rise in demand for liquid oxygen has also gone up."
Before the second wave, only the Sukraraj Tropical and Infectious Disease Hospital and the National Trauma Center had oxygen plants. But since then Bir Hospital, where Unified Covid-19 Hospital is being operated, and Tribhuvan University Teaching Hospital have also installed liquid oxygen plants.
Gaurav Sharda, director of Kantipur Oxygen, said he is operating three oxygen plants, two in Biratnagar and one in Kathmandu, with a combined capacity of 1,400 cylinders a day in full capacity.
But officials say that as far as oxygen is concerned, there is no need for immediate worry.
"Oxygen supply might not be an issue even if the current situation worsens or the third wave hits the country," Samir Kumar Adhikari, joint spokesperson for the Ministry of Health and Population, told the Post.
"We have plenty of supply since oxygen plants have been added and maintained and the large stock of oxygen concentrators will also help. So there will be enough oxygen supply to handle cases up to the level seen in May or even more. But it all depends on how the situation evolves."
Doctors say that the ongoing rise in new cases signals a big storm ahead. But neither authorities nor people are taking the necessary preventive measures.
"Neither the authorities nor people themselves are showing concerns for tests," said Dr Sher Bahadur Pun, chief of Clinical research Unit at the Sukraraj Tropical and Infectious Disease Hospital.
"Patients with pre-existing conditions are testing positive only after being admitted to intensive care units. This means sufficient tests are not being done."
The case positivity rate continues to be stubbornly high at about 20 percent at present.
On Saturday, 1,947 people tested positive for Covid-19 in 8,667 polymerase chain reaction tests and 677 others also tested positive in antigen tests. Active cases stand at 39,405.
In the last 24 hours, 20 more deaths have been recorded from Covid-19, pushing the total deaths to 10,259.
"Only reactive measures do not help contain the possible new wave and the losses," Dr Krishna Man Shakya, vice president of the Nepal Public Health Association, told the Post.
"Just increasing beds at hospitals only means waiting for people to get infected. Testing should be ramped up and other public health measures should be enforced strictly."
Along with the hospital beds and other infrastructures, authorities should also pay attention to human resources, which is equally critical for providing treatment to the infected patients, doctors say.
"If we cannot control the spread of infections in communities, hospital beds will be insufficient, whatever their number the government adds up," said Shakya. "Authorities are not giving importance to preventive measures. Like in the past, they wait until the health facilities get overwhelmed and enforce restrictions when the situation goes out of control."
According to Dr Keshab Deuba, a public health epidemiologist, it is the responsibility of the authorities to reach out to people if they do not seek testing as contact tracing remains next to non-existent.
"Had the authorities started massive testing as a campaign, they could have reached every household by now," Deuba told the Post.
What is also worrying is that vaccinated people are also getting infected although authorities are focusing on the immunisation.
"Vaccinated people are also getting infected and needing hospital care," said Das, deputy director at the Tribhuvan University Teaching Hospital. "Only the fully vaccinated people are not getting severely ill."
This means the importance of the preventive measures has not lessened and studies show that vaccinated populations also carry the virus and transmit it to others, Deuba said.
So far, 4,674,318 have been administered the first dose of Covid-19 vaccine—15.58 percent of the population—and 3,303,578—around 11 percent—have been fully vaccinated, according to the Health Ministry.
Officials say they are aware of the rise in cases in recent days and urge people to take necessary precautions.
"In the big cities and densely populated areas, both Covid and non-Covid cases have been rising alarmingly," said Adhikari, the joint spokesperson. "We are urging all to take precautions and follow safety measures."
---
---