As vaccine storage becomes issue, officials mull inoculating those above 18 in cities
Millions of jabs are arriving later this week from China. More from Japan and China in grants have been committed. Experts call for equitable distribution.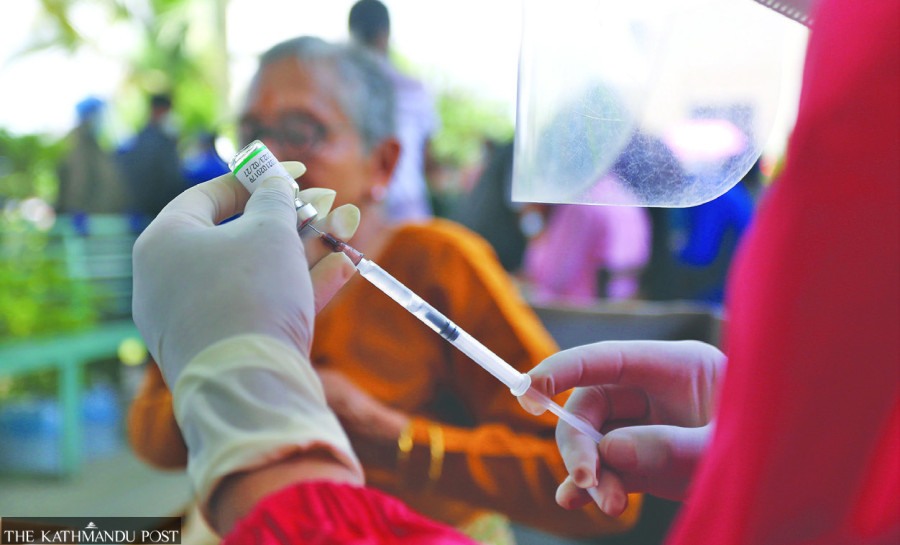 Experts say vaccinating as many people as possible against Covid-19 is a good idea. Post File Photo
bookmark
Published at : July 19, 2021
Updated at : July 19, 2021 08:45
Kathmandu
As millions of doses of Covid-19 vaccines are set to arrive in the coming days and storage space for them is an issue, officials are mulling vaccinating all those above 18 in Kathmandu and other big cities.

At least 2.4 million doses of Vero Cell vaccine are arriving next week as flights to Beijing are scheduled for July 21, 22 and 24, according to Nepal Airlines. Each flight brings at least 800,000 doses of vaccine.
But, according to officials at the Ministry of Health and Population, only around 1 million doses of the vaccine can be stored in the central facility in Kathmandu.
"We are working on how to manage the internal supply of the vaccine," an official at the Department of Health Services told the Post, asking not to be named. "We will supply some vaccines to the provincial stores upon arrival and make room in the central storage for others."
The Chinese Vero Cell vaccine, like AstraZeneca and Johnson & Johnson Covid-19 vaccines, needs to be stored at a temperature between 2 and 8 degrees Celsius.
Officials are also thinking of immunising all those above the age of 18 living in cities as the vaccines arrive since there is more risk of the coronavirus infecting people living in densely populated areas.
"As people in the densely populated areas are highly vulnerable, and the risk of outbreak is very high there, vaccines can be administered to all eligible citizens," an official at the Health Ministry told the Post on condition of anonymity. "Though the final decision has not yet been made, if we have problems in storing vaccines, we can administer them to a maximum number of people in big cities and bordering areas."
Public health experts say that providing vaccines to a maximum number of people residing in big cities and those living in areas bordering India and China is not a bad idea but authorities should ensure that those residing in the remote areas are also inoculated.
"As the vaccines were provided to elderly people, who were in a very high risk group in the earlier phases, authorities should now ramp up vaccination drives in the big cities and bordering areas," Dr Binjwala Shrestha, a public health expert, told the Post. "To continue economic activities and prevent a massive outbreak, people residing in the densely populated areas should be vaccinated."
According to Dr Sarad Onta, another public health expert, authorities should also ensure equitable distribution of vaccines to all eligible populations.
"We have been asking the authorities since the beginning that the distribution of vaccine should be equitable and it is the responsibility of the government to prevent the disparities in vaccine distribution," said Onta. "We have seen that the priority group set by the authorities are not followed properly [for immunisation]. All people whether they are residing in the village or cities should get equal opportunities to get vaccines."
So far the government has been vaccinating people on the basis of their age and other groups most at risk like frontline health workers, journalists, those working in banks and financial institutions, and people's representatives. Migrant workers are also being vaccinated as destination countries bar entry to unvaccinated workers.
So far, 2,999,214 have taken the first dose of Covid-19 vaccine and of them 1,129,908 have taken both doses, according to the Health Ministry's data.
But as millions of doses are set to arrive, authorities say that priority groups may change.


"The government can take decisions on whom to vaccinate as per the situation," Dr Samir Kumar Adhikari, joint spokesperson for the Health Ministry, told the Post. "As we have to immunise a maximum number of people and the government has declared it will vaccinate all eligible people free of charge, appropriate decisions will be taken once vaccines arrive."
Of the 4 million doses of BBIBP-CorV vaccine Nepal has purchased under a non-disclosure agreement, 800,000 doses have already been delivered.
The Chinese vaccine manufactured by Sinopharm comes in packages with one dose in one vial unlike the Covishield vaccine, brand name of the AstraZeneca vaccine manufactured in India, with which Nepal started its Covid-19 vaccination campaign in January, of which ten doses are in one vial.
In addition to the 3.2 million doses of the Vero Cell vaccine yet to be delivered, China has also announced that it will provide another 1.6 million doses of the vaccine under a grant assistance.
Besides vaccines coming from China, Japan has declared it will provide 1.6 million doses of AstraZeneca vaccine through the COVAX facility and these too are expected to arrive soon. The Health Ministry has said that the AstraZeneca vaccine from Japan, will be administered to around 1.4 million people above the age of 65, who were given the first dose of Covishield vaccine from March 7 to 15 and are waiting for the second dose.
The COVAX facility has also informed the government to deliver another 348,000 doses of AstraZeneca vaccine within July.
Meanwhile, the authorities in Kathmandu Valley are preparing to administer the single shot Johnson & Johnson vaccine to those between the ages of 50 and 54 from Monday.
The United States of America has provided 1,534,850 doses of the vaccine through the COVAX facility.
Each vial of Johnson & Johnson vaccine contains five doses.
Data on daily new infections show that the number of people getting infected from the coronavirus from big cities like Kathmandu Valley remains high.
Of the total 667, 109 infected in the country since the pandemic began last year, more than 36 percent have been from the Valley.
On Sunday, the Ministry of Health and Population reported 1,223 new cases of which 334 were from Kathmandu Valley.
"If we can prevent an outbreak in big cities, infection will not reach the villages," Dr Baburam Marasini, former director at the Epidemiology and Disease Control Division, told the Post.
But authorities' focus is on managing the internal supply of vaccines and accelerating their administration so that the maximum number of people are immunised at the earliest.
"We have not yet decided to provide the vaccine to all eligible age groups," Dr Shyam Raj Upreti, coordinator of Covid-19 vaccine Advisory Committee, told the Post. "We have decided to provide the jabs to certain age groups, based on the risks. I think this decision will not be changed."
Upreti is aware that changing priority groups on the basis of residency could bring disruptions to the whole vaccination campaign.
"If we take the decision to provide vaccines to all eligible people in the densely populated areas, then our vaccine administration plan will be disrupted," said Upreti.
---
---