Monsoon displacements could complicate pandemic
Temporary shelters for the displaced can turn into coronavirus hotspots while there is the risk of water-borne and vector-borne infections, doctors say.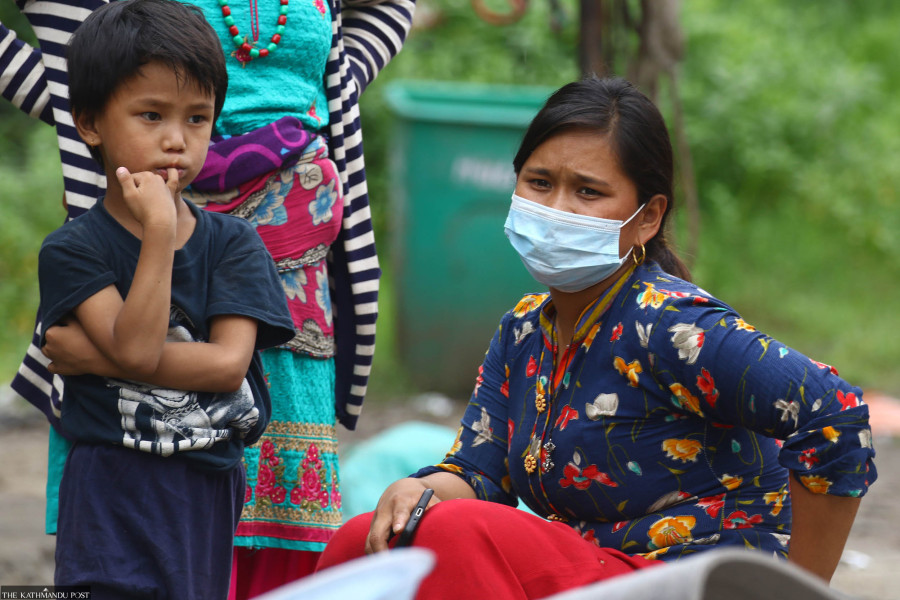 Having been displaced, people face the risk of getting infected with the virus and diseases. Hemanta Shrestha/TKP
bookmark
Published at : June 17, 2021
Updated at : June 17, 2021 00:57
Kathmandu
It was a tough day for Nima Gyalgen Sherpa, chairman of Helambu Rural Municipality in Sindhupalchok, one of the districts worst hit by monsoon floods.

"Over 400 people, including elderly, children and pregnant women, have already been displaced and the number could rise," Sherpa told the Post over the phone from Helambu on Wednesday afternoon. "We have been arranging temporary shelters for the displaced at schools and community buildings."
The situation is similar elsewhere in the country where floods and landslides have wreaked havoc. A paramedic from Melamchi Municipality said people in their hundreds have been displaced and arranging shelters and food for them has become a challenge.
The monsoon mayhem in the midst of the coronavirus pandemic has now doubled the risk of infections. There is no other option than to keep the displaced at temporary shelters, which, in turn, can turn into coronavirus hotspots.
"For us, priority now is saving the lives of people and moving them to safe locations," said Sherpa. "The Covid-19 scare is there, but do we have any other option?"
There is no electricity in Sherpa's rural municipality since Tuesday. Suspension and other motorable bridges have been washed away.
"My phone is about to die as I have not been able to charge it," said Sherpa. "The condition of our village is much worse than you can imagine."
Monsoon officially arrived in Nepal on June 13. The level of havoc floods have caused within days has once against exposed the country's disastrous preparedness. And this time it is happening in the midst of a pandemic.
The second wave of Covid-19 has hit Nepal hard, with over 5,000 people losing their lives to the coronavirus in the last one and a half months. Daily infection count had peaked to 9,317 on May 11, largely due to rising cases in Kathmandu Valley. The daily new cases have now come down after restrictions were imposed in the Valley. Experts, however, say the risk is not over yet and that the virus has reached rural areas and the hill communities, the regions that are most vulnerable to flooding and landslides.
The monsoon in Nepal strengthens quickly in June and peaks through July before becoming weaker in August-September. Doctors say more people are likely to be put in mass accommodations in coming days, exposing them to the risk of contracting the virus.
"There is a higher chance of cluster infections in the camps/shelters of the displaced people," Dr Biraj Karmacharya, an epidemiologist who heads the Department of Community Programme at Dhulikhel Hospital, told the Post. "Authorities should ramp up tests and isolate the infected."
After cases started to decline, authorities have once again become complacent and reduced the number of testing. This may mean fewer daily new infections, but the percent positivity rate is still a cause for concern.
Around a quarter of the total tests conducted across the country are still returning positive results. On Wednesday, 2,014 people tested positive for Covid-19 among the 8,687 polymerase chain reaction tests performed in total.
While the Covid-19 risk persists, the monsoon could lead to outbreaks of other diseases as well in the days to come.
"Covid-19 risk has not lessened yet, as we still have a high positivity rate," said Dr Keshab Deuba, a public health epidemiologist. "Ongoing natural disasters could fuel infections in the coming days."
In Nepal, thousands of people get infected by waterborne and vector-borne diseases such as diarrhoea, dysentery, cholera, typhoid, jaundice, malaria, kala-azar, scrub typhus, Japanese encephalitis and dengue during the monsoon season. Experts say in a country where people often die of diseases like diarrhoea, this monsoon could expose the population to multiple risks, as the healthcare system is already under strain and health workers are working extra hours to fight the pandemic.
"Even if infections are not found in the shelters for the displaced people, the elderly, children, pregnant women, new mothers and those having comorbidities should be separated from others," said Karmacharya. "These people are vulnerable to other monsoon-related diseases."
But in parts of the country where relocating the displaced people to safer areas itself is a challenge, keeping those vulnerable groups separately is practically impossible, local representatives say.
"At present, arranging a proper shelter for the displaced and providing two meals for them itself will be an achievement," said Sherpa from Helambu. "If we fail to open alternative routes within a week, there will be a scarcity of food and essential medicines. We are concerned about these people's treatment if they contract other seasonal diseases."
Health workers across the country, especially in the rural areas, are already stretched too thin ever since the pandemic began and an outbreak of any seasonal disease could spell a catastrophe.
Officials at the Ministry of Health and Population say some additional health workers, who were recently hired to deal with the pandemic, have not been trained to deal with seasonal diseases.
According to experts, some people catching some monsoon-related diseases also show symptoms similar to those of Covid-19 and trained health workers are needed for a proper response. With roads and bridges swept away, there are also concerns about people not getting access to health facilities on time, they say.
"Authorities must ensure that essential medicines are supplied to flood-hit areas on time," said Dr Krishna Man Shakya, vice-president of Nepal Public Health Association, a group of public health experts. "As health workers are already exhausted dealing with the Covid-19 pandemic, this monsoon season, people may not get treatment on time."
Rajesh Lamichhane, chief of the Health Office in Sindhupalchok, agrees that the challenges this time are manifold.
"The coming days are going to be difficult for us," Lamichhane told the Post over the phone. "We are already struggling to deal with the pandemic, as the virus has spread in communities. Now we are wary of an outbreak of seasonal diseases."
---
---