Nepal woefully short on human resources for Covid-19 treatment
An expert group says it had sent a list of health workers trained in critical care before the first wave but there was no response from the Health Ministry.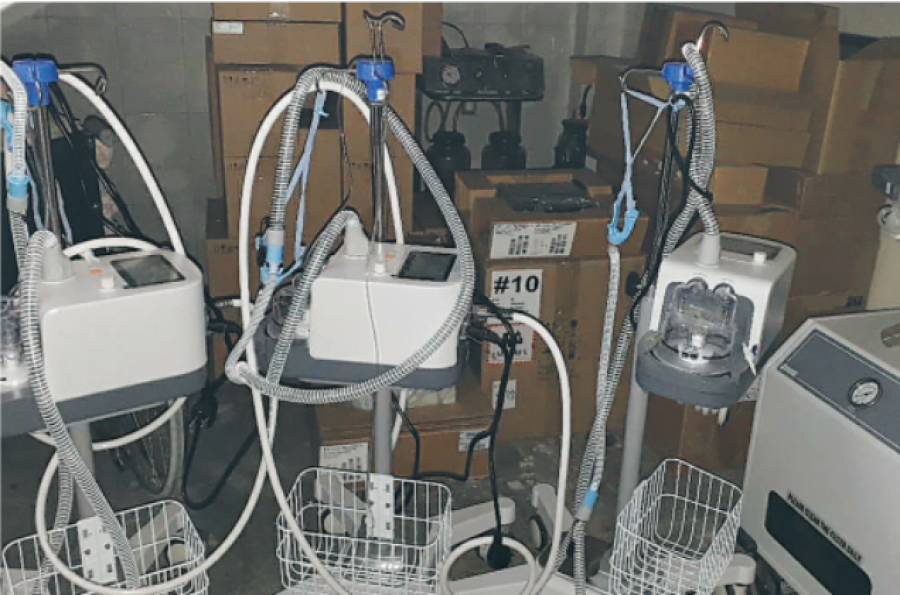 Ventilators at Tikapur Hospital lie unused as there are no anesthesiologists to operate them. Post File Photo
bookmark
Published at : May 25, 2021
Updated at : May 25, 2021 08:32
Manmohan Memorial Medical College and Teaching Hospital at Swayambhu in Kathmandu started intensive care for Covid-19 patients a week ago.
The hospital, which has been providing general intensive care for years, was unable to provide the service to Covid-19 patients because it did not have sufficient critical care experts.
The service has now been started not because it has hired the experts but with the support from an organisation that provides tele-intensive care service. The private teaching hospital, named after Nepal's first CPN-UML prime minister elected in 1994, has set aside 13 intensive care beds for Covid-19 patients. And they are already full.
"Our intensive care unit beds are full with infected patients and their conditions are serious," Dr Sulochan Lohani, who works at the intensive care unit of the hospital, told the Post. "We have sufficient doctors but do not have critical care and intensive care specialists."
Tele-intensive care involves experts instructing doctors and nurses on taking care of patients via the internet.
Besides oxygen, hospital beds in the general ward, intensive care unit beds, ventilators, and critical care medicines, Nepal also lacks human resources for the treatment of infected patients.
In some hospitals health equipment like ventilators remain unused because there are no anesthesiologists to operate them.
Tikapur Hospital in Kailali has seven ventilators but all remain unused and if patients need to be put on ventilator support they have to be taken elsewhere. According to the hospital it has been asking provincial and federal authorities since a year back for anesthesiologists but there has been no response. It too has been trying to hire one but to no avail.
According to Nepal Society of Critical Care Medicine, technical human resources with years of experience are needed to run critical care and intensive units but they are not available in most of the hospitals throughout the country.
"Equipment can be purchased and received through donations but what will we do with such equipment when we do not prepare the manpower needed to operate the equipment and hire technical human resources to provide care to those placed in the intensive care units and ventilator support," Hem Raj Paneru, general secretary of the society, told the Post.
Some like Manmohan Memorial Medical College and Teaching Hospital have turned to Danfe Health Care for support during the second wave of the pandemic.
"Not only private hospitals, but a state-run hospital also has been providing intensive care to the infected with the help of our tele-intensive care services," Kabin Maleku, programme head at Danfe Health Care, told the Post. "A state-run hospital in Hetauda, which has equipment for intensive care units but lacks experts, has been providing the intensive care with our support."
The organisation provides the service for a charge.
As the second wave of the pandemic continues to stretch Nepal's fragile health system, the number of people needing critical and intensive care has increased several folds.
According to the Ministry of Health and Population, on Monday 1,697 were in intensive care and 467 on ventilator support.
On Monday, Nepal recorded 7,220 new coronavirus infections and 185 deaths taking the total death toll to 6,531. The total number of infected since the pandemic began is now 520,461 of which 115,447 cases are still active.
Of the currently infected over 92 percent are in home isolation, according to the ministry. Authorities have conceded that patients are going to hospitals only after they reach a critical stage despite the fact that the pressure on hospital beds has lessened compared to the situation two weeks ago.
Many have died due to lack of oxygen, sufficient intensive care unit beds and ventilators.
Several countries have provided the equipment for intensive care units including ventilators but doctors say without sufficient human resources such equipment cannot be used.
According to Paneru, a big team of technical manpower comprising intensivists trained in critical care medicine, anesthesiologists trained in intensive care medicine, nurses trained to work in intensive care units, microbiologists, pharmacists, dieticians, physiotherapists, radiographers, biomedical engineers and cleaning staff are needed to run intensive care units.
Apart from this, equipment like a hemodialysis machine, a proper heating and ventilation system, and a central air conditioning system with appropriate filters for sterile air circulation, are needed for a proper critical care facility.
The effect of the coronavirus infections on people vary, different patients need different kinds of care.
Recovery of seriously ailing patients placed on ventilator support depends on the availability of trained human resources, according to doctors.
The recovery rate of those placed on ventilator support is very low in Nepal, according to hospitals treating infected patients.
The Nepal Society of Critical Care Medicine had furnished a five-page list of requirements for setting up an intensive care unit and a list of 150 certified nurses trained to work in critical care available for their services a year ago to the Health Ministry, but authorities did not show any interest.
"We had submitted the list a year ago, when the first wave had not even started," said Paneru. "We have not been contacted by Health Ministry officials since."
Critical care experts say that along with other medical help, the government should also seek expert help with the international community.
"When we are seeking all kinds of help, why not ask for expert help," Dr Prabhat Adhikari, an infectious disease and critical care expert, told the Post. "Countries are ready to provide such help, which will eventually help to transfer knowledge and save lives of our people."
Authorities just seem to have woken up to such a need.
The Health Ministry on Monday said that it has decided to create a pool of doctors to deploy to dedicated Covid-19 hospitals and has asked interested health workers to apply for positions.
The ministry has asked applications from those who hold doctor of medicine (MD) degrees in internal medicine and general practice and emergency, critical care specialists, anesthesiologists, medical officers and staff nurses.
"To prevent a crisis of technical human resources in future, we have decided to create a pool of experts," Dr Samir Kumar Adhikari, joint spokesperson at the Health Ministry, told the Post. "Many health workers who have been serving currently have been infected and exhausted."
One way of deploying doctors for the care of Covid-19 patients is the declaration of a health emergency as provisioned in the Covid-19 Crisis Management Ordinance the President issued last week.
According to the ordinance, during a Covid-19 health emergency, any doctor or health worker working at a private or public hospital can be deployed for the prevention and treatment of Covid-19 patients.
Minister for Health and Population Hridayesh Tripathi during a virtual press meet on Monday said that the ministry is positive towards the proposal of experts to enforce a health emergency in the country.
Secretary at the Ministry of Health and Population Laxman Aryal said the ministry would send a proposal on Covid-19 health emergency to the Cabinet after consulting some other ministries.
Last year, during the first wave of the pandemic the government had said that it would declare a health emergency as provisioned in the Public Health Regulations when the number of active cases reached 25,000. The figure was reached on October 7 but such an emergency has not been announced.
"Had the government taken the issue seriously and started preparations accordingly including the preparation for human resources, we could have prevented many avoidable deaths," said Adhikari, the infectious and critical care expert.
---
---