Contact tracing yet to take off as ministry assigns job to local level
Cases won't come under control unless they are checked at the source but whether local governments have the capacity to do the task is another question, experts say.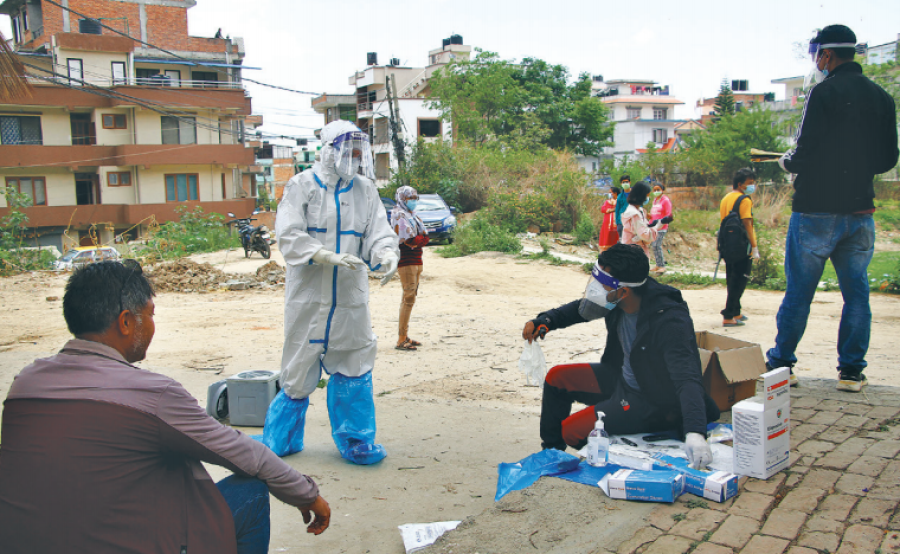 Health workers collect swabs from people who came in contact with infected persons at Bishnudevi Health Post in Kirtipur, Kathmandu on Saturday. Beeju Maharjan/TKP
bookmark
Published at : May 16, 2021
Updated at : May 16, 2021 07:32
Kathmandu
On April 18 when the number of daily infections crossed the 1,000 mark for the first time during the ongoing second wave of the pandemic, the positivity rate was 20 percent. A week later on April 25, Nepal recorded more than 3,000 cases and by then the positivity rate had gone up to 33 percent. On May 1 it was 40 percent. After hovering in the 40-50 percent range for several days, on May 10, the first time the number of daily infections crossed the 9,000 mark, it had shot up to 52 percent.
Since then the figure has gradually come down but it is still more than 40 percent. On Saturday the positivity rate was 45 percent.
According to the World Health Organization, if the positivity rate, or the number of tests that return positive for every 100 tests, is more than 5 percent then the pandemic is supposed to be beyond control.
Fewer tests are being conducted because authorities are not reaching out in communities for contact tracing and asking people who have come into contact with the infected to have coronavirus tests.
According to a report by Johns Hopkins Bloomberg School of Public Health, the percentage positive is a critical measure as it gives an indication on how widespread the infection is in areas where testing is occurring and whether levels of testing are keeping up with the levels of disease transmission.
The report said that percentage positive will be high if the number of positive tests is too high, or if the number of total tests is too low. In Nepal's case, doctors say test numbers suggest both numbers of tests are too low and the positive percentage is too high.
After a Cabinet meeting on April 19 decided to perform free testing, and resume contact tracing, the Health Ministry issued a statement asking provincial and local governments to resume contact tracing and collect swab samples for polymerase chain reaction tests.
But most local units across the country are yet to start contact tracing.
On Friday, there were 698 active cases of coronavirus infection in the Tarakeshwor Municipality of Kathmandu. The municipality has human as well as financial resources to do contact tracing.
But the municipality officials say they have been waiting for directives from the Health Ministry to start contact tracing.
"Yes, we have human and financial resources for contact tracing and for collection of swab samples of those who came in close contact with the infected people," Janardan Adhikari, health coordinator at the municipality, told the Post. "But we are in a dilemma whether to collect swab samples, as we have not got the Health Ministry's directive to collect swab samples."
Officials at the federal level were scathing in their response to such an argument of local governments.
"Direction is not needed to build roads and divert the budgets of health for roads," an official at the Department of Health Services told the Post, asking not to be named. "What can be said when they do not shoulder their responsibilities."
Necessary instructions have already been given to local governments, according to the ministry.
"Apart from asking local governments to collect swab samples and start contact tracing by issuing statements, we have requested them in virtual and in-person meetings," Dr Samir Kumar Adhikari, joint spokesperson for the Health Ministry, told the Post.
Public health experts say that testing and contact tracing are basic public health measures, without which the raging coronavirus pandemic cannot come under control.
They said that waiting for instructions from the higher authorities to start contact tracing and testing means local governments have not been serious about shouldering their responsibilities and controlling the pandemic.
"The Health Ministry has issued statements asking the local level to start contact tracing and collecting swab samples for polymerase chain reaction tests," Dr Bijawala Shrestha, an assistant professor at the Tribhuvan University Institute of Medicine, told the Post.
"That they are waiting for direction instead of proactively starting contact tracing and collecting swab samples for the tests shows the seriousness with which they have taken the risks."
As three tiers of government—federal, provincial and local—are functioning in the country and local governments are the key to controlling the spread of the coronavirus, experts say.
"Ongoing infection cannot be controlled without controlling the source of infections," said Shrestha, who is also a public health expert. Source of the infection is at the local level, he added, stressing that focussing only on treatment won't be effective.
Health Ministry officials also say that local governments have been uncooperative.
"When we ask them directly, local governments tell us to ask through the provincial government and the provincial government reminds us that we cannot give direction as they are independent and can make their own decisions," said Adhikari.
But some local governments have started to collect swab samples, although this has come late.
Kathmandu Metropolitan City has started collecting swab samples of those who came in close contact with the infected people.
The National Public Health Laboratory has started free testing of the samples collected by the local governments.
"As per the direction of the Health Ministry, we have started performing free tests of the samples collected at the local level," Dr Runa Jha, director at the laboratory, told the Post. "Some local units have been sending swab samples on a regular basis for tests."
As the country has suspended its vaccination drive due to the lack of vaccines and only over 1 percent of the population has received two doses, following basic public health measures is the only way to control the pandemic.
Meanwhile, as the second wave shows no signs of abating yet, the country's health infrastructure is already overburdened.
The Ministry of Health and Population has said that health facilities designated for treatment of coronavirus cases have been running in full capacity and health facilities are unable to make beds, intensive care beds and ventilators available. Apart from the influx of critical patients, health facilities have also been facing acute shortages of oxygen.
On Saturday the ministry reported 8,o46 new infections in polymerase chain reaction tests and 121 positive cases in antigen tests. In the last 24 hours, 187 deaths have been recorded, taking the death toll from Covid-19 to 4,856.
The number of active cases stands at 109,740.
Without widespread testing, which should not be considered an expenditure but an investment, ongoing infection rate cannot be controlled, doctors say.
"Controlling the source of infection is the only way to control the infection rate and to lessen the pressure on health facilities," Dr Biraj Karmacharya, an epidemiologist, who is also the chief of the department of community programme at Dhulikhel Hospital, told the Post. "It will be too difficult to control the infection rate, without help from the local level."
But experts on federalism say that both federal and local governments are to blame. While the federal government has not given the resources to local governments, provincial and local levels too have fallen short in controlling the contagion, they argue.
Sunil Ranjan Singh, a member of the then Local Level Restructuring Commission, said local and provincial governments could have done a lot.
"They are even not doing minor things. Instead of shouldering the responsibility, they have been passing the responsibilities to other agencies," Singh told the Post. "Local and provincial governments could have done an exemplary job in controlling the pandemic by setting up quarantine, holding and isolation centres, and by increasing testing, launching awareness drives and helping people who are in trouble."
Others say that this situation has come about because there was little done in institutionalising federalism and strengthening local governments.
Khim Lal Devkota, who has done a number of researches on federalism, said the local governments are short of financial and human resources.
"The federal government hasn't released the needed budget while most don't have medical and administrative staff," Devkota said.
Former chief secretary Som Lal Subedi, who holds a PhD in decentralisation, says delegation of funds, functions and functionaries to local governments is imperative to strengthen federalism but this didn't happen.
"Local governments would have effectively collected swabs and even conducted the tests if they had been equipped," he told the Post. "The federal government didn't take necessary steps to strengthen them. As a result, most of them are helpless at the time of pandemic."
Binod Ghimire contributed reporting.
---
---