Health workers say they reuse disposable masks as hospitals don't provide enough
More health workers not involved in treating Covid-19 patients are getting infected with the coronavirus due to the lack of enough personal protective equipment.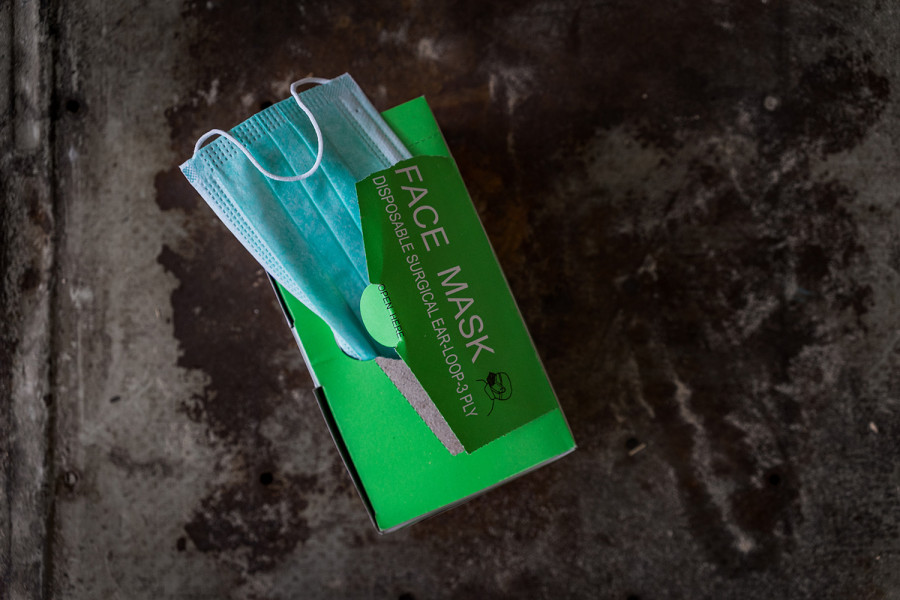 Syahrel Azha Hashim/Shutterstock
bookmark
Published at : August 26, 2020
Updated at : August 26, 2020 07:55
Kathmandu
Dipendra Pandey, a doctor at the National Trauma Center in Kathmandu, has been using the same disposable mask for over a week.

His hospital does not give him masks every day while he attends to patients.
"I know that disposable masks cannot be reused or used even after washing, but I have no choice," Pandey told the Post. "I had asked the hospital administration yesterday for masks, but they say they do not have any in stock."
Like at the Trauma Center, health workers serving in most hospitals—private, community and state-run—have said they are compelled to reuse disposable masks, face shields and other protective gear as they have not been provided sufficiently.
Some doctors are requesting medical representatives who approach doctors to promote drugs their companies produce for masks.
"They have not directly sought favours for providing masks, but everybody knows doctors too have to help them by prescribing drugs their companies manufacture," a doctor at Bir Hospital told the Post on condition of anonymity.
"Buying masks for personal use every day is not possible and using the same masks for several days is too risky. We are having a very hard time these days."
With a spike in cases and deaths from the coronavirus infections throughout the country, health workers deployed on the front lines are also getting infected at an alarming rate.
According to data provided by the Ministry of Health and Population, over 500 health workers have tested positive for the coronavirus in the country and this accounts for more than 1.5 percent of the total positive cases.
As of Tuesday, 33,533 people have tested positive, with 164 deaths. According to the Health Ministry, 855 people tested positive on Tuesday and seven died of Covid-19.
Public health experts said that the rise in infection rate among health workers is worrisome. They blame the apathy of concerned agencies for providing them with safety gear like quality masks, face shields, personal protective equipment and gloves for the rise in infections among health workers.
"This is a serious thing and health workers are compelled to reuse face masks even if that is very disturbing," Dr Baburam Marasini, former director at the Epidemiology and Disease Control Division, told the Post. "How will we have health workers if all keep getting infected."
Most of the infected professionals are not among those that are exclusively treating Covid-19 patients but in hospitals that provide services to non-Covid patients.
No health worker at the Sukraraj Tropical and Infectious Disease Hospital, which has been treating Covid-19 patients since the first coronavirus case was reported in the country in January, has been infected so far. Health workers treating Covid-19 patients in Patan Hospital, Armed Police Force Hospital and the Covid-19 unit of Tribhuvan University Teaching Hospital have also not been infected as of now, according to the Epidemiology and Disease Control Division.
"Health workers serving at the Covid-19 block at our hospital have not got infected but several others serving in other departments have tested positive," Dr Subhash Prasad Acharya, head of the Department of Critical Care at the Tribhuvan University Teaching Hospital told the Post. "This means, those serving in the Covid -19 blocks are getting safety equipment and taking precautions while others are not getting those gears or taking full precautions."
Health workers at almost all general hospitals—Bir Hospital, National Trauma Center, Police Hospital, Alka Hospital, Bhaktapur Cancer Hospital, Kathmandu Medical College, Manmohan Hospital, Nepal Medical College, Grande International Hospital, and Vayodha Hospital—that have not treated Covid-19 patients have also tested positive for the coronavirus.
According to the Epidemiology and Disease Control Division, health workers serving at over 150 health facilities have tested positive and the entire services of some hospitals including Narayani Hospital in Birgunj have been halted indefinitely because health workers are recovering from the coronavirus infection.
The World Health Organization has said that health workers are at risk on two fronts— shortage of personal protective equipment and the chance of being infected in hospitals.
Inadequate access to personal protective equipment or weak infection prevention and control measures raise the risk of infection among health workers. Health workers can also be exposed to patients who do not show signs of the disease and are in a health facility for a range of other services.
Doctors say that chances of infected health workers, especially doctors and nurses, spreading the disease are high if they are not provided with protective gear, as they came in close contact with many people.
Moreover, they warned that the Ministry of Health and Population's decision to place 20 percent Covid-19 patients in every health facility would be disastrous, as most of the hospitals cannot ensure sufficient protective gear, which are too costly for them, according to doctors.
As the number of health workers getting infected rises, the government's plan to have 20 percent of hospital beds for Covid-19 patients has come under fire.
Acharya of the Tribhuvan University Teaching Hospital said that concerned authorities should designate some hospitals as Covid-19 hospitals, instead of reserving 20 percent beds for Covid-19 patients at all hospitals.
"They also have to designate holding areas in general hospitals to curb the risk of transmission among other patients and health workers," he added.
Sukraraj Tropical and Infectious Disease Hospital uses 100 sets of personal protective equipment every day.
"We have not compromised on the safety precautions of our health workers," Dr Sagar Rajbhandari, director at the hospital, told the Post. "But a lot of money is being spent on protective equipment."
The Association of Private Health Institutions Nepal said that concerned agencies should think twice about the decision to place Covid-19 patients in all hospitals.
"Most of the private hospitals cannot afford to handle Covid patients," Kumar Thapa, former chairman of the association, told the Post.
Nepal Medical Association, an umbrella association of medical doctors, is planning a meeting with private hospitals on Wednesday and to submit a memorandum to the government over the safety of health workers.
"We will issue a final warning tomorrow to the government," Dr Mukti Ram Shrestha, former chairman of the Association, said. "We will be compelled to halt services if issues of safety of health workers are not addressed."
The reason for the high number of deaths in Italy in the early days of the pandemic was said to be that Covid-19 patients received care together with the patients of other illnesses in hospitals.
The Health Ministry, however, says that it is aware of the lack of safety gears in private and public hospitals.
"I have also heard of the problems. It might be a management issue in state-run hospitals," Dr Sameer Kumar Adhikari, joint spokesperson for the Health Ministry, said. "We have also asked health workers serving at private health facilities not to work if they are not provided with personal safety equipment."
---
---