Amid Covid-19, health experts warn of an outbreak of water-borne diseases
Doctors say water- and vector-borne diseases could kill more people than the coronavirus if authorities fail to pay attention as monsoon wreaks havoc.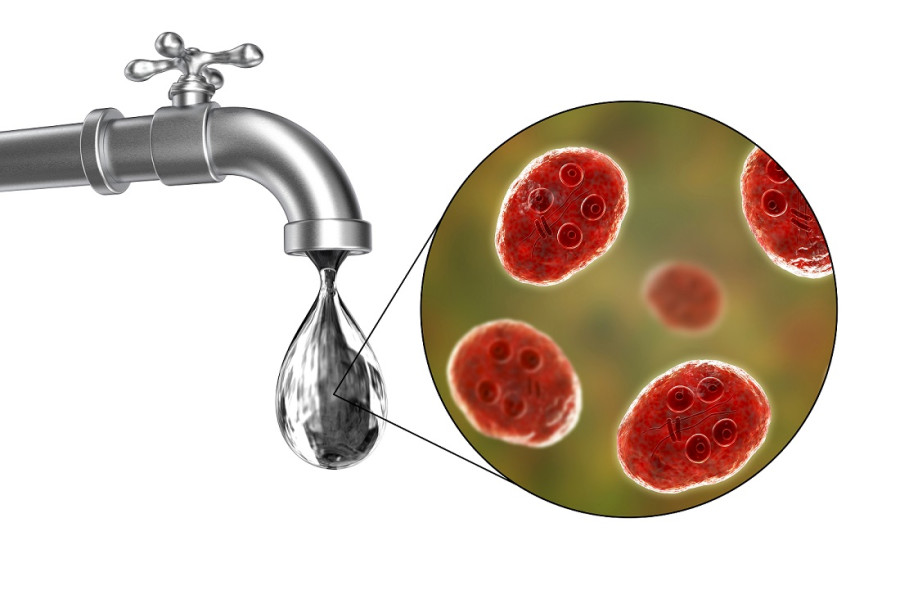 Kateryna Kon/Shutterstock
bookmark
Published at : July 13, 2020
Updated at : July 13, 2020 08:11
Kathmandu
On Sunday morning, a 60-year-old woman from Ramche of Barhabise Municipality in Sindhupalchok was rushed to Barhabise Primary Health Care Centre.

"The woman was suffering from severe diarrhoea and vomiting for the last two days," Dr Misanta Sharma, of Barhabise Primary Health Care Centre, told the Post over the phone from Sindhupalchok. "She was brought in unconscious."
The woman was given fluids intravenously and provided with the treatment that was possible at the health centre, said Sharma.
Sindhupalchok is one of the districts worst hit by recent flooding and landslides, making villages in the district highly vulnerable to multiple diseases.
According to the Health Ministry, there has been a several fold increase in cases of water-borne diseases—diarrhoea, hepatitis A and E and typhoid—and dengue, malaria and scrub typhus in health facilities across the country since the start of monsoon.
With Covid-19 cases found in almost all districts and the entire human resource focused on this pandemic, public health experts have warned that more people could die of water-borne diseases than the coronavirus.
"The problem is our manpower is already limited. In the event of outbreaks of other diseases, we will face a huge challenge," said Dr Basudev Pandey, director at the Epidemiology and Disease Control Division. "With incidents of floods and landslides already being reported from across the country, we will certainly see more cases of water-borne diseases."
Every year, thousands of people get infected with water- and vector-borne diseases in various parts of the country during monsoon. Dengue, malaria and Kala-azar too are endemic to Nepal.
Last year, dengue was reported in 68 districts. The disease killed six people. Over 16,000 had been infected.
Water-borne diseases like diarrhoea have the highest morbidity and mortality rates among the communicable diseases in Nepal.
According to the Nepal Burden of Disease-2017, a country report based on the Global Burden of Disease-2017 study, diarrhoeal diseases are responsible for 5.6 percent of total deaths in Nepal.
The Covid-19 pandemic has already exposed the fragility of the country's health system, and amid this, a rise in cases of water-borne diseases could mean a catastrophe, according to public health experts.
The lockdown has resulted in a halt to public transportation services, and floods and landslides could damage roads, making it difficult for patients to reach health care centres. With health facilities and health workers asked to focus on Covid-19 cases, there are also chances that patients of water-borne diseases might not get immediate treatment.
Patients and their relatives may also hesitate to seek treatment on time due to fear of contracting the virus.
According to Dr Sher Bahadur Pun, the similarity in symptoms of water-borne diseases and Covid-19 could also result in more deaths.
"Diarrhoea, fever and sore throat are common symptoms in persons infected with Covid-19, and those with water-borne diseases too show similar symptoms," said Pun. "Due to this, health workers might be afraid of attending to patients of water-borne diseases who need immediate care."
Floods and landslides are also likely to displace people, with around 1,600 already forced to flee. In previous years, such displaced people used to be housed in schools and community buildings.
But this year, most of the schools have been converted into Covid-19 quarantine centres.
Authorities will be left with no option than to pitch tents for the displaced, and with no proper sanitary facilities, a rise in water-borne diseases is highly expected, according to public health experts.
"Unhygienic foods, unsafe drinking water and cold could make elderly people and small children sick quickly," said Baburam Marasini, former director at the Epidemiology and Disease Control Division. "More people could be infected and die from diarrhoeal disease than the coronavirus."
---
---