Landslides continue to wreak havoc in different parts of the country
More than 40 people have died and several are missing in monsoon-related disasters over the past three days.

Teams from Nepal Army, Armed Police Force and Nepal Police along with the locals search for individuals missing in landslides in Myagdi. Photo Courtesy: Gandaki Province Police
bookmark
Published at : July 12, 2020
Updated at : July 12, 2020 09:26
Jajarkot/ Myagdi/ Lamjung
Torrential rainfall for the past three days has triggered floods and landslides in different parts of the country, claiming more than 40 lives and displacing scores of families.
At least nine people lost lives while six others were still missing as of late Saturday afternoon in the incidents of floods and landslides in Jajarkot district in the past three days.
Teams from the Nepal Army, Armed Police Force and Nepal Police have been mobilised to search for the missing, said officials.
"Nine people were killed after a landslide swept away two houses in Barekot-4, Sarkigaun, on Thursday night," said Deputy Superintendent Kishor Kumar Shrestha. "Three people are still missing."
Two people seriously injured in the incidents of floods and landslides have been rescued and airlifted to Nepalgunj.
A 20-year-old man and a 10-year-old boy from Barekot Rural Municipality-6 and another man from Junichande Rural Municipality-11, Kortang, have gone missing in floods, officials said.
At least 300 families have been displaced by floods and landslides in Barekot alone.
"Around 60 families of the displaced are from Maina, 10 from Sarki Gaun, 90 from Tolkhan, 36 from Kalakholi, 40 from Pakha, 30 from Bhailokhana, 32 from Dhulkot and 12 are from Rokayagaun," said Govinda Bahadur Singh, acting administrative chief of the rural municipality. "They have been sheltering at schools, open fields, in the jungle and in animal sheds."
According to Singh, landslides are occurring in many areas of the rural municipality. "In some places, people have been unable to go from one house to another," said Singh.
Around one-and-a-half-dozen villages, including Jiri, Maina, Bhailokhana, Tolkhan, Karuka, Karkijiula, Gharigaun and Suwakot, are also at high risk of being swept away by landslides.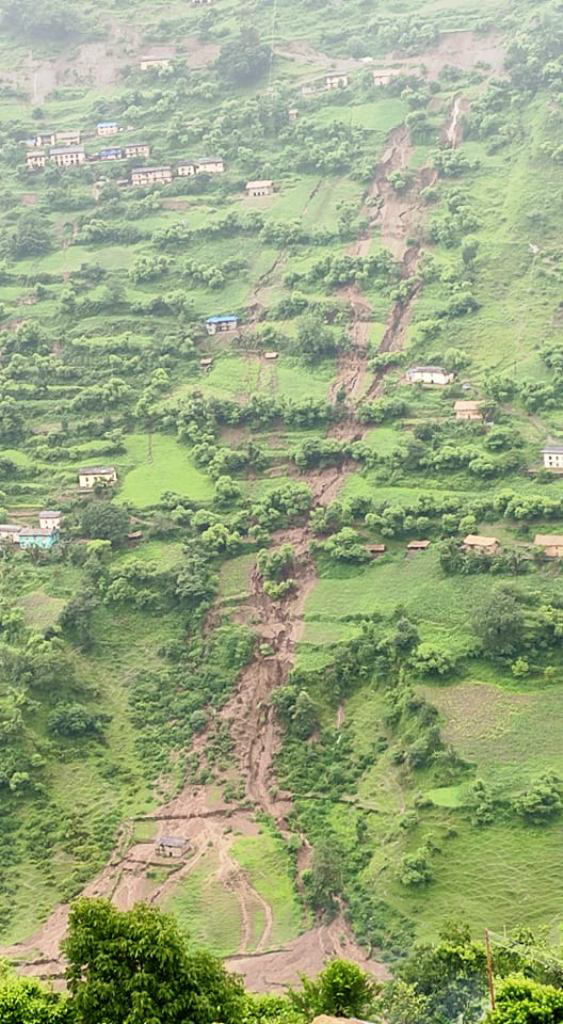 Ghartigaun of Barekot Rural Municipality-6 in Jajarkot is threatened by landslide. Post Photo
"The steep terrain of Sarki Gaun has made it difficult for us to look for the missing," said Shrestha, the police official.
Landslides triggered by heavy rains on Thursday night and Friday morning have caused havoc across Gandaki Province.

A landslide on early Friday morning swept away the house of Purna Bahadur Pariyar and his brother in Malika Rural Municipality-7 in Myagdi.
Purna Bahadur Pariyar, 36, had returned home after working in Malaysia for five years. He had constructed his home on a hillslope, just above his brother's in Bim Village. After returning home, he had started a small farming plot, which was tended by him and his wife.
Purna Bahadur and his family had been busy in their farm in recent days. On Friday morning, Purna Bahadur awoke to a heavy rainfall. So he decided to sleep in since the rainfall was too heavy to go work in the field.
At around 6am, Purna Bahadur was jolted awake by a deafening noise of mud and stones battering over his head. His house had fallen on the path of a landslide triggered by the overnight rainfall.
He had somehow managed to get out of the debris but couldn't find his wife and their son.
Purna Bahadur cried for help but there was nobody to answer him. He then rushed to his brother's house, only to find that it had already been washed away by the landslide.
The landslide had swept away Purna Bahadur's wife, their son and his brother's family of four.
"Why was I spared?" Purna Bahadur said from the hospital bed in Myagdi on Friday. "It would have been better if I had been killed too."
In Myagdi alone, the landslides have claimed the lives of 27 people. On Saturday evening, six bodies were recovered from the debris. Three were rescued alive while four others are missing and feared dead.

Myagdi has witnessed at least a dozen landslides since Thursday. Search and rescue missions have been severely hindered as landslides have blocked the motorways. Rescuers had to use helicopters to reach the landslide-affected sites.
According to the preliminary estimates, over 700 people from 50 households have been displaced by the landslides in Myagdi.
Those who survived the disaster have been moved to temporary shelters in various schools and public buildings.
"Relief materials are being distributed and we have arranged food and temporary shelter for the survivors," said Rajaram Subedi, the ward chairman of Marang-7.
A team of volunteers and rescuers has also been distributing relief material to the victims of the disaster in coordination with the District Crisis Management Committee.
In Bim Village, temporary camps have been set up by the Nepal Army, police and volunteer rescuers.
Gyannath Dhakal, chief district officer of Myagdi, said that rescuers had reached all affected villages by Saturday afternoon.
"The rescue and relief efforts are ongoing," he said. "The relief distribution team is collecting information and statistics about the victims, based on which the relief materials will be supplied to the affected areas."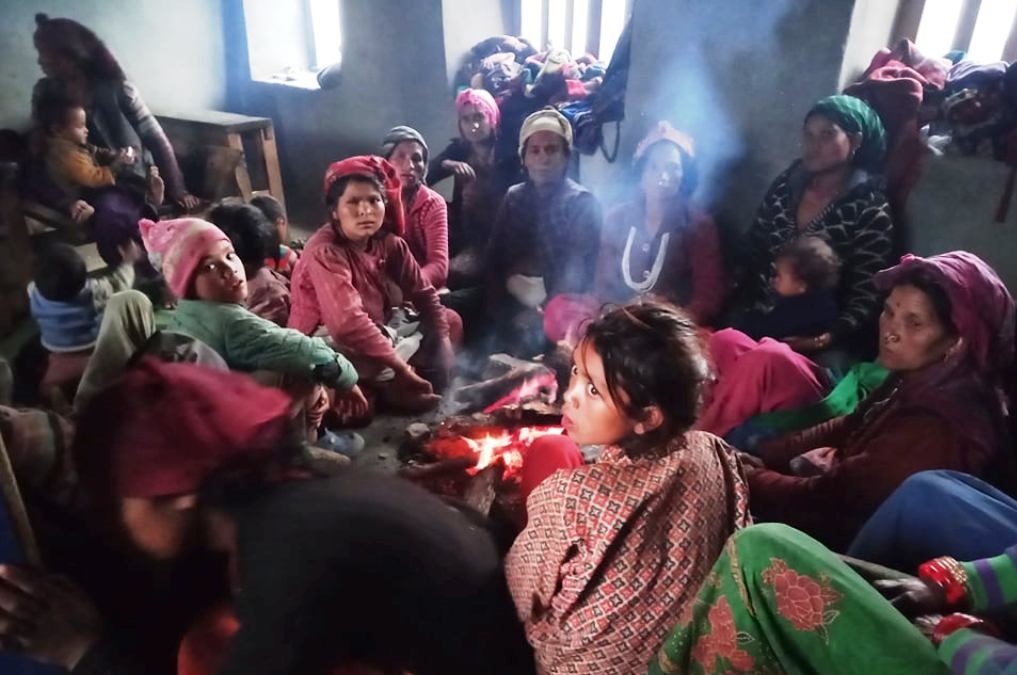 Women and children from displaced families stay inside a classroom of a school where they have been kept temporarily in Barekot Rural Municipality, Jajarkot. Post Photo
In Lamjung district, landslides over this past week have displaced over four dozen families while over a 100 households are at risk of being displaced.

In Duwar Village of Dordi Rural Municipality, 23 households have been displaced while dozens of other families are at risk of landslides, according to Tul Bahadur Gurung, ward chair of Dordi-8.
"Five houses have been damaged by landslides and at least two dozen houses are at high risk," he said. "Over 20 ropanis of arable land in the area have been swept away by landslides."
Similarly, three people were killed in a landslide at Saatbise Village of Besisahar Municipality-7, on Thursday night.
The incident has raised landslide fears among other villagers, many of whom have started evacuating their homes, according to DSP Ganga Bahadur Thapa, chief of Lamjung Police.
Landslides have also affected other districts in Gandaki Province.
In Kaski's Sarangkot, a landslide killed five people and injured four others. Similarly, a landslide in Hemja's Melbot Village killed two while a separate landslide in Chhorepatan in Pokhara left three injured.
The Kaski District Crisis Management Committee has announced to provide Rs100,000 for the families of the individuals killed in the disaster and provide free treatment to the injured.
Likewise in Shuklagandaki Municipality of Tanahun district, a flash flood in the Seti river inundated 42 riverside houses.
The affected households were rescued and moved to temporary shelters, according to Kisan Gurung, the Shuklagandaki mayor.
---
---