Health Ministry recommends declaring public health emergency but Cabinet undecided
A public health emergency will allow the government to make use of all healthcare infrastructure, both public and private, and redistribute funds to fight Covid-19.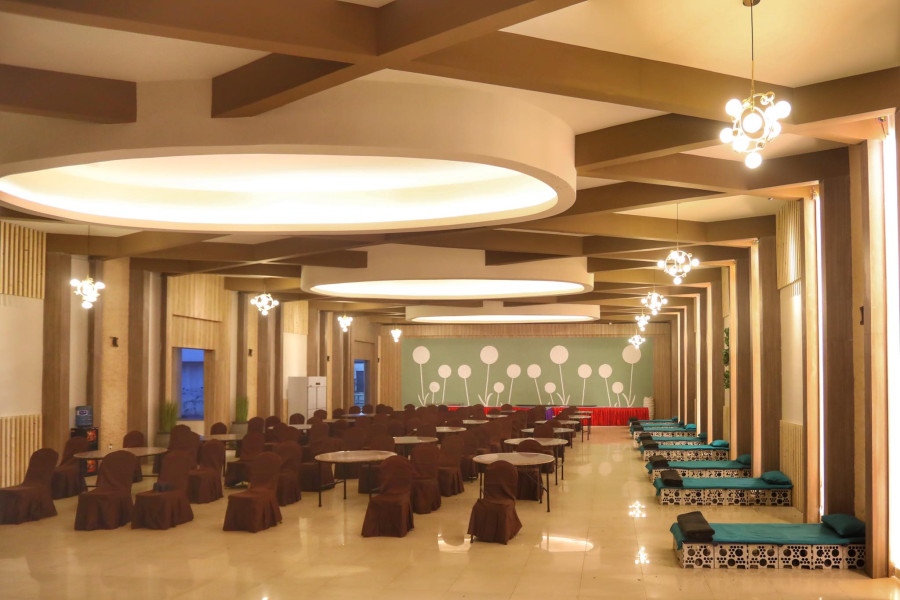 Heritage Party Palace in Sallaghari, Bhaktapur has been turned into a quarantine centre for Nepalis to be rescued from abroad. The facility is estimated to house almost 500 returnees. Elite Joshi/TKP
bookmark
Published at : June 5, 2020
Updated at : June 5, 2020 07:15
As the number of Covid-19 cases continues to rise unabated, the Health Ministry has recommended that the Cabinet declare a nationwide public health emergency.
If the Cabinet follows through with the proposal, the ministry will be able to concentrate all resources—logistical as well as financial—in the fight against the coronavirus.
"We have recommended the Cabinet declare a nationwide public health emergency due to an exponential rise in cases of Covid-19," said Dr Bikash Devkota, spokesperson for the Health Ministry, at a regular press briefing on Thursday. "We have also recommended that the Cabinet mandate the health secretary to enforce the public health emergency."
Thursday's Cabinet meeting was undecided on the issue but it remains up for discussion, said officials.
Calls have been growing lately to ease the lockdown and reopen the economy, but the government has yet to come up with a concrete plan.
On Thursday, traders in Kathmandu decided to open their shops, defying the lockdown and prompting chief district officers of the Valley to hold an emergency meeting.
Thursday evening's Cabinet meeting dwelt on easing the lockdown but did not take any decision, said Minister for Industry Commerce and Supplies Lekhraj Bhatta.
"The government will study the situation for a day or two before a decision is made," Bhatta told the Post.
Another minister, who did not wish to be named, said the prime minister is still in favour of strict implementation of the lockdown, but a decision will be taken after the high-level committee to prevent and control Covid-19 presents its report on the new modality of restrictions.
"Whether to declare a health emergency was not discussed at today's Cabinet meeting," the minister told the Post.
There are some concerns as to what a health emergency actually entails.
After the declaration of a public health emergency, all available resources in the health sector—public as well as private—will be used to treat and contain the spread of the coronavirus, according to officials.
"Until now, we've been keeping all infected people in isolation at hospitals," said Dr Sameer Adhikari, deputy spokesperson for the Health Ministry. "After a public health emergency is declared, health facilities will be able to send asymptomatic cases into home quarantine."
Clause 48.4 of the Public Health Service Act 2075 allows the government to declare a state of public health emergency if a "public health disaster" occurs in more than one province.
According to Adhikari, all criteria set out by the Health Ministry in its Covid-19 emergency response plan have been met to declare a public health emergency—the World Health Organization has declared a pandemic; the number of Covid-19 cases in an immediate neighbour, India, continues to increase with limited ground crossing controls; and Covid-19 cases are increasing in more than two provinces.
After the declaration of a public health emergency, private hospitals, including their infrastructure and human resources, will be employed in the fight against Covid-19.
"The government will not take them forcefully, but that does not mean they can deny their services, infrastructure and human resources for use in combating Covid-19," Dr Khem Karki, the health minister's advisor, told the Post.
The government will also be able to mobilise health workers to any area it deems necessary and redistribute the budget allocated for the health sector. All responsibilities will be divided among the federal, provincial and local governments and all agencies will work under a chain-of-command established by an official appointed by the government.
As per the Infectious Disease Act 2020, the government may designate an official to enforce the public health emergency.
Earlier on Wednesday, a meeting of public health experts at the Health Ministry had decided to ask that the Cabinet declare a nationwide public health emergency to contain the Covid-19 scourge.
As per the health sector emergency response plan for the Covid-19 pandemic prepared about three months ago by the Health Ministry, the government may declare a public health emergency after active Covid-19 cases cross 2,000, which is when the healthcare system will begin to strain under the weight and international humanitarian assistance may be required.
As of Thursday, 2,634 people had been infected, including 10 deaths.
Nepal is currently in Level II of the four phases identified by the emergency response plan. A Level II situation is when there are 2,000 to 5,000 active cases and a public health emergency needs to be declared.
In Level III, when cases are between 5,000 and 10,000, all private hospital resources will be mobilised; mild cases will be sent to home isolations; hotels will be used for accommodation and food for health care workers and support staff; telemedicine services will begin; and provisions will be put in place for mass counselling.
In Level IV, the most extreme scenario with over 10,000 cases, the government will declare a "disaster" as per the Disaster Risk Reduction and Management Act 2074, Clause 32.1 and call for international humanitarian assistance.
Spokesperson Devkota said that the ministry has already prepared a work procedure to receive national as well as international assistance in the fight against Covid-19.
The government has already shut down schools, colleges, universities, sports events, cinema halls, shopping malls, and halted public movement across the country since March 24. Public transportation, both air and land, have been halted with the borders closed.
But there have been increasing calls to ease the lockdown, which has been in place for over two months, given the massive economic and health toll it is taking on the most vulnerable.
Even if a public health emergency is declared, the lockdown will be slowly relaxed, said Karki. International land crossings will be opened up to allow citizens to come home and the international airport will also eventually be opened, according to Karki.
Karki, however, took pains to stress that the public health emergency is not of political nature, although some rights, like the right to free movement, may be curtailed.
Tika R Pradhan contributed reporting.
---
---