Fogging does not help contain dengue epidemic, experts say
To combat the spread of dengue—which has already hospitalised over 8,000 people and killed six across the country—the government had sprayed core city areas with insecticides last week.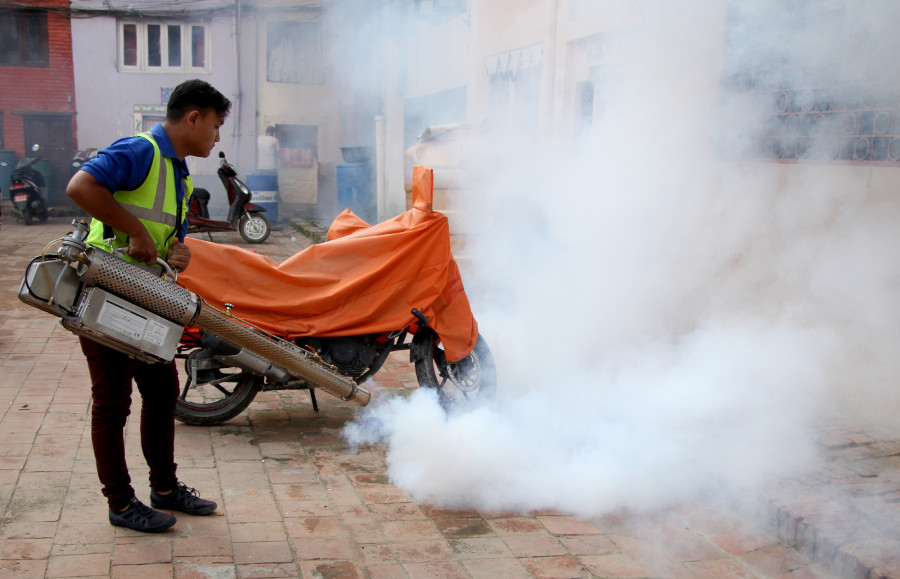 A city official using a fogging machine. Beeju Maharjan/TKP
bookmark
Published at : September 13, 2019
Updated at : September 13, 2019 07:51
Kathmandu
At a time when health officials, as well as political leaders, have been stressing on the need to spray insecticides to kill dengue spreading mosquitoes, national as well as international public health experts say the action is futile: spraying insecticides does not help in containing the epidemic.

They say fogging insecticides is only a populist measure, and it does not kill larva, pupa and eggs, particularly if it is done during the day.
"It is one of the less effective measures, as adult mosquitoes become more active before sunrise and after sunset," Dr BN Nagpal, a senior entomologist of the World Health Organization Southeast Asia Region, said in a press meet organised in Kathmandu on Thursday.
"Mosquitoes also thrive in dark spaces, like under tables, chairs, etc," said Nagpal, who was invited by the WHO country office Nepal to speak at the meet at the request of the Nepal government. He added that Aedes aegypti and Aedes albopictus mosquitoes, which spread the dengue virus, do not rest on walls.
However, health officials—even political leaders—were seen fogging walls around Kathmandu with mosquito-killing chemicals during midday.
Nagpal, who provided his expertise to the Indian government in 2006 and 2010 dengue outbreak, to the Pakistani government in its 2011's dengue outbreak, the Sri Lankan government in 2017 and the Bangladeshi government in 2019, said that if the authorities have to spray insecticide, they should spray inside houses.
"A single mosquito can infect dozens of people," he said, "and the disease can be transmitted from anywhere—from the office, from home, from restaurant and others."
He added that a single mosquito can breed in several containers at once. In just a few millilitres of water, they can hatch eggs as well.
Dr Lungten Wangchuk, representative of the WHO country office Nepal, said controlling dengue should be everyone's concern. "All sectors should come together for the fight against dengue," said Wangchuk. "We cannot control the epidemic without multisectoral efforts."
Wangchuk informed that the dengue outbreak is a multi-country problem and the problem is increasing in the Southeast Asia Region. "Fatality rate is declining means we have improved out management part," she said. "But cases are increasing, which means we have not been doing much to control the vector."
At least six people have died and over 8,000 hospitalised due to dengue infection, which has spread in 56 districts across the country.
Aedes aegypti and Aedes albopictus mosquitoes breed in clean water and are active during the day. The same mosquitoes also transmit chikungunya, yellow fever and Zika virus, according to the World Health Organization
According to doctors, mild to high fever, severe muscle pain, rashes, severe headache, and pain in eyes are some of the symptoms of dengue.
The UN health agency says there is no specific treatment for severe dengue, but early detection and access to proper medical care can lower the fatality rate.
---
---